Sophia Polking and Madeline Parrott, sophomores this year from Carroll High School, will compete virtually with their senior-level group performance in the National History Day contest June 13-19 in Washington, D.C. Analia Ayala and Bailey Bowman, sixth-grade students at Carroll Middle School, also will participate at the national contest with their junior-level group exhibit.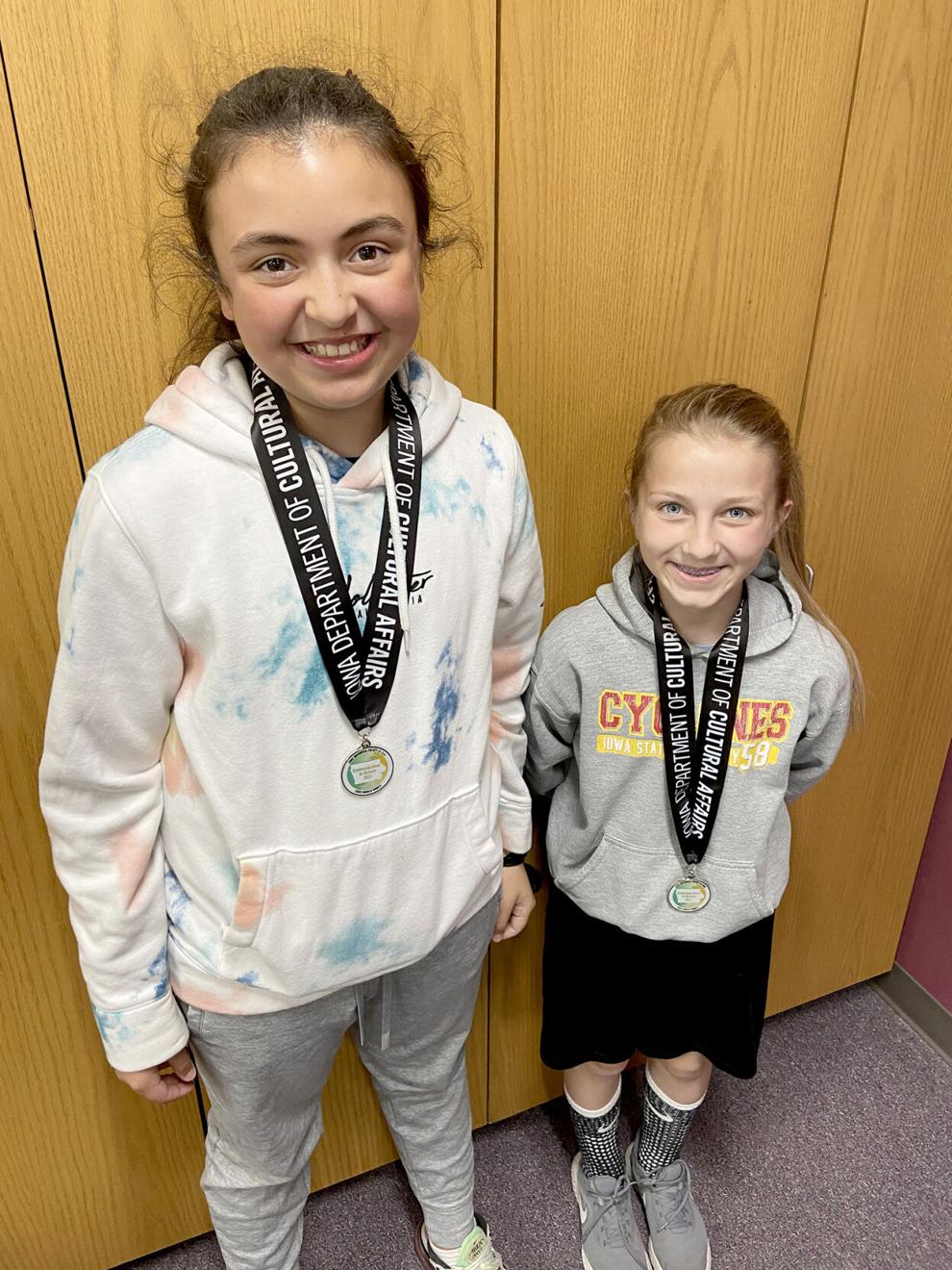 More than 30,000 students from all 50 states, Washington D.C., American Samoa, Guam and Department of Defense schools in Europe compete in History Day. This year's contest theme was "Communication in History: The Key to Understanding." Polking, Parrott, Ayala and Bowman qualified for the national contest through competitions at the regional and state level.
The 2021 NHD National Contest will be conducted remotely during seven days of online forums, virtual showcases and live-streamed events and ceremonies. Almost 3,000 students across the United States and territories, and from programs in China, Korea and South Asia, advanced through the gauntlet of school, regional, state and affiliate contests to reach the national stage. Along the way, students edited and refined their projects — presented in one of five formats: documentary, exhibit, paper, performance and website — to be ready for this ultimate stage of competition.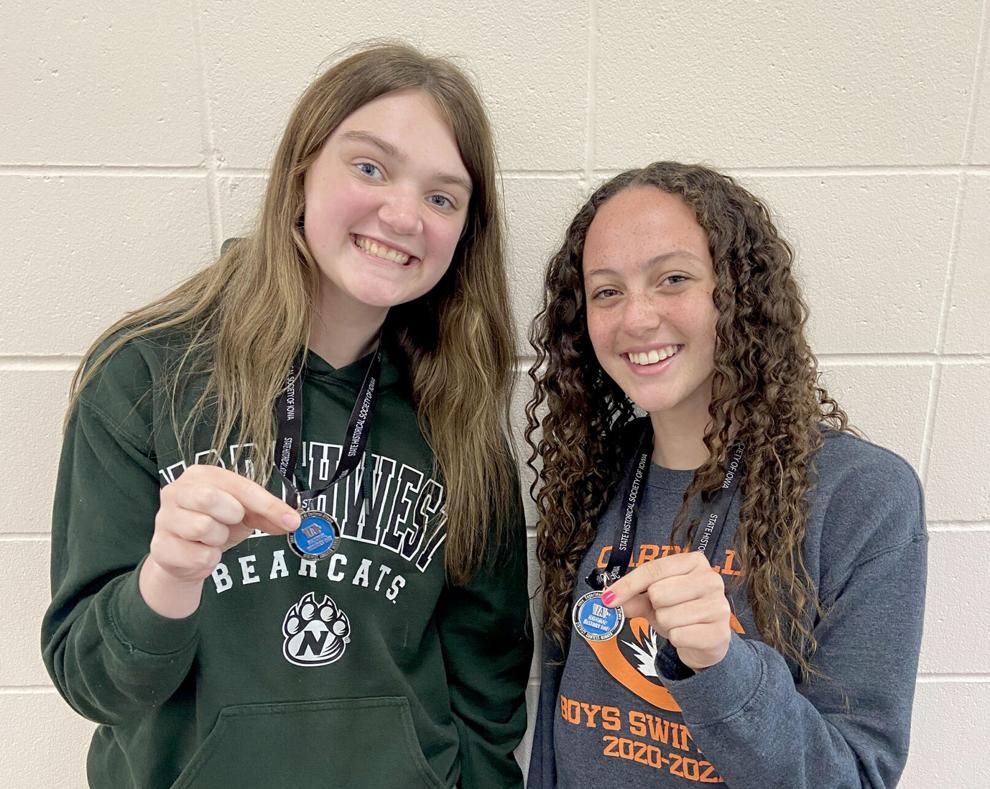 Sophia Polking and Madeline Parrott's performance focused on the use of pigeons during World War II. Their performance is titled "Communication from the Coop: How the Allied Troops Used Pigeons to Win World War II." Their performance focused on the spy operation code-named Columba. British intelligence used homing pigeons as part of a secret espionage operation to gather information, communicate and coordinate with members of the Resistance to defeat the Nazis in occupied Europe during World War II. Between 1941 and 1944, British intelligence dropped 16,000 homing pigeons in an arc across Nazi-occupied Europe. The "Special Pigeon Service" carried tiny pieces of paper tucked into canisters and tied to the birds' legs; these messages were invaluable. The people who sent these messages were not trained spies. They were ordinary men and women willing to risk their lives in the name of freedom. Polking and Parrott's performance can be found at the following address: https://www.youtube.com/watch?v=Cin8V7hZdoY.
Bailey Bowman and Analia Ayala's exhibit shared information on Martin Luther King, Jr.'s "I Have a Dream" speech. Their exhibit is titled "I Have a Dream: Communicating a Message of Civil and Economic Rights and an End to Racism in the United States." The "I Have a Dream" speech, delivered by Martin Luther King, Jr. before a crowd of some 250,000 people at the 1963 March on Washington, remains one of the most famous speeches in history. Remembered for its powerful imagery and its repetition of a simple and memorable phrase, King's "I Have a Dream" speech has endured as a signature moment of the civil rights struggle, and a crowning achievement of one of the movement's most-famous faces. The group focused on the legacy of the speech and the importance of the speech then and now. The "I Have a Dream" speech continues to resonate with many Americans as they protest racial injustices and police brutality.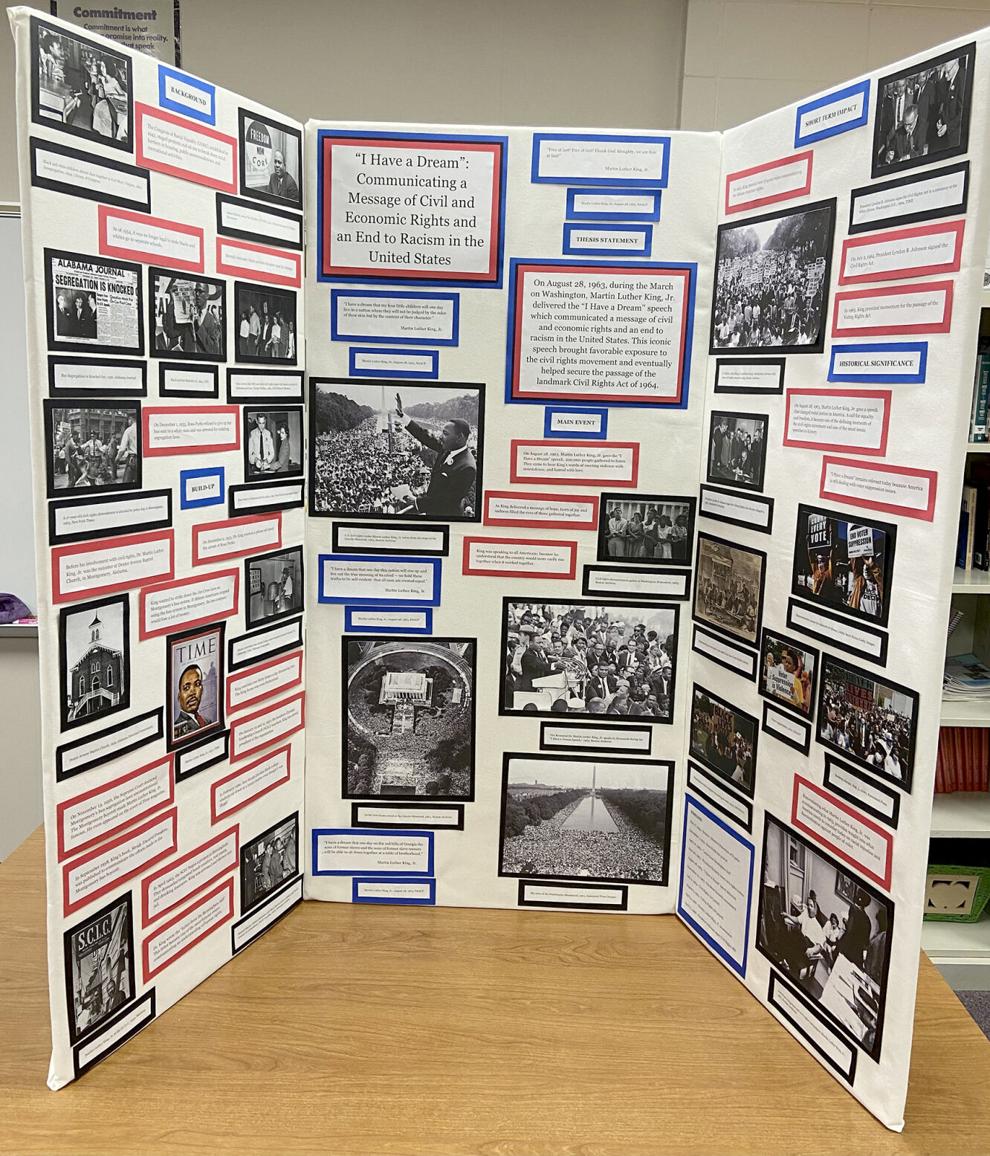 National History Day is an academic-enrichment program for students in sixth through 12th grades. Every year, National History Day frames students' research within a historical theme. The theme is chosen for the broad application to world, national or state history and its relevance to ancient history or to the more recent past. The intentional selection of the theme for NHD is to provide an opportunity for students to push past the view of history as mere facts and dates and drill down into historical content to develop perspective and understanding. Next year's theme is "Debate and Diplomacy in History: Successes, Failures, Consequences."
Polking is the daughter of Chris and Thetia Polking, Parrott is a daughter of Ben and Summer Parrott, Bowman is a daughter of Robert and Arica Bowman, and Ayala is a daughter of Julie Ayala and Miguel Ayala. Carroll Community School District's History Day program is coached by Kelly Borchers.
Polking said of History Day, "I really enjoy being able to research and learn about a specific history topic in depth. In history classes, we sometimes brush over events seen as having a lesser historical impact. History Day gives me an opportunity to learn about one person or event in history and go in depth, looking at the small details, personal accounts and different perspectives relating to the event."
She believes History Day has improved skills that will help her in the future.
"It has taught me how to research using reliable sources, both primary and secondary, how to organize these sources into an annotated bibliography, and how to critically examine historical events and their relations to overriding themes," she said. "It has helped my communication and interview-conducting skills, and being in the performance category has also helped my presentation, script-writing, characterization and acting skills."
She added, "I am extremely excited to compete at the national level again this year. Competing virtually has been different and difficult, but it feels extremely rewarding to be one of the two senior performances chosen to represent Iowa at the National History Day Competition."
Last year, the contest was also virtual, and Polking had a senior individual performance titled "Margaret Sanger: Making Motherhood a Choice."
"The entire experience was highly educational and definitely helped me to better develop my topic and performance this year," she said.
For her part, Bowman said she enjoyed researching and learning about the King's "I Have a Dream" speech and noted that the topic was very timely.
"I am really excited that my partner and I made it to the national level," she said. "This was my first year participating in the event. I enjoyed being rewarded with medals for each level we won.
"This past year, there were events occurring in the world such as Black Lives Matter that made me understand better what was happening."
The NHD Student Showcase will open on Sunday, June 13. You can visit the virtual showcase to see all the 2021 National Contest participants' projects at www.nhd.org/virtual-programs-2021.