Austin Mollhoff, all of 3 feet, 7½ inches and 72 pounds, stepped out to midfield at Carroll Athletic Field with Kuemper Catholic High School football seniors 6-3, 195-pound Isaac Evans and 6-2, 220-pound Cal Wanninger on one side of him and 5-11, 185-pound Carter Pudenz and 5-8, 155-pound Jared Hausman on the other side. But there was no doubt who would really stand the tallest and be the big star on that Friday night, Sept. 3. It was the kid sporting the honorary red "Kuemper 1" jersey with his name, Mollhoff, on the back. This would be his night. His game.
He would be the most valuable player delivering the special message that went with this game: childhood cancer awareness.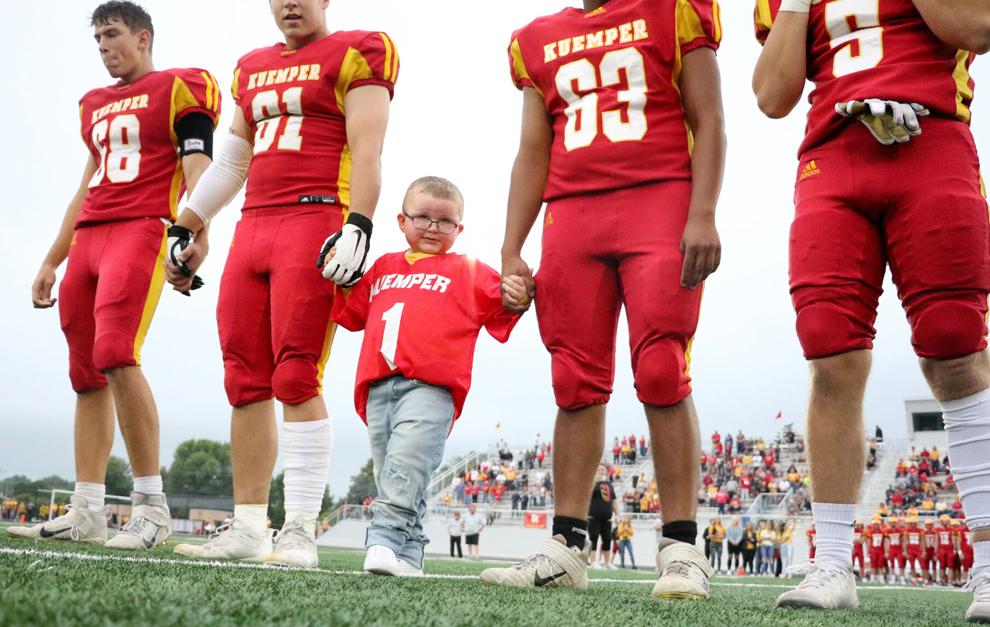 The Kuemper captains —Evans, Wanninger, Pudenz and Hausman — went to the Mollhoff family home in Carroll one evening the week before this game with Atlantic, inviting Austin, 5-year-old son of Travis and Jen Mollhoff, to serve as Kuemper's "Kid Captain."
"They brought him a T-shirt and made it a big deal," Jen said.
The ball began rolling on the invitation on a Friday night in August when Cal Wanninger's sister Anna, a 2019 Kuemper grad who's studying at the University of Northern Iowa to become a speech pathologist, by chance met Austin and Jen at the park on the Holy Spirit Center playground while Anna was babysitting.
Anna and Cal's dad, Doug, works with Austin's dad, Travis, at American Home Shield, where both are contractor relations managers.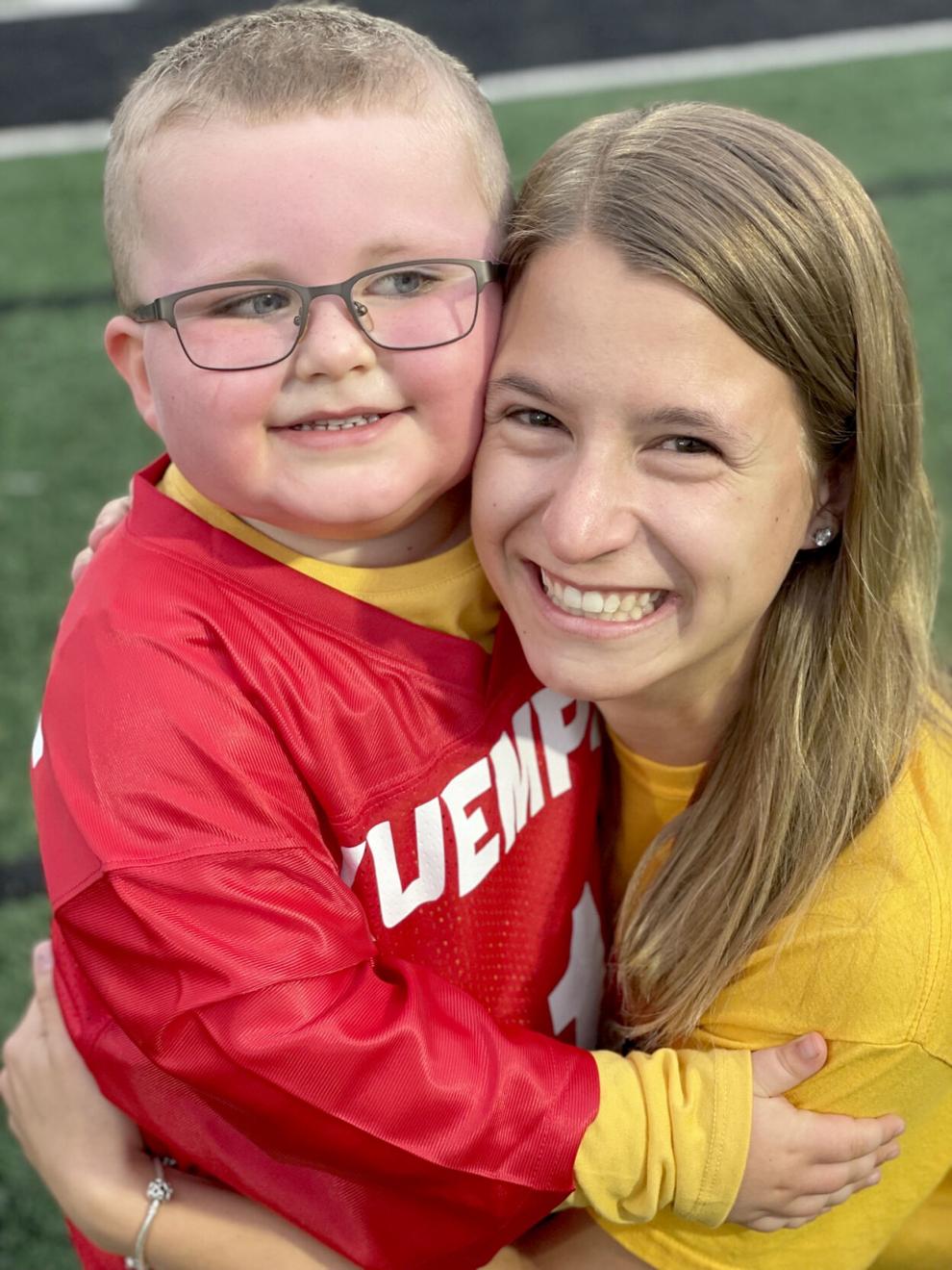 "So I have heard a lot about (Austin's) journey," Anna said. "I didn't need to meet Austin to know how special and brave he is. Even at his young age, he has fought more battles than a lot of people ever will. … The one thing I really admire about Austin is his positive attitude and the way he always wore a smile on his face. It was that night that I realized we should do something bigger for him to make him feel as special as he is. His parents expressed his love for football to me, so I thought it was an amazing opportunity to help him feel like 'one of the guys.' "
Austin was diagnosed with a very rare brain tumor — craniopharyngioma — when he was 10 months old.
"He was a very, very fussy baby," Jen said. "You could see something was not right. He a lot of ear infections, he had pneumonia twice."
Over the years he's undergone a couple of surgeries at the Stead Family Children's Hospital in Iowa City and Le Bonheur Children's Hospital in Memphis plus 30 rounds of radiation therapy at St. Jude Children's Research Hospital in Memphis. Austin will have more surgery in the future.
"Long-term there are options," Jen said. "There are a lot of clinical trials and research."
Through it all, Jen said of Austin, "He never complains. He's the happiest kid you'll ever meet. He'll talk to everybody. He'll tell you he's 5 years old, that he goes to (Kuemper) optional kindergarten and that his teacher is Mrs. (Amy) Overmohle.
"He likes to go outside and play. He loves to ride his bike. He loves other kids. Nobody he meets is ever a stranger. It's so sweet.
"He loves soccer. He loves to play ball. He likes to paint. He likes to watch 'Ryan's World.' He tells kids he's going to go to Disney World."
The Mollhoffs have been selected a Make a Wish family; however, the coronavirus pandemic has delayed plans for Austin to visit the Orlando, Florida, theme park.
Before his big moment under the Friday night lights, Austin needed to be game-ready. That meant attending a Kuemper practice, where the Knights had a surprise play ready for him.
Austin was called onto the field at the end of the practice to run "Red Buck Bubble."
"And he took the ball to the house from about 20 yards out," Kuemper Coach Ryan Steinkamp said. "The players and coaches went absolutely wild, and everyone jumped around celebrating and cheering for Austin. It was a very moving moment."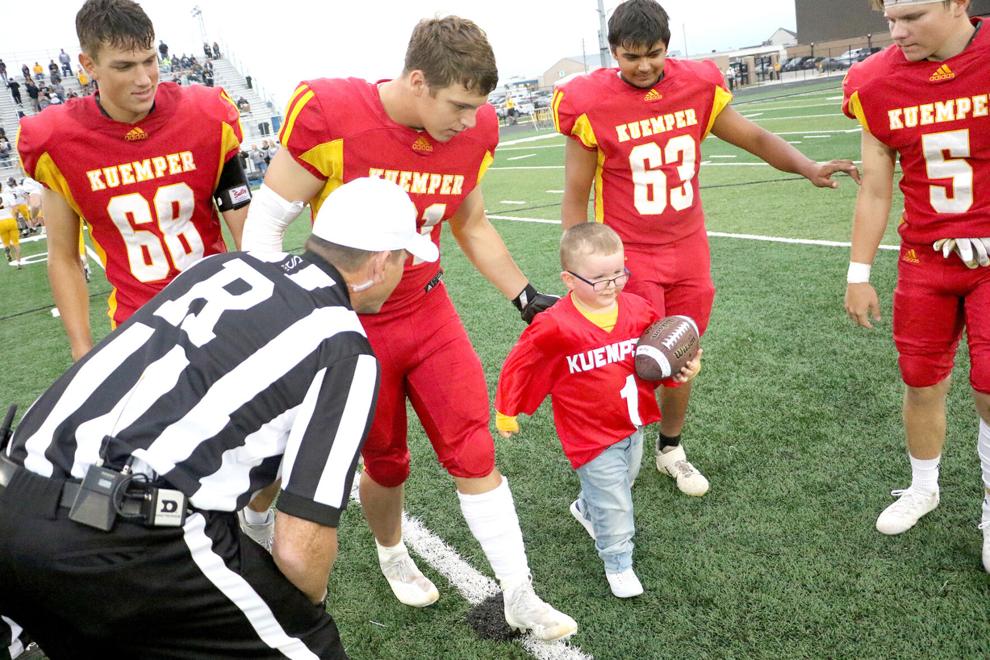 "Those guys (the Kuemper players) got so excited for him. It was just super cool," Jen said. "They were all jumping up and down. They gave him a poster signed by the whole team, a Kuemper helmet, and another shirt."
On game night, Austin suited up in his "Kuemper 1" jersey.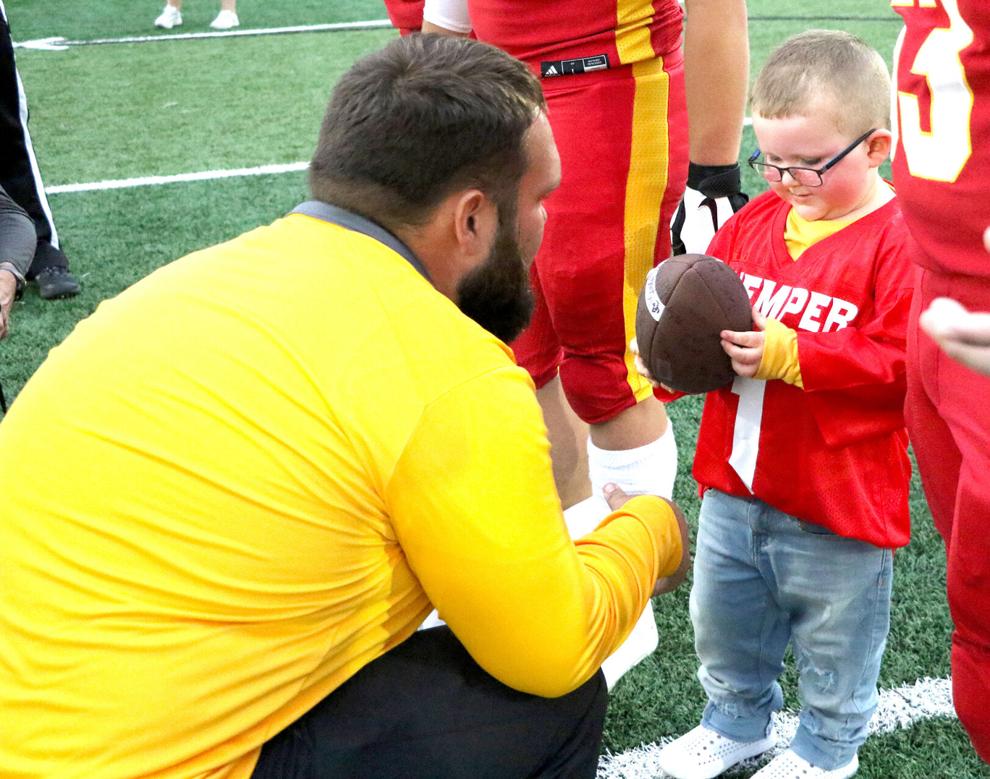 With the Kuemper captains at midfield, he was greeted by Atlantic's captains and Coach Joe Brummer.
Brummer crouched and presented Austin a football autographed by the Atlantic team, and the Atlantic players all gave him "fist bumps," punching fists together with him.
"He was just so excited," Jen said.
"It was just a small act on our part that hopefully made a big difference," Brummer said.
He added, "It's just one of the small things everybody does over the years for one another that hopefully shows this is more than a game; look out for other people and do what you can, when you can."
Child Cancer Awareness Month in September urges "Go gold for kids." So gold was the color of the night, which worked well with Kuemper's red and gold, and Atlantic's black and gold school colors.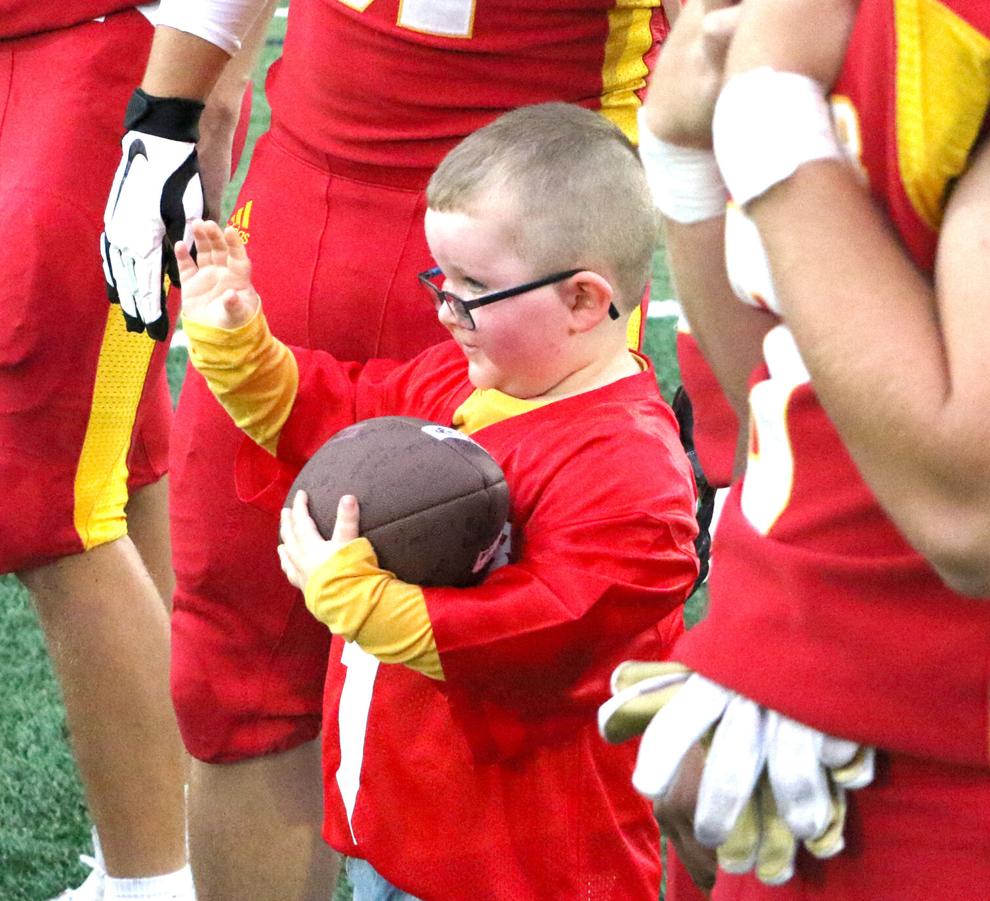 With Austin on the field, it was time to borrow from the University of Iowa playbook. During every game at Kinnick Stadium, at the end of the first quarter, fans, players and coaches turn and wave to the kids staying at the Stead Family Children's Hospital. Fans, players and coaches on both the Kuemper and Atlantic sides waved to Austin.
As the Kid Captain, Austin got to toss the coin determining which team kicked off and which received. Austin didn't bring Kuemper any luck there —Atlantic won the toss. However, the Knights rolled to a 34-0 victory.
Family and friends celebrated Austin's Kid Captain night at the Mollhoffs' home after the game.
"It was just awesome to be a part of," Kuemper captain Cal Wanninger said of the night. "Austin has been through so much, and it was great that we could show him love and appreciation. It is terrible to think about what he has gone through and continues to go through every day. Through all the adversity, he tackles it with a smile. Austin is an inspiration to all of us at Kuemper football. It also showed the support the Kuemper family has for one another."
Kuemper Coach Steinkamp said, "It was an incredible experience to watch the Kuemper community, especially the football players, rally around and support Austin. They were tremendous leaders and created an incredible atmosphere for Austin and his family. I was extremely proud of how they interacted. Austin has been an inspiration for our team this year."
Showing Austin their long-lasting support, the Kuemper players and coaches had Austin and his dad, Travis, ride on the team's float in the homecoming parade on Sept. 24.
"We continue to think about and pray for Austin as a team throughout the season," Steinkamp said. "We will most certainly continue our relationships with Austin and his family and invite them to other Kuemper practices and events. He is a special kid who we are praying and rooting for."
For Austin, the team at home includes dad Travis; mom Jen (Fahn), a 2002 Kuemper graduate who's a registered nurse for Dr. Abby Williams at McFarland Clinic; stepbrothers Tyler, 17, and Caden, 15, who are a senior and freshman, respectively, at Carroll High School; and sister Ava, 7, a Kuemper first grader. Ava also got to participate in the Kid Captain night, with the Kuemper cheerleaders inviting her to cheer with them.
Jen said although Austin may never get to play football, "For one night he got to go out there."
He has his Kuemper helmet, and is very proud of his Kuemper jersey, saying, "I wore this to my game."
"He calls it his game," Jen shared. "He loves to watch the video (of the game ceremony). Every night he watches the video of his game. That's kind of our routine. He likes to lie in bed and watch the video of his game. Then he likes me to sing to him and snuggle."
"Ever since (Austin) was diagnosed with cancer we always prayed for him at the dinner table," Cal said of the Wanninger family.
Anna Wanninger said, "It may seem that (Austin) looks up to the boys, but in reality, they look up to him. Seeing his smile running off the field, into the huddle, is something I will never forget."