Construction is underway for Motor Inn to open a new Toyota and Chevrolet showroom next January.
The new nearly 11,500-square-foot facility on Le Clark Road on the west side of Carroll also will house ride-up bays to vehicle service; a new-vehicle delivery center; offices for the sales and business staffs; a new parts supply area with accompanying retail display; and a customer lounge including WiFi connection and other electronics as well as a children's play area.
"We're building a new Motor Inn," Motor Inn Manager Tony Franklin said. "We're excited. It's going to be bigger and better."
He added, "We're making a big commitment to this area. It's about a $3 million project, so it's definitely a big investment."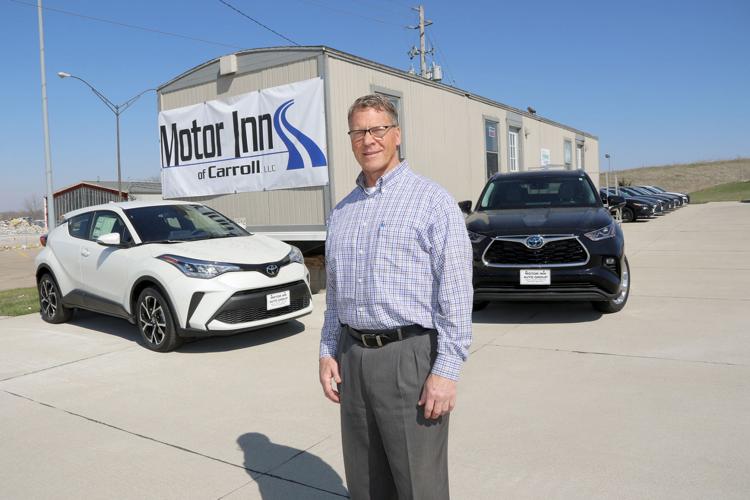 The old facility was home of Lou Walsh Motors before Motor Inn acquired the dealership in December 2012.
"The old building had run its course, and there were too many repairs needed on it," Franklin said.
The Carroll dealership is part of Motor Inn Group, which also has dealerships in Algona, Estherville, Knoxville and Spirit Lake.
A distinguishing feature of the new showroom is that it will house the Toyota brand on the west side and Chevrolet on the east side, with main entrance between them. On the Toyota side, the building front will be white with the automaker's name and overlapping-ellipses logo, while the Chevrolet side will be blue with name and automaker's historic bowtie logo.
Toyota and Chevrolet each will have its own look with the stucco-like, exterior insulation and finish system, noted Ron Badding, project manager with Badding Construction, the general contractor.
"There also will be a lot of glass. It will be a sharp-looking front," Badding added. "It will be a huge upgrade out there for them."
The east side of the building will offer an indoor two-car bay for delivery of new vehicles.
"It takes about an hour these days to explain everything to the customers," Franklin said. "Now we're going to be able to do that inside, and that's a big convenience change. We will be able to hook up cars to all the electronic and WiFi things — like Onstar (Chevrolet) and Toyota Engage, all those things."
On the west side of the building, there will be two ride-up service-reception bays with glass overhead doors. The current service bays and body shop on the north side of the grounds will remain.
The former showroom was razed and the rubble cleared a few weeks ago. Badding said underground plumbing and electrical work for the new facility will start soon, then the interior floors will be poured and structural steel will be delivered. Construction is slated to be completed by Jan. 11.
"It's been a long time coming, but it's finally taking shape and moving ahead," Badding said of the project. "It's exciting for us and for (Motor Inn)."
Along with Badding Construction as the general contractor, Motor Inn made a point of choosing subcontractors from Carroll and the surrounding area, Franklin pointed out.
"We sacrificed some cost just to stay local," Franklin said. "That was a big factor for us, to keep Carroll viable and kicking."
Badding noted, "They did a nice job of thinking of their clientele, the community and people who work and live here."
Drawings for the project were done by Simonson and Associates Architects of Des Moines, where Clark Snyder is a partner and Todd Wiskus project manager. Both are 1996 Kuemper Catholic High School graduates.
While construction proceeds, Motor Inn's offices are located in a trailer on the east side of the grounds.
Franklin said Motor Inn still is able to offer a large selection of new Toyotas, Chevrolets and Buicks.
"Right now we're competing, especially because of the construction," he said. "But if somebody wants to buy a Toyota, Chevy or Buick, we'll sell them as cheap as anybody right now. The idea is to keep the inventory turning, because we have other vehicles coming in.
"The construction is taking a lot of our parking, so we could have vehicles multiplying like rabbits. We're making sure to get them out on the streets. We're doing that with the philosophy that our service business down the road will bring even more people to the new show floor, so it's a win-win for the customers and us to have more traffic.
"A year down the road there's going to be a new building and more things to choose from, so we want more traffic coming through and right now is when we're building that traffic push."