Laura Sweeney thrives on competition in sports — whether it be volleyball, basketball, golf or softball — and she can't back down from a music challenge, either.
The Carroll High School senior took pride when her older sisters, Erica Doud and Sara Sweeney, both achieved the rarest of honors — Iowa High School Music Association all-state-choir selection all four years they auditioned. Then, last month, Laura had the opportunity to complete an exceptional sister act — a grand slam of four-year all-staters.
Her dad, Doug Sweeney, who's been Carroll High vocal-music director for all three of his daughters, said, "Laura is a very competitive young woman, and whether that is why she chose to do all-state as a freshman, I do not know. But I do know after she made it as a freshman, the four years of being accepted and matching her sisters' accomplishments became her goal. When she is interested in doing well at something, there is usually no stopping her. I believe this to be very true in her athletics and school work as well."
For her part, Laura said, "There was a lot of pressure and stress that came from all-state. There was nothing I wanted more than to have them call my name at the All-State Festival. Becoming a four-year isn't something everyone gets, so it was important to me to make it my final year."
Since the Music Association opted for virtual all-state choir, band and orchestra auditions this year due to the coronavirus pandemic, Laura received word via email — instead of attending contest at a host school and seeing results posted — that she achieved her goal.
Nonetheless, she said, "It was still exciting and just a huge relief. All of the stress was over, not only for me, but for my dad as well. Seeing his reaction to that email was one of the best things ever, and to know how proud he was made all of the stress and time put in worth it."
Indeed, pride ran in Laura's success and the sisters' all-state sweeps ran throughout the family.
"It is a thrill just to have a student make all-state let alone your own children, and then to have them go on to make it four times is even more exciting," Doug Sweeney said. "At the All-State Concert they recognize the four-year all-staters individually, and that is always a very proud and exciting moment as a teacher but especially as a parent."
The girls' mom, Joan Sweeney, who teaches vocal music at Glidden-Ralston Schools, said, "It's been really special watching all three girls achieve this honor. I grew up in a large musical family and was lucky to have musical parents and wonderful exposure to music growing up. Music was a big part of my life, and I wanted it to be a big part of my girls' lives, too."
Joan herself was named to All-State Chorus three years (1985-1987), at Stuart-Menlo High School. And, by the way, Joan's dad and the girls' grandfather Patrick Doud was selected to the very first Iowa All-State Chorus in 1949 and was in it all four years at Stuart High School. Doug Sweeney was an all-state performer in 1979 at Burlington High School.
Laura's sister Sara Sweeney, who was all-state from 2013 to '16, said, "All-state was the most important activity in high school for me. … I'm especially proud of Laura for taking the pressure of being the last one to go through the process, but of course, none of us could have done it without our dad — a director with many years of all-state experience, a director who takes pride in every accomplishment we make, but a father who wore his heart on his sleeve for more than just his own kids. I praise him for his faith he had in all three of us and every student to get through all-state because without him, we wouldn't have fulfilled those dreams of taking part in something much bigger than high school choir."
Sara, who is in her last year of nursing school at Iowa Central Community College, performed in the Iowa State (University) Singers for two years.
Laura's sister Erica, who was all-state from 2005 through '08 and now is an optometric assistant in Ankeny, said, "The best way to describe how I feel about my sisters and our achievements is very proud. Being the oldest of my siblings, I'd like to say they followed in my footsteps; however, we girls have all been blessed with musical talents. Developing these talents is what makes me so proud of our achievements, as it takes an incredible amount of bonding and teamwork as well as willingness to invest the time, before and after classes to reach this goal. Sibling rivalry just plain had to take a back seat.
"You will find me on the sidelines cheering Sara and Laura on. I am and always will be their biggest fan."
Growing up, Laura, Sara and Erica all spent time around the piano, singing or playing.
"Most of that was just for the pleasure of singing or playing," dad Doug Sweeney said. "We as a family prepare music for our church services in Ames and have done even more this year due to the services being totally online and not being able to rehearse as a choir. We have a lot of fun doing this while sharing many laughs and bloopers as we try to record hymns and other special music for our services."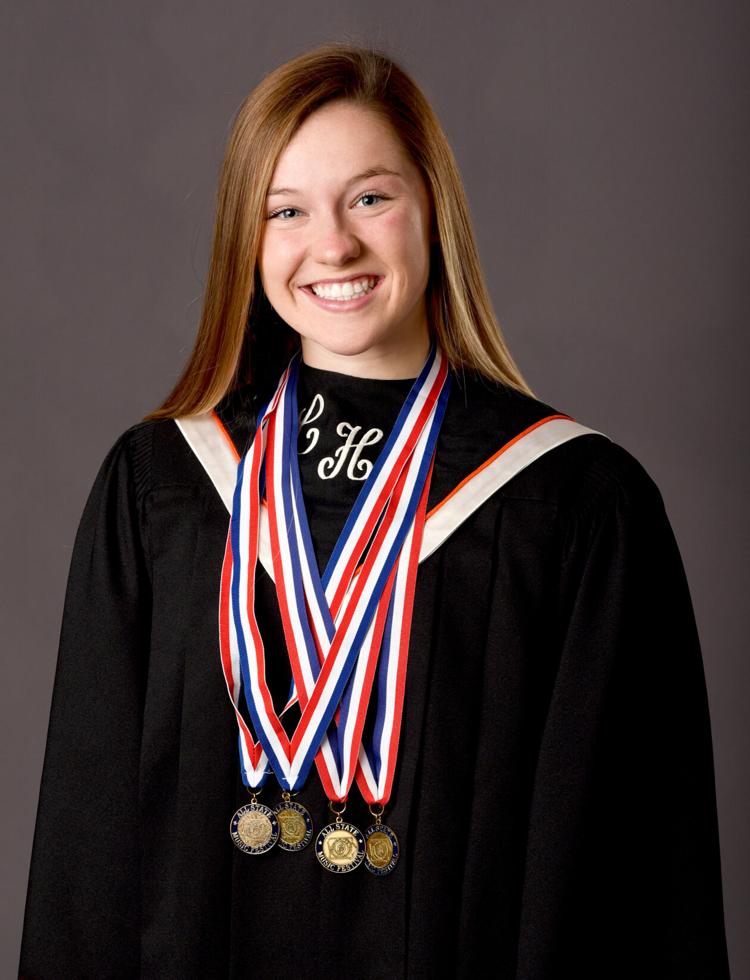 Laura said, "Having two very talented older sisters and two parents that are music teachers, I had teachers all around me that impacted my overall growth as a musician. I wouldn't be where I am today without all of them by my side."
Laura devoted more than two months preparing for all-state, including online workshop and daily rehearsals.
"From August to October, I worked on perfecting every piece and attended a workshop to improve my audition," she said. "I put tons of practice in."
The coronavirus pandemic dramatically changed this year's all-state process, with students submitting video auditions.
"For the actual audition," Laura explained, "I got the cuts about a month before they were due, so I made sure to perfect them as much as possible. We normally get the cuts the day of the audition, so this was very different. Instead of auditioning in person, we sent in videos of ourselves performing the cuts. It was honestly kind of weird recording myself, then having to wait for results for over a week."
She continued, "I most definitely was more calm this year because it was virtual. There is tons and tons of pressure walking into a room with a judge and getting one chance to do your best, while with this format I was able to record multiple times until it was perfected. The last three years auditioning in person were some of the scariest moments of my life."
Because of the pandemic, the 74th annual All-State Music Festival, which would have been held Nov. 19-21 at the Iowa State Center in Ames, was called off.
A news release by the Iowa High School Music Association and Iowa Music Educators Association said, "While we are saddened that the festival concert itself will not be able to take place to celebrate their achievement, that in no way diminishes the honor of these young musicians have achieved. They are in every way All-State Musicians!"
Contacted by the Times Herald for a comment about the three Carroll sisters' achievement, Iowa High School Music Association Executive Director Alan Greiner said in an email, "All-state musicians represent the top 1.7% of all high school musicians. To have achieved that honor for all four years of one's high school career is indeed a significant achievement. Each year the number of 4-year all-staters varies, but it's somewhere around 3% of those accepted — truly an exceptional achievement. Couple that with a family tradition of achieving that very high standard is truly exceptional and remarkable."
Laura's fourth year of all-state selection adds to her long list of activities and accomplishments at Carroll High, including: all-conference honors in volleyball, basketball, golf and softball; choir and show choir; mentor; National Honor Society; KINS (Kids Into Not Smoking); Tiger Vision; Student Senate; and special/adaptive PE.
She plans to attend Iowa State University next fall and is considering study in design or sports management.
While she may not join a college music group, she said, "Music will always be a part of my life, whether it's through my church or just for fun."
Carroll High's roster of four-year all-staters features Dusty Heino (1998-2001), Erica Doud (2005-2008), Kelsey Duhrkopf (2005-2008), Nick Schumacher (2009-2012), Abby Murrane (2010-2013), Sara Sweeney (2013-2016), Grant Meiners (2014-2017) and Laura Sweeney (2017-2020).