When Carroll Middle School nurse Ann McCartan heard that the principal had called an all-staff meeting after school, she was certain something serious was happening.
When that meeting was canceled for a snow day, then Carroll Middle School Principal Jerry Raymond rescheduled it for the following week, she was all the more convinced: Gosh, this must be really important.
She showed up for the meeting at the middle-school gym without ever hearing what it was about, and was surprised once again when she saw the elementary and high school nurses in attendance as well.
And then she found out they all were there for her.
McCartan is the Carroll Community School District's latest recipient of the Pella Staff Member of the Month award.
"I felt very overwhelmed, and I felt so humbled that the staff would think to put me up for this award," McCartan said in an interview. "I felt so appreciated. That feeling of appreciation meant so much to me."
Every month, Pella Corp. of Carroll recognizes a staff member either from the Carroll or Kuemper schools. Staff members nominate each other, and Pella picks a winner and awards that person with $500 to spend on something to use at the school.
Pella Plant Manager Dustin Katje and Human Resources Manager Jeff Heuton visit the schools to present the awards each month.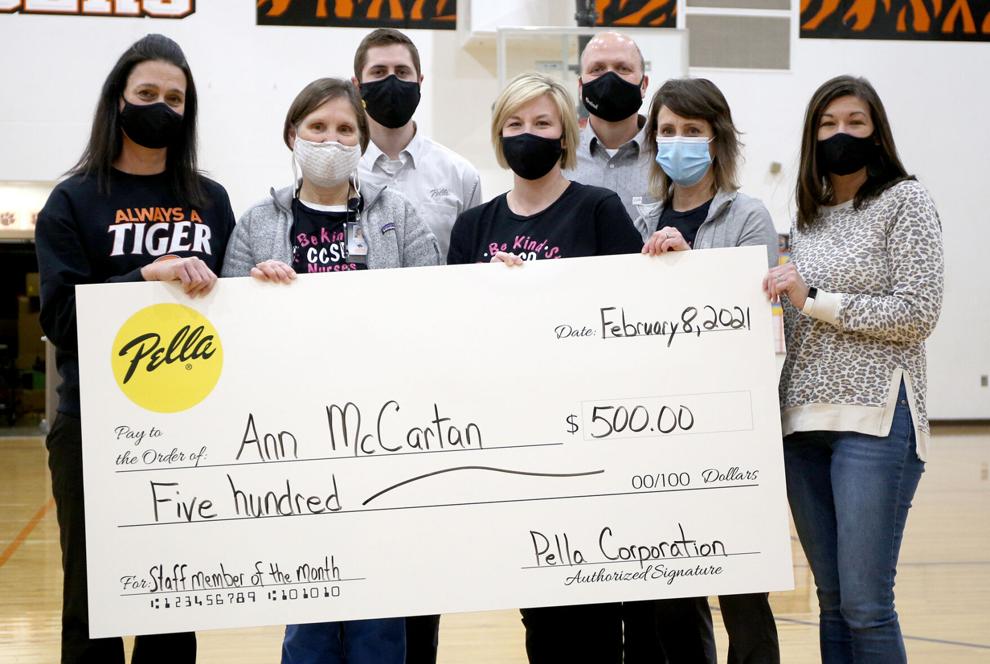 Carroll Middle School teacher's associate Carla Henson read her nomination for McCartan at the presentation, but Katje noted that at least a half-dozen people had nominated McCartan for the award in the past few months, including her fellow school nurses in the district: Theresa Pauk, Malinda Mehlhaff and Lara Haukap.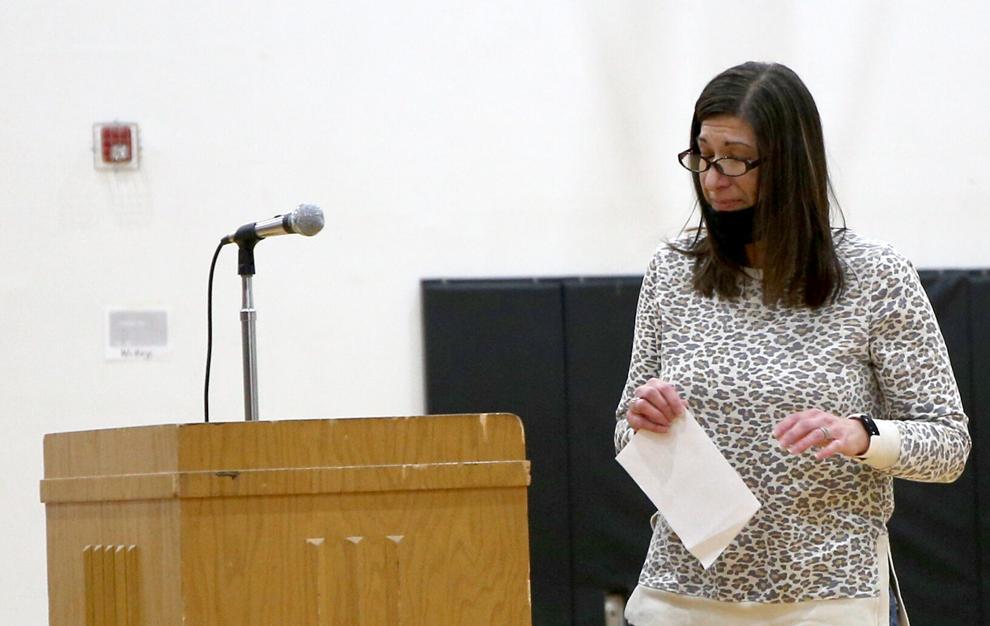 "This year has been very difficult from the start, no doubt," Henson said while reading her nomination. "And all the staff members give 100 percent. But there is one staff member that stands out, not just this year but every year. And that is our nurse, Ann McCartan. She is so compassionate and understanding. She shows concern to every student she comes in contact with. She goes above and beyond with students, staff and every parent when it comes to health concerns, whether it's emotional or physical. She works very hard to make sure her students are healthy and taken care of. She does this with a smile on her face and love in her heart. She is very deserving of this recognition."
McCartan later said, "I appreciate Carla's words; her words were so meaningful, and it was so thoughtful of her to take the time to write those words about what I do every day when I feel like everyone is working so hard."
McCartan began working at the Carroll Community School District in 2008. She previously had worked at MercyOne Ruan Neurology Care in Des Moines and MercyOne Urbandale Family Medicine Clinic, then worked in medical transcription while her children were young.
Her husband, Dennis McCartan, is a guidance counselor, psychology teacher and coach at Carroll High School. They have three children: Katherine, 21, a senior at Iowa State University studying graphic design; Grace, 20, a sophomore at Wartburg College studying psychology; and Joe, 19, a freshman at Iowa State studying environmental science. All three are Carroll grads.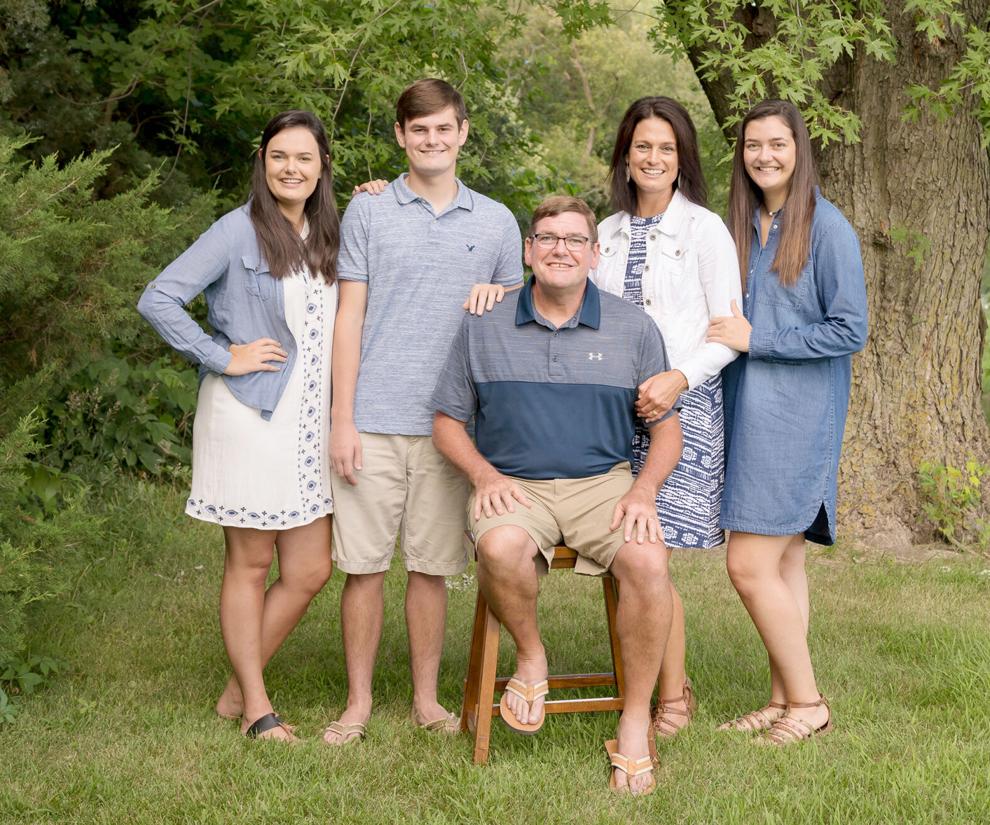 Ann McCartan grew up on a farm near Lanesboro and went to Lake City Community Schools, which went through several transitions and now is South Central Calhoun. Her parents, Bill and Jan McClue, live on a farm near Lanesboro, and her in-laws, Mary and Jim McCartan, live on a farm near Mallard. She has two brothers, Chuck McClue and Tom McClue, who live in the area, and a sister, Mandi Toms, who lives in West Des Moines.
McCartan enjoys spending time at Swan Lake, walking, being with her family and collecting unique rocks with her husband to make rock borders at their home.
At Carroll Middle School, McCartan keeps track of students who are out of school because of positive COVID-19 tests or because of quarantine, tracks students' symptoms that could be an indicator of COVID-19 and updates staff members who are in various tiers of vaccine eligibility. She keeps up with the changing data and information available about the virus and the shifting policies that affect the school, such as when and for how long students and staff members need to quarantine. She helps coordinate the school's enhanced cleaning protocols and coordinates closely with the Carroll County Public Health Office and other local entities.
She noted that she's seen an increase in stress and anxiety among both students and staff members during the pandemic, which adds another layer to her work.
And her pre-pandemic tasks haven't slowed down.
"The nurse's office is so busy," she said. "Take away COVID, and the nurse's office is still busy."
She administers students' medication, monitors attendance, helps students with chronic health conditions such as diabetes, treats students who are injured at school and assists others who are returning to school after an injury or surgery, reports immunization and dental requirements to the state, helps set up treatment, care and emergency plans for students who develop new conditions, and more.
McCartan enjoys working with students who have chronic health conditions and those in the school's special education program.
"They just bring a lot of joy to my heart every day," she said.
She previously worked at both the middle and high schools, but the district restructured its nurses' placement after the beginning of the COVID-19 pandemic, hiring Mehlhaff to fill the gap as nurses' work increased.
"I want to thank the school board for approving (an additional) nurse," McCartan said. "I feel like each school deserves a school nurse, and it's been really wonderful to focus on the middle school since I know Malinda has been focusing on the high school."
The district's four nurses — McCartan at the middle school, Pauk, who works at Adams Elementary School, Haukap, who works at both Fairview and Adams elementary schools, and Mehlhaff, who works at Carroll High School and helps at Adams when needed — collaborate regularly.
"There's only four nurses in the district, and we're kind of on an island of our own," she said. "We rely on each other a lot. We're very close."
McCartan plans to meet with the other nurses to decide how to spend the $500 from Pella in a way that will benefit all of the district's schools.
"The Pella award is just so generous," McCartan said. "It's a wonderful thing they're doing to help our school feel supported.
"I just wish that all staff could receive recognition, because everyone is working so hard to help keep our students safe and healthy and help them succeed in the classroom."