Carroll's latest ballfield is shaping up.
What's been dubbed "Miracle Field," an accessible ballfield for kids with disabilities, is taking shape near Kellan's Kingdom, an accessible playground located at Northeast Park.
The playground project was named in honor of Kellan Tigges, 9, son of Alie and Pat Tigges of Carroll. Kellan has a diagnosis similar to cerebral palsy. The playground opened last fall and has been a popular spot for local families, and advocates of the Miracle Field project hope its first league will play ball there next year.
Miracle Field will host teams associated with Miracle League, an organization dedicated to making baseball accessible for kids with disabilities. There are more than 240 Miracle League organizations across the United States as well as in Canada and Puerto Rico, according to the organization's website. The first opened in Georgia in 2020.
Local supporters of the project hope to increase that number by one next year.
And there are no flies on them — fundraising continues for the project, and cement and rubber recently were poured.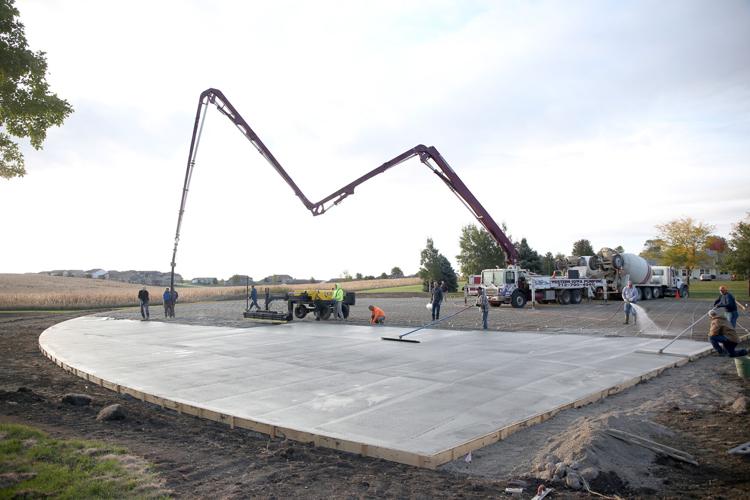 One major boost to the project's fundraising came recently in the form of a $25,000 grant from the Wellmark Foundation.
"The mission of The Wellmark Foundation is to fund initiatives that positively impact the well-being of Iowans and South Dakotans," states a news release from the organization. "Our funding supports community-based wellness and prevention initiatives focusing on safe and healthy environments in which to be active, and access to and consumption of healthy foods where we live, work, learn and play. The Wellmark Foundation is a private, nonprofit foundation created in 1991 by Wellmark Blue Cross and Blue Shield of Iowa. The Wellmark Foundation has provided millions of dollars in grant funding to projects that promote healthy lifestyles across Iowa and South Dakota for the past decade."
An additional $5,000 donation recently came in from Westside State Bank.
"We thought this was a good project to get involved with in the community," Westside State Bank Carroll Branch Manager Bill Beck said. "It's a close-to-home cause."
So far, $270,000 has been raised toward the project's $500,000 goal. Information about the project, upcoming fundraisers and how to donate is available at www.kellanskingdom.com. Those interested in donating via Venmo can do so at @kellanskingdom, and checks can be sent to Kellan's Kingdom, 23595 Phoenix Ave., Carroll, IA 51401.
The recent updates to the field largely were a collaborative effort.
Surface America completed the rubber to ensure the field was Miracle League compliant.
Several local people and organization donated time and supplies to complete the cement work, including Kevin Brincks with Opie's General Contracting, Mike Schultes Construction, Curt Kirsch Customs, Steve Wiederin, Jake Vonnahme, Dale Schultes, Joe Vonnahme and Mark Tigges. Several workers with the City of Carroll assisted as well, and the Carroll Fire Department provided a truck with water for the project. Moorhouse Ready Mix donated part of the cement, the Tigges family said.
"We're very excited," Alie Tigges said, noting that work on the field will continue in the spring. The project's organizers are investigating options and bids for fencing, dugouts and scoreboards. The final project phase will incorporate restrooms and concession stands.
Tigges is hoping kids will be playing on the field next year.
As she recently posted online: "Starting to look like a ballfield!"