Although coronavirus has limited the contact people have with each other, the need for foster care — and new foster parents — continues.
Lutheran Services of Iowa, which works with the Iowa Department of Human Services to provide training and licensing for foster parents in the state's western 30 counties — as well as providing mental health services and working with refugees, immigrants and people with disabilities throughout the state — is moving forward with recruiting and training new foster parents. That just looks a bit different these days.
The organization has switched to an online video conferencing format for its orientations, as well as the class sessions it holds for people becoming certified as foster parents.
That change provides some challenges — nonverbal communication is a huge part of the training and is more difficult to attain through a screen — but it's also had some positives, said Kendal Esteves, a foster and adoptive family recruiter for Lutheran Services who is based in Denison.
Many participating families are enjoying not having to find a babysitter or drive to the weekly classes, for instance.
Video conferencing has been used both for orientations — initial meetings to tell prospective foster parents more about how the system works — and for the more-in-depth classes participants go through after they decide to sign up and complete a background check.
The organization is continuing to place children in foster homes as the need arises, but many visits or check-ins with foster parents that previously were done in person now are being conducted through video calls. For now, scheduled meetings for foster kids and their biological parents are taking place through video call as well.
"Once the restrictions are lifted, they can go back to seeing their biological parents in person," Esteves said. "That was a huge hurdle to overcome."
Lutheran Services also has distributed a time capsule coloring book to many of its foster families that encourage kids to color, draw and even write letters to their future selves about their experiences during the coronavirus pandemic.
And in some cases when it's unavoidable, Lutheran Services employees are continuing to see people in person.
"The fact that they're willing to do that because this is a human interaction job, it's just remarkable," Esteves said. "It's really great to see not just the human spirit but that people care enough about each other that they're still willing to do that face-to-face interaction."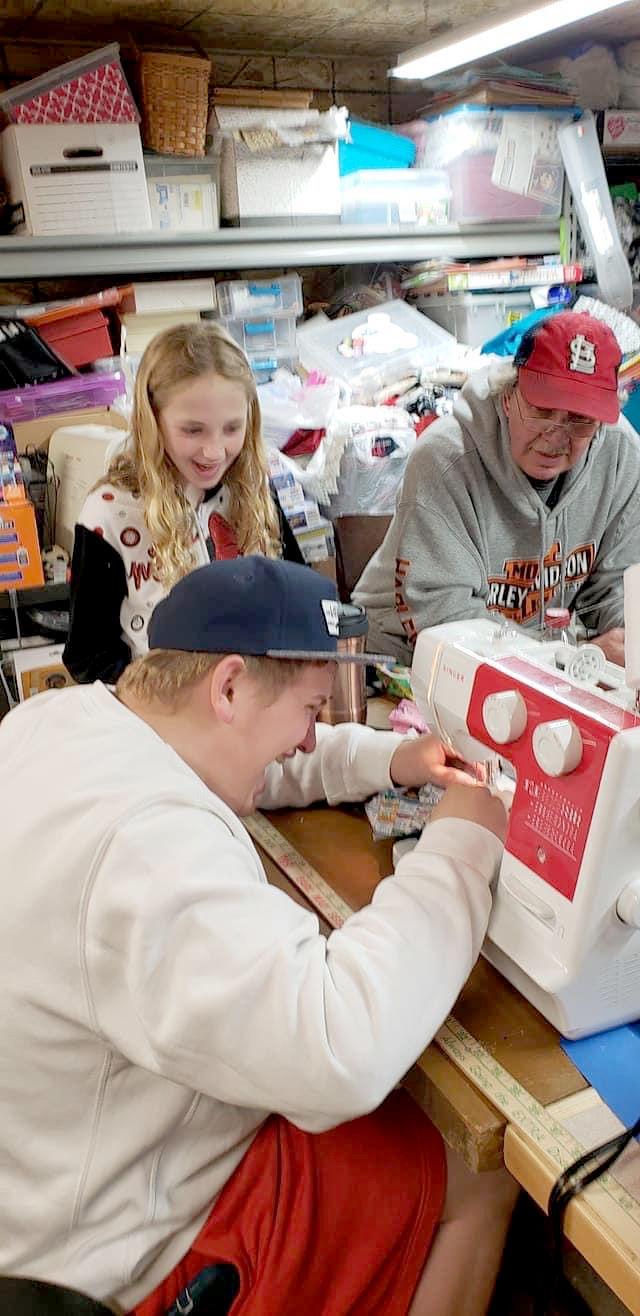 One foster family that has worked with Lutheran Services is sewing personal protective equipment for local health-care workers. Cat and Jay Luetje and their kids, who live in Westside, have been getting up early, finishing their schoolwork and then working together to sew masks and gowns. As of recently, they had sewn more than 500 masks.
"This family is having fun together, building their family connections while helping the community through the COVID pandemic period," Esteves said.
An orientation service for people in Carroll and the surrounding areas will be held at 6 p.m. May 12; it initially was planned to be held at Family Resource Center in Carroll but will be held online if statewide gathering restrictions still are in place. Those interested in learning more about being foster parents can sign up for the orientation at LSIowa.org/foster (click "View training calendar," select the May 12 event from the calendar and fill out an inquiry form).
Lutheran Services looks for foster families of all types — married couples, unmarried couples, same-sex couples, singles — because children enter foster care from all types of families, Esteves said.
"We need all kinds of parents willing to step up, because we have all kinds of kids come into care," Esteves said. "We don't want to pigeonhole people and say, 'These are good parents,' or 'These are good parents.' A good parent is nurturing and patient and meets a child where he or she needs to be met, allows that child to heal from issues they may have had, facilitates that healing and facilitates that reunification (with birth parents). That's a good foster parent."
The organization also regularly needs available foster parents who are willing and prepared to work with older children and teens, kids with behavioral or emotional issues, and children with physical disabilities or illnesses.
Families and individuals in Carroll and nearby counties are encouraged to sign up for the May 12 orientation; even if the initial orientation is online, Lutheran Services hopes to be able to offer the subsequent 10-week class in Carroll.
Esteves noted that it is important to have trained foster parents ready to go in each county so that when children need foster care, they can be placed near their home, allowing them to attend the same school and maintain some familiarity and normalcy. Additionally, with some foster families choosing to leave the program, either to take a break or because they have adopted a child, new families always are needed.
"If I had an overabundance of foster homes, then we wouldn't ever worry about having a child coming into care and not having a place for them," Esteves said.
"There's a lot that goes into being foster parents. It's probably the hardest thing anyone will do, but it's also extremely rewarding."