It's not uncommon to see motorcoaches from Carroll-based Windstar Lines, a family-owned charter-bus company with deep local roots, rolling into Washington, D.C.'s monument-lined Mall with tour groups, schoolkids getting their first glimpses of the Lincoln Memorial or veterans paying somber homage to fallen friends at sites of national valor.
On Wednesday, six members of the Greteman family will be in Washington, D.C., on one of the Windstar buses themselves as hundreds of motorcoach companies from around the country will come together for a rolling rally around the U.S. Capitol to remind Members of Congress and the Trump administration that the industry — which has laid off or furloughed more than 90 percent of its workforce nationally in the wake of COVID-19 — needs federal assistance.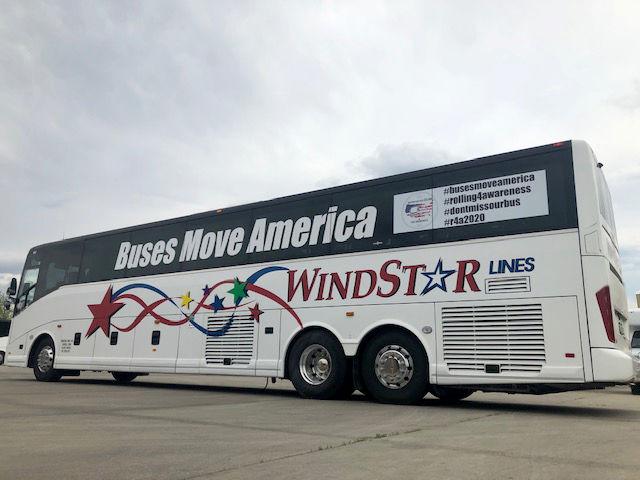 The industry is requesting $15 billion in grants and loans and modifications to Economic Injury Disaster Loan and Paycheck Protection Program to help save the industry from failing.
"It's crazy to think one minute we're looking for the best year we've ever had," said Jeff Greteman, president of Windstar Lines. "And in the next minute…"
The company has lost 97 percent of its business during what are peak months for motorcoach travel in the United States, Greteman said.
Only five its 152 buses are running, and those are on contract for a shuttle service between Cedar Rapids and Iowa City.
"We do a lot of tours, and obviously, that's off," Greteman said.
Windstar, owned and operated by Jeff Greteman's parents, Mike and Cathy Greteman, since 1995, employs 406 people in seven states, including 50 people in Carroll. The company used furloughs and then funds from the Paycheck Protection Program, a federal forgivable loan fund, to manage its workforce. The business is highly successful and can weather a few months of parked buses, but not much more, Greteman said.
"If it is a year from now and this is what we are doing, that might be tougher," he said.
Whether or not college sports returns in the fall will be vital to Windstar, as 30 percent of its business revolves around transporting teams to games.
What has Windstar and other bus charter companies fuming: The third federal stimulus package entirely overlooked the U.S. motorcoach industry.
"That's why we are doing this rally in Washington, D.C.," Greteman said.
The stimulus specifically earmarked grants and loans for the airlines, airports, public transit and Amtrak.
The motorcoach industry provides 600 million passenger trips annually, almost as many as the airlines.
"We don't need a runway," Greteman said. "We can get to any single spot in the country."
Today, nearly every one of the 3,000 motorcoach businesses across the nation have shut their doors and laid off employees, and this means permanent closure for many.
"Most of these companies are small, family owned," Greteman said.
Greteman and other motorcoach company leaders say they need grants-in-aid and loans explicitly directed to the U.S. motorcoach industry, as Congress and President Trump did with the airlines, to save employees' jobs and careers and the industry.