At Iowa Small Engine Center Bike Shop, co-owner Chad Onken tries to space new bikes on the shelves so that the stock doesn't look sparse.
At Walmart Supercenter, Jessica Yost, store manager nearly seven years, said, "We've run out (of bikes) several times. It's the first time in a long time that I've seen our racks empty."
Both Onken and Yost say people's eagerness for outdoor activity during the coronavirus pandemic apparently has propelled sales of bicycles and accessories into high gear.
"With social distancing, biking is one thing you can still do to get exercise," Onken said. "I think that after people had been staying at home all the time, they wanted to finally get out and get some fresh air."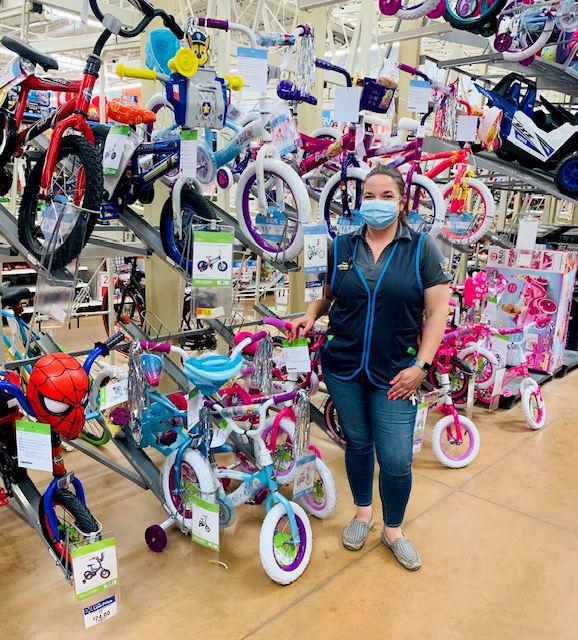 "I think people just got bored, and we have some beautiful trails," Yost said.
Onken and Yost both report big demand for all types of bikes for riders of all ages.
"We always see a jump at Easter. Easter is big for bike sales," Yost said. "It just jumped exponentially this year."
Anticipating the spring bike season and a traditional TrekFest promotion, Onken said, ISEC, an authorized Trek sales and service shop, had about 85 bikes set up. Trek, however, decided to forgo the sale, Onken says, as he was already seeing bike sales begin to skyrocket in late March.
"We started ordering in (bikes) just to have them on the shelves, and people were looking at them and buying them," he said.
He continued, "Our bread-and-butter bikes, you could just see the numbers going down in the warehouses. Our reps were telling us to start back-ordering bikes so when more became available that they were going to ship them to us right away."
Nevertheless, ISEC now has a lengthy waiting list of bike buyers.
"I've been taking people's names down in a notebook waiting for bikes," Onken said. "I have about three pages' worth of names."
Purchases have included kids' bikes, mid-range hybrids, TerraTrikes, high-end carbon road bikes and pedal-assist electric bikes.
"You never know what people are going to like," said Onken, who added that shoppers are invited to test ride any of the bikes.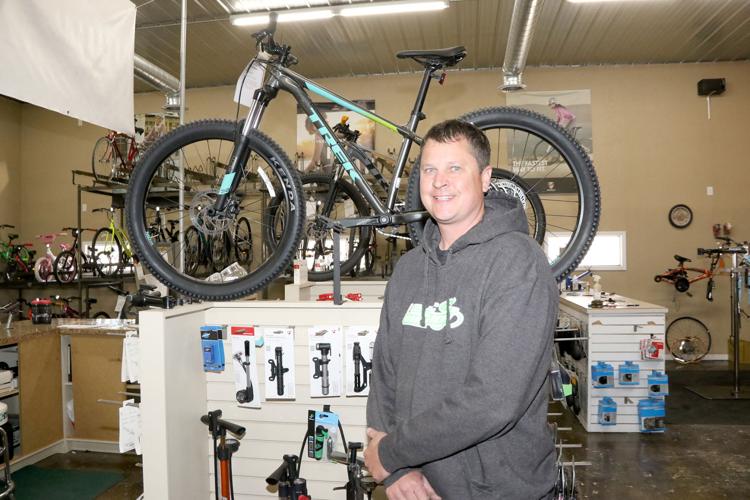 "The last couple of weeks we've sold probably eight to 10 electric bikes and trikes. … Older customers are looking for something more comfortable with wider seats and that sit more upright like the hybrids."
Walmart's Yost said her store had some smaller bikes on hand recently but that bigger bikes, such as 24- and 26-inch mountain bikes and cruiser models with wide seats "definitely sell the fastest."
"We're still receiving bikes at least a couple of days a week, but I don't know when we'll be back up to full stock," Yost said.
She noted customers also can shop online and have bikes shipped to the store.
"If the bike is sold and shipped by Walmart, it could arrive in as few as two days," she says. "If it's sold and shipped by a third party, we can't control how long it takes for them to get here."
In addition to demand for bikes, sales of parts, accessories and clothing also have been brisk.
"Everything from helmets to kneepads to tire pumps to bike locks, all that," Yost said.
Onken noted, "Parts and accessories (sales) are about double what they were last year at this time."
The enthusiasm for biking has increased traffic on the Sauk Trail, a 33-mile concrete and asphalt span that connects Swan Lake State Park south of Carroll and Black Hawk Lake State Park at Lake View.
Onken offered an anecdotal story: "I was talking to somebody the other day who said the most people they'd ever met riding from Lake View to Carroll was 70. Last weekend they counted over 200 people one day."
He added, "I know it's getting busier. We have a lot of people who ride into town and come up here to shop, but it's hard to put a number on it."
Carroll County Conservation Director Jason Christensen said sales of Sauk Trail permits may be on pace to top last year's total of 842. More than 700 had been sold by the first week in June with more orders waiting to be processed.
"We've been getting a lot of requests for passes," he said. "It's been a busy spring with trails."
A year's permit costs $15, while lifetime permits are $250 for an individual or $350 for a couple. A one-day permit is $2. Trail users 18 or older are required to have a permit.
Order forms are available on the Carroll County Conservation website and may be mailed to 22676 Swan Lake Drive, Carroll, IA 51401. There are also drop boxes at Houlihan Access on the west side of Carroll and at the Conservation Office at Swan Lake State Park. The office has been temporarily closed due to the coronavirus pandemic.
Funds from the passes go for trail maintenance and improvements. Last year, two crossings on gravel roads a mile south of Breda were paved. No major projects are slated this summer.
Onken and his brother Kevin have owned Iowa Small Engine Center since 2007, and the Bike Shop was opened in 2013. Chad is upbeat that bicycling's surge in popularity won't be just temporary.
The Bike Shop is welcoming both first-time customers and a strong base of loyal clientele.
"We've been getting busier every year," Onken said.