Since the beginning of June, there have been at least five fires at the Carroll landfill.
One, starting at the site where Carroll County Solid Waste employees were burying trash and laying tarp, burned both the tarp and the $80,000 tarping machine.
Some occur at night, requiring a quick response by the Carroll Fire Department followed by hours of monitoring and cleanup by Solid Waste employees.
The common thread: batteries. Employees believe one of those fires was caused by a hoverboard battery, another by a computer battery and others by varying types of small batteries that were run over by the massive trash compactors and broken.
"There's this perception that we have these little batteries; they won't cause any harm — and they're causing big harm," said Mary Wittry, director of the Carroll County Solid Waste Management Commission. "A lot of solid waste folks don't like to talk about fires — but they're happening all across the United States, and I think it's only going to increase."
The Carroll County Solid Waste Commission is urging residents to safely dispose of batteries and other hazardous waste, rather than putting them in the trash or recycling.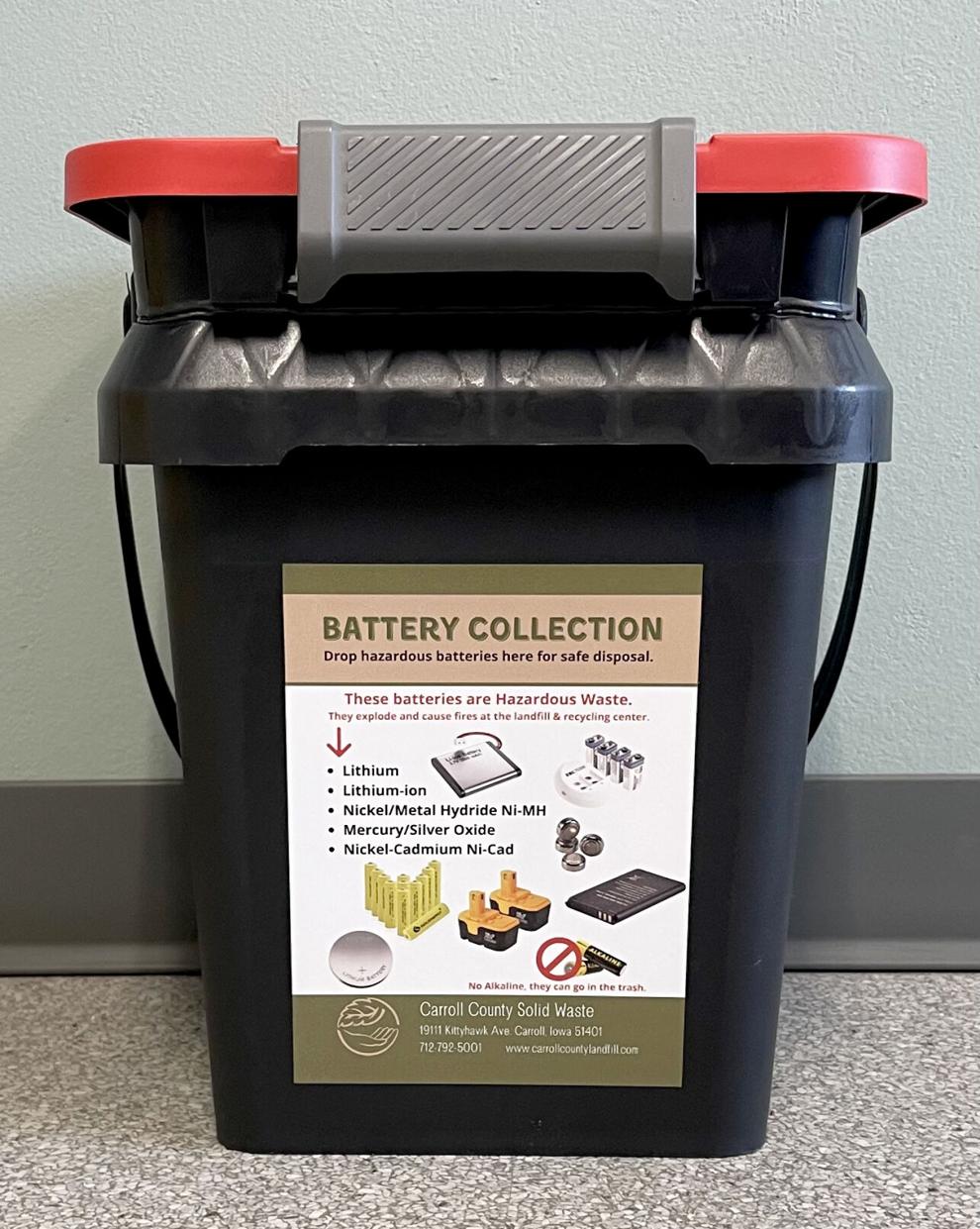 Since a trip to the landfill to drop off those items can be inconvenient for some, Carroll County Solid Waste and its partners have placed "battery collection sites" around Carroll County. The trash bins are labeled with "Battery Collection" and are available as a safe place to dispose of batteries.
According to Waste360, between 2016 and 2020, there were an average of 318 fires per year at waste and recycling facilities throughout the United States, causing more than $1 million worth of damage.
"So, this is huge," Wittry said.
The dry weather this year hasn't helped, she added.
The Carroll County landfill has a system worked out with the Carroll Fire Department, as many of the fires occur at night. The department is able to enter the landfill when it's closed and is kept apprised of where waste is being buried at any given time, as that typically is the site of the fire. The landfill keeps piles of dirt at its working sites to help smother fires.
"There's a huge safety issue here," Wittry said. "The danger here might be that we don't know what's all buried. Between what comes in on 100 or so trucks here every day, we don't always know, and not knowing, something could explode."
She predicted similar problems in the future with disposed electric car batteries, if better methods for disposal aren't used.
Ultimately, the solution goes beyond pleas from solid waste commissions for responsible disposal by residents and extends to the companies making the batteries in the first place, Wittry said.
"How do we manage this long term?" Wittry said. "Extended producer responsibility will have to play a role. They need to be responsible for what happens to their products. Recycling centers, scrapyards — we're on the bottom of the waste chain. It's produced, it's used and it's sent to us. … We sit at the bottom of the chain trying to deal with these batteries."
For businesses that sell lithium batteries and products that include hazardous batteries — including items like watches, power tools, singing greeting cards and cellphones — that means educating customers on the dangers of those products and safe methods of disposing of them, Wittry said.
"We need investments in tech to deal with this ongoing issue," she said. "The industry needs to stop being afraid to fight battles and hold people responsible."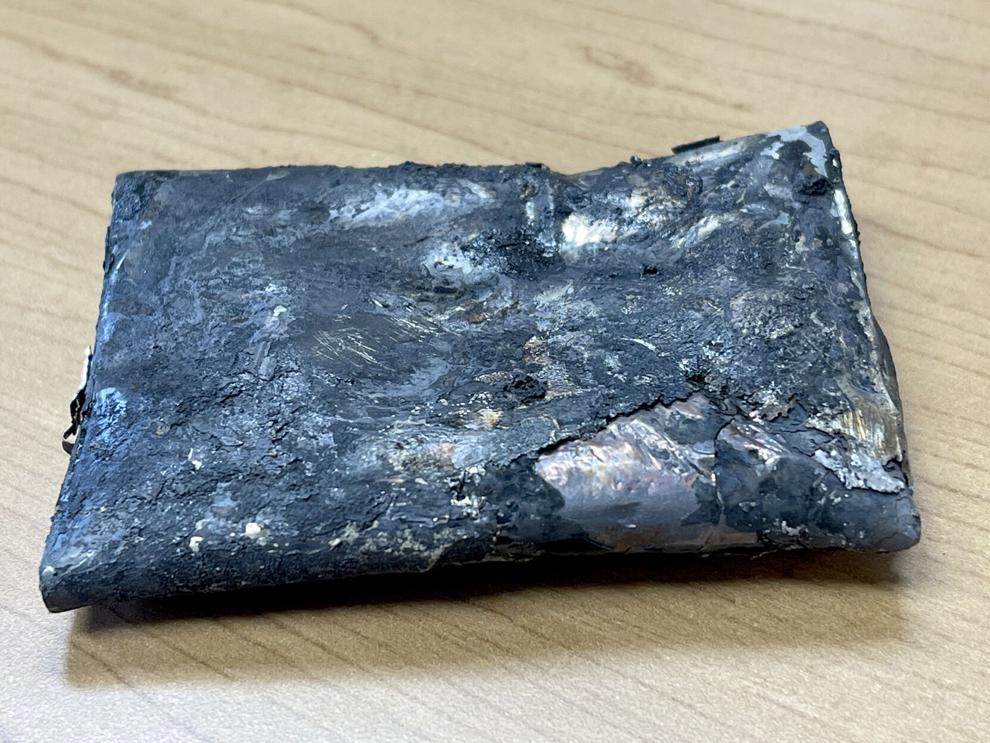 For now, though, having residents take responsibility for properly disposing of their batteries and other hazardous waste will make a huge difference, she said.
Only one type of battery, alkaline batteries (A, AA, AAA, C, D or 9V), can safely be thrown away with household garbage. All other types of batteries should be disposed of separately in the battery collection bins, including:
— Lithium batteries (also called lithium-ion or button batteries): found in hearing aids, watches, computer motherboards, car remotes, singing greeting cards, e-cigarettes and solar lights.
— Nickel and metal hydride (Ni-MH) batteries: rechargeable batteries similar in size and shape to alkaline batteries (A, AA, AAA, C or D). They are marked "rechargeable" or "Ni-MH."
— Mercury and silver oxide batteries: tiny batteries that are becoming rare but may still be found in older equipment such as watches. They look similar to lithium batteries but are smaller.
— Nickel-cadmium (Ni-Cad) batteries: common rechargeable batteries found in many devices, most commonly in power tools. They come in a variety of shapes and sizes.
— Lithium-ion batteries: most commonly found in devices such as cameras, cordless power tools, laptop computers and cellphones.
— Lead sulfuric acid batteries: car, golf cart and boat batteries. These can also be sold to salvage yards.
Residents are asked to safely package their hazardous batteries and take them to the disposal sites, which are free to use and will be available long-term. Below are the locations (view them also by visiting westcentralsolidwaste.com and clicking on "Hazardous Waste," scrolling to "Battery Disposal" and clicking on "Battery Collection Sites"):
— Adaptive Audiology Solutions, 409 W. 7th St.
— Audiological Services of Iowa, 712 Simon Ave.
— Carroll Apothecary, 425 U.S. Hwy. 30, #140
— Clinic Pharmacy, 405 S. Clark St., #102
— Lincoln Highway Pharmacy, 859 E. U.S. Hwy. 30
— Iowa Savings Bank, 510 U.S. Hwy. 30
— Commercial Savings Bank, 325 W. U.S. Hwy. 30
— Availa Bank, 126 W. 6th St.
— Carroll Public Library, 118 E. 5th St.
— Carroll City Hall, 627 N. Adams St.
— Carroll Post Office, 614 N. Clark St.
— Carroll County assessor and treasurer offices, 114 E. 6th St.
— Arcadia City Hall, 205 W. Front St.
— Breda City Hall, 108 N. 2nd St.
— Tiefenthaler Building, 110 E. Main St.
— Coon Rapids City Hall, 123 3rd Ave. S.
— Coon Rapids Pharmacy, 515 Main St.
— Dedham City Hall, 206 Main St.
— Glidden City Hall, 108 Idaho St.
— Westside State Bank, 103 Main St.
— Lidderdale Fire Station, 115 N. Main St.
— Manning Pharmacy, 317 Main St.
— Templeton City Hall, 108 S. Main St.
Additionally, hazardous waste such as batteries and bulbs can be dropped off daily, free of charge, at the Carroll Recycling Center. For more information or with questions about types of batteries, visit westcentralsolidwaste.com to view a hazardous battery brochure or call 712-792-5001.