As one student carefully sliced Tyvek house wrap, several of his classmates held the wrap secure and reminded him to keep the cuts straight.
At the structure's highest peak, they called on the tallest student among them to hold the wrap in place.
They're working together to build a utility shed, but the skills they're learning apply to house-building as well — and, for some of them, that's what they want to be doing in the future.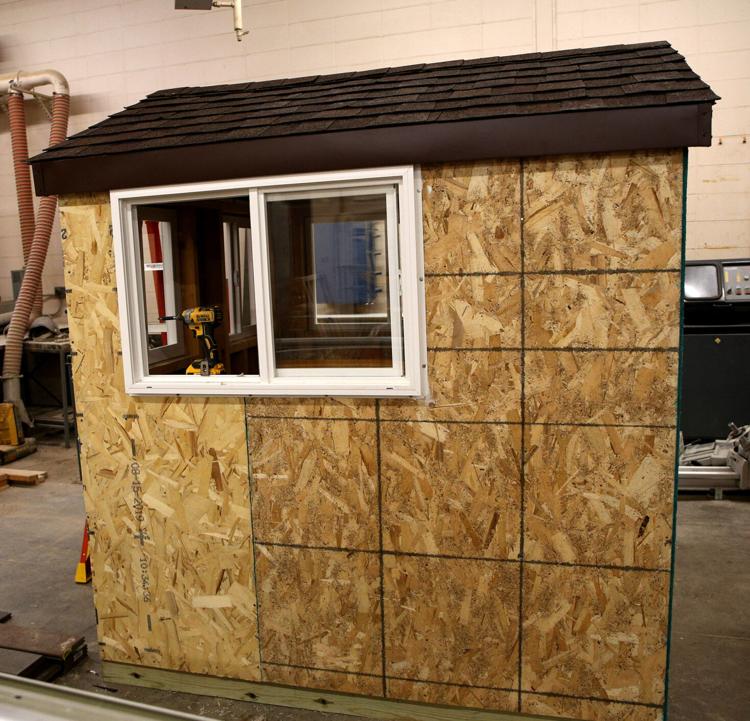 They're the first batch of students in Carroll High School's inaugural construction trades class, taught by Doug Leiting.
"We are describing to students how to build a house from start to finish," Leiting said.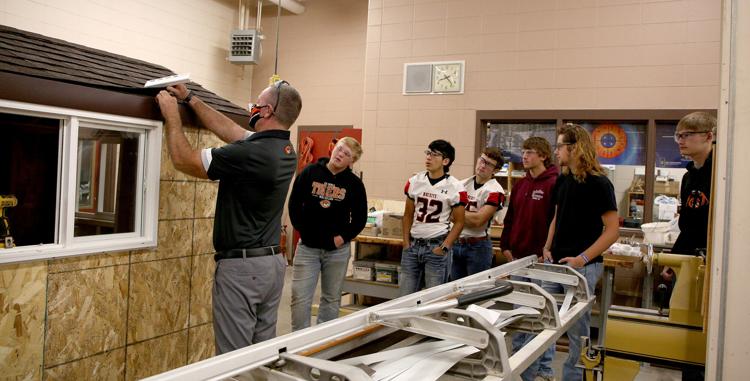 That starts with getting a building permit, then continues on to digging a basement, building a concrete foundation, looking into city codes, working with a contractor and architect, selecting materials, working with an electrician, all the way through building the house.
The undertaking of building a utility shed in class allowing the students to complete many of the same tasks they'd do while building a house — installing windows, building rafters and trim coil, using sheeting, building a roof and more.
They learned how to space out nails to ensure a house is covered under warranty, that the house wrap would allow the wood to breathe and release moisture but wouldn't let in rain, and that caulking a window is the cheapest investment they could make.
Leiting, who also teaches industrial tech, mechanical CAD, architectural design and several other courses at Carroll High School and Des Moines Area Community College's Carroll campus, described the class as going through a buffet — one that includes woodworking, computer-aided design and drafting, electrical work, problem-solving — and figuring out what's needed next. The class incorporates geometry, applied math, blueprint reading and other skills.
After Leiting sketched out the day's plans on his whiteboard, with a yellow clay drill crafted in an art class sitting proudly on a nearby filing cabinet, he and the students headed over to their workspace — they'd just finished learning about J-channel siding, and on that day, they'd learn the art of wrapping a house — or, in this case, a utility shed — in Tyvek house wrap.
The students worked together to hold the Tyvek in place, secure it with a slap stapler, then cut around the windows and roof.
They did most of the work, although Leiting borrowed the slap stapler at one point to demonstrate how to pull the Tyvek tight and secure it firmly.
"It's like he's done this before or something," sophomore Koby Nehring cracked.
All of the students in class that day previously took Leiting's industrial tech class. It covers various aspects of home repair and maintenance, while construction trades focuses on the broader tasks of building a house or structure.
"You've got a lot more free range (in the construction trades class)," Nehring said. "Industrial tech was small scale, and this is larger scale."
Ar-We-Va senior Jeffrey Molina added, "You get to have more hands-on work and do more things."
Leiting talks to students interested in construction about potential next steps, whether that's college or trade school or the workplace.
For those thinking about more school, Leiting recommends a business minor in addition to construction and trade classes.
But he knows that some students will leave Carroll High and head straight to work — and he wants them to be prepared.
"Not every student we teach is a fit to go to DMACC or is college-bound material; some students I get will go directly from Carroll High to the workforce," Leiting said while presenting a proposal for the course to the district's School Improvement Team in January. "If we can get a type of bond between them and our contractors, maybe in a few years we turn this (class) into a workplace job."
Although the coronavirus epidemic has halted Leiting's plans to have students in the class work with area contractors for now, he hopes to see that become an aspect of the class in the coming years.
"We have so many kids who get sent out of Carroll and they go to Iowa State, they go to (the University of) Iowa, and we never see them again," Leiting said.
He hopes that partnering with local businesses through the course will encourage students to consider employment with those companies after they finish school.
"This is important, because there's not enough people out in the industry," Leiting said. "It's very hard to find skilled labor. This is a great group of students, and the school is supportive of the program. I'm hoping we get the right population to get them ready for the next step."
For those in Leiting's first construction trades class, they're on their way to some of those goals.
"He made it sound like a pretty good class, and it is a pretty good class," Nehring said.
Several of the students already help out with construction projects at home, and some of them know they want to go into construction.
For Nehring, the sense of accomplishment that comes from construction appeals.
"You can say that you did that — that's the aspect I like," he said. "I'd like to drive by a house and say, 'I did that.' "