It's time for a new Roaring Twenties.
Helping launch the 21st-century version is the 36th annual Friends of Kuemper Ball fundraising campaign for Kuemper Catholic School System.
"The Roaring Twenties" theme of the Ball was unveiled at the campaign's kickoff meeting Wednesday night, Jan. 29, at the Bishop Greteman Center. Leading this year's campaign are chaircouples Tom and Paula Kasperbauer, Jeremy and Dr. Tina Schechinger, Bill and Laurie Schenkelberg, and Dr. Kyle and Onica Ulveling.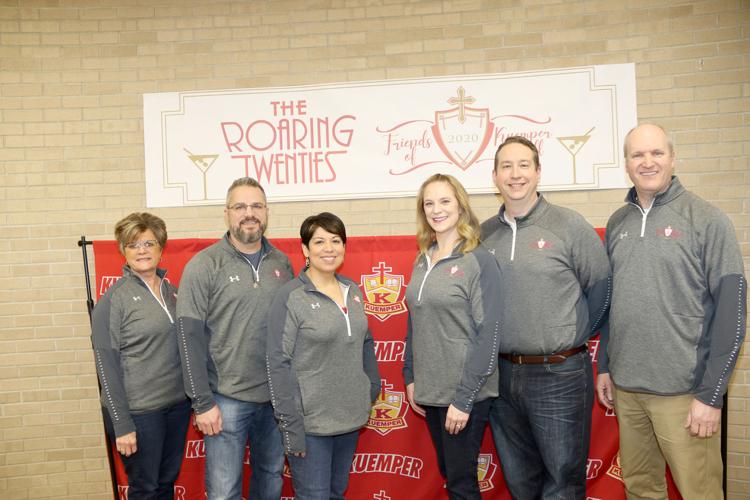 In the last 35 years, the campaigns have raised more than $10.8 million for Kuemper Catholic Schools. Kuemper this year has enrollment of 1,160 in preschool through 12th grade.
Funds from the Ball have been used for an array of needs and projects, such as teacher pay, general operating fund, tuition assistance, technology and critical capital needs. Last year's campaign raised $554,667. The fundraising record was $685,432 in 2016.
Co-chair Bill Schenkelberg said the campaign will serve a dual purpose of raising funds for Kuemper and also emphasizing the importance of overall community.
"We want to really give a sense of community in that we find ourselves being a part of this greater Carroll and Catholic community and the Kuemper family," Schenkelberg said. "And we hope to have activities and things that focus not only on raising money for the Ball — that's certainly a big part of what we're doing — but really bring the community closer together. Then the fundraising aspect will come out of the community coming together to support the Catholic schools."
He added, "We feel to have a Catholic education available in a small rural community like this is a true blessing because of the hard work of a lot of different people."
One of the events leading up to the Ball will be the "Dueling Pianos" show on Saturday night, Feb. 29, at the Templeton Center in Templeton. Doors will open at 6 p.m., and entertainment by Andy Anderson and Mike Leeds will be from 7 to 10 p.m., with a live auction at 8. A light meal will be served, and there will be a cash bar. Costs for a table for eight are $400, $500 or $600, depending on location on the floor. Tickets --are available by contacting Kuemper Annual Giving and Alumni Director Cindy Lawler at 792-2212, or visiting the Alumni Office at 116 S. East St. A Trivia Night also will be scheduled.
The campaign will culminate with the Ball on Saturday, May 2, at the Kuemper Field House.
"The focus is, let's come together as a community, have some entertainment and enjoy each other's company, and build friendships and memories," Schenkelberg said of the campaign.
He went on to say, "I'm really excited about what we're going to do this year. I think we have a great bunch of people. It's a lot of fun to work with the individuals who are part of the team here. I think everybody's really energized about it, and we hope we put on a good party in the events we have beforehand and keep building on the great success that the Ball has had over the years."
Before the kickoff meeting, Carroll Mayor Dr. Eric Jensen signed a proclamation supporting the Ball, making March 23-29 Red and Gold Week locally.
The proclamation says in part, "Kuemper Catholic Schools are among the highest quality education facilities in the state … set the highest standards of excellence in education and responsible moral growth for its faculty students and parents … provide a unique Christ-centered quality to the Carroll County area … Kuemper Catholic Schools have long had the strong support of the people of Carroll County and in turn, supported the Carroll area and towns in many cooperative efforts."