After a year of postponements and cancelations, the Carroll Chamber of Commerce is hoping to put a little bit of fun into Carroll this summer.
That cloud of disappointment lingering above has started to dissipate, and the Chamber has just the ticket with a Live + Local spring and summer concert series.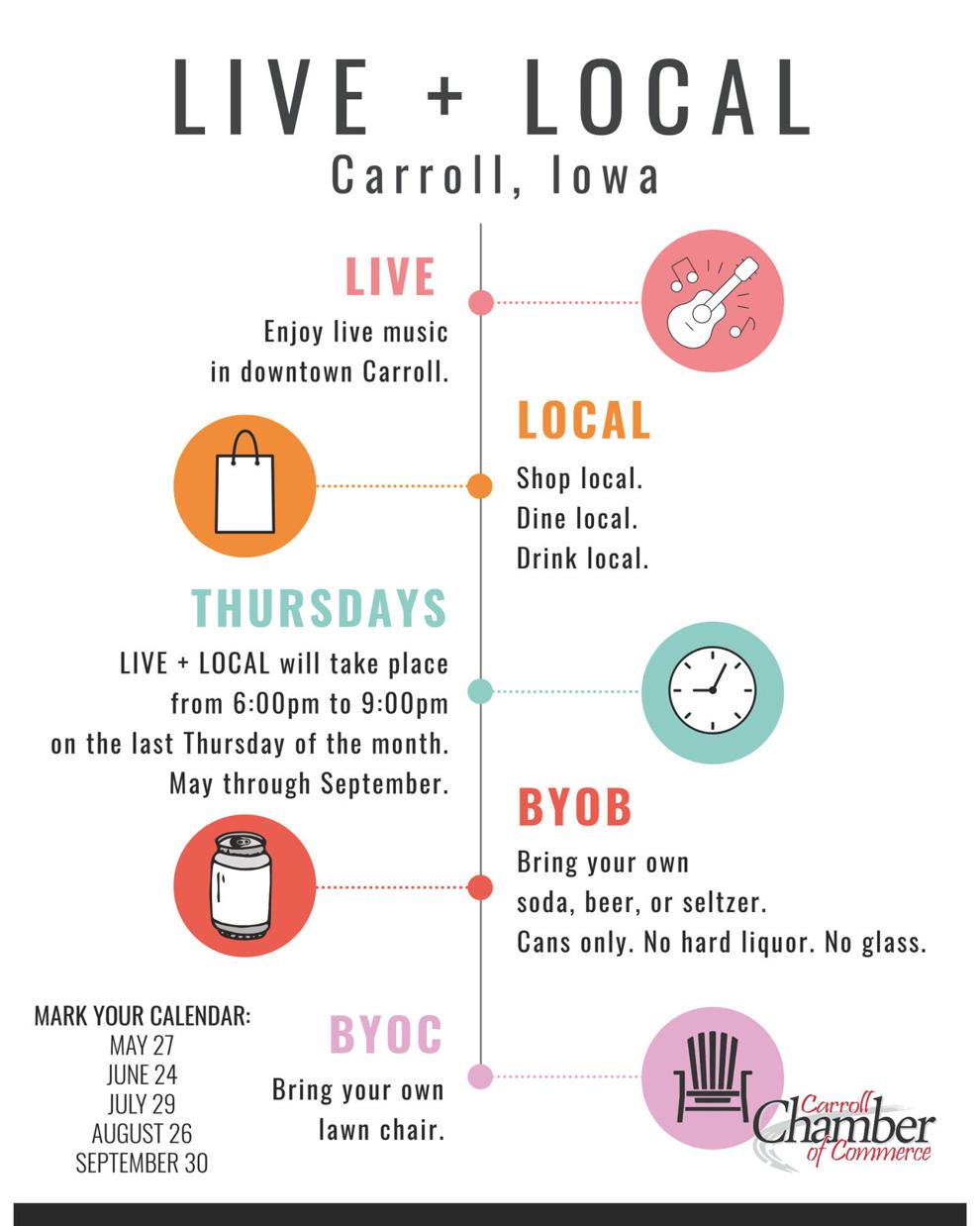 Live + Local will be held in Carroll's downtown central business district from 6-9 p.m. on the last Thursday of the month May through September. Adams Street will be closed between Fourth and Fifth streets for the concert, along with the far east portion of the Thomas Plaza parking lot.
The Carroll City Council signed off on that arrangement Monday night in a regular session.
The series will showcase a variety of music, both locally and nationally. Kicking things off on Thursday, May 27 will be 2 ½ Guitars, a Carroll-area band that plays a large variety of music. The first Live + Local is brought to you by the Carroll Chamber of Commerce and Carroll Young Professionals.
"We are looking forward to bringing some excitement to the community that also encourages people to both shop and dine locally," said Rosanne Nees, Business Development Director at the Chamber. "We hope those attending will enjoy the entertainment and experience Carroll through the concert series."
Scott Larsen, a singer songwriter who grew up in Carroll, will entertain the crowd on Thursday, June 24 with his vocals, guitar, and percussion. Jake Kemble & Kick, a Des Moines-based rock group, will perform on Thursday, July 29, which also is the annual Ridiculous Day celebration. Acts for August 26 and September 30 still are being confirmed.
Live + Local will bring neighbors, friends and everyone in between together for an evening of music and fun. Coolers and lawn chairs are welcome. Bring your own soda, beer or seltzers. Cans only, no hard liquor or glass bottles. The concerts are free to the public and made possible through business sponsorships.
Consider supporting the businesses who make these events possible by remembering to shop local, dine local and drink local. If your business would like to help sponsor a concert series, please call the Chamber at 712-792-4383.
Considering COVID-19 concerns, concertgoers should attend, wear masks and socially distance at their own comfort level.
For more information visit the Chamber Facebook page, and watch local media for further details.