A modernized Rec Center will feature an expanded gymnasium with an indoor elevated walking track, the most-requested addition in the building for years in local surveys, and an expansion of the pool and revamping of locker rooms and other elements — all designed to collectively give the 1977 city amenity, a showcase facility for years, what advocates see as a much-needed boost.
City of Carroll voters will cast ballots in a Sept. 8 referendum (early voting starts in August) on a $5.9 million debt-financing plan.
"People want to be able to say something; they want to be able to vote," Mayor Eric Jensen said.
In total, the Rec Center project is expected to cost $13.38 million, and could be complete by November 2022. The City Council just days ago signed off on the use of $7.61 million in local-option sales tax revenues to fund the majority of a plan that has been in development for well over a decade.
Additionally, the Sept. 8 city ballot will include a referendum on whether to extend the 1-cent local-option sales tax without a sunset.
The Rec Center bonding referendum requires a 60 percent super-majority to pass; the LOST must clear 50 percent. The council can determine on its own whether to connect debt to the sales tax funds.
When it opened 43 years ago, the Carroll Recreation Center was a groundbreaking facility for its time for a community the size of Carroll, so much so that it drew a young city official from Mount Pleasant for a tour, former Gov. Tom Vilack, who served as a councilman and mayor of that southern Iowa city at the time. Vilsack has told Carroll audiences he still recalls being inspired by what Carroll could accomplish in the late 1970s — and references the Rec Center as a public works project that he thinks helped define Carroll as progressive and lure new businesses and industry here.
Councilwoman Carolyn Siemann wants Carroll to move on the project now to improve the community as other towns are waiting out COVID-19. Interest rates and contractor availability and bidding likely are to be favorable, she noted.
Waiting could increase the pricetag to more than $14 million, city officials project.
"I would hate for us to just stagnate and wait and be reactive," Siemann said. "I've always thought of the town as really proactive and wanting to set ourselves apart from other communities."
If voters approve the financing, the city will work with architects until the spring of 2021 before letting bids, with construction expected to start next summer and completion targeted for November 2022.
Because the city has financing coming off the books for the outdoor aquatic center, cemetery maintenance building and other work, it frees dollars for the $5.9 million in debt financing tied to general-obligation bonds, meaning taxes aren't expected to increase to fund the Rec Center.
Meanwhile, the city conservatively estimates that $35.4 million would be generated in local option sales tax funds over the next 20 years.
Based on that projection, LOST money could be used as follows: The first 25 percent, or $8.85 million, is required to go toward city property tax relief; $10 million is planned to be spent on local street improvement projects; and $8.98 million would go toward the principal and interest payments associated with the Rec Center project.
The remaining $7.57 million will be available for future needs.
Over 20 years, about 25 percent of LOST funds would go toward the Rec Center improvement project.
So what does the proposed Rec Center project include?
— A third basketball court area in the expanded gym.
— Raised 3-lane walking/running track creating a new 1/10-mile walking loop. The track allows an area to enjoy during the cold winter months without interfering with games being played on the court.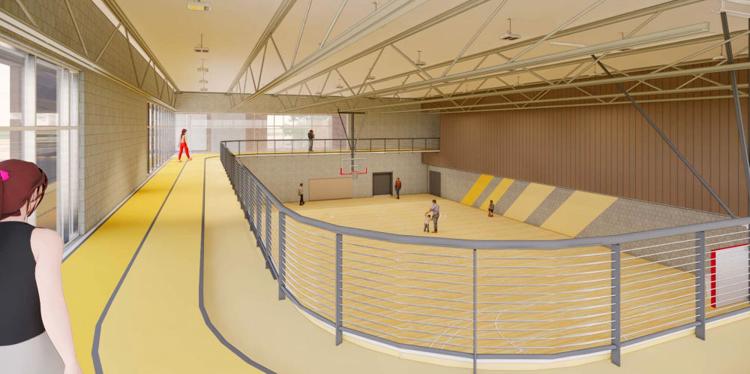 — Additional gym can be rented out for parties and team practices including: basketball, volleyball, soccer, batting cages and pickleball.
— Track accessible from second floor of fitness center and a new elevator and stair tower.
— Indoor aquatic playground safe area dedicated to families with young children.
— New steam room and sauna available more hours during the day.
— Four additional lanes open in the evenings to allow no interference with the swim team.
— New resistance water area for water walking.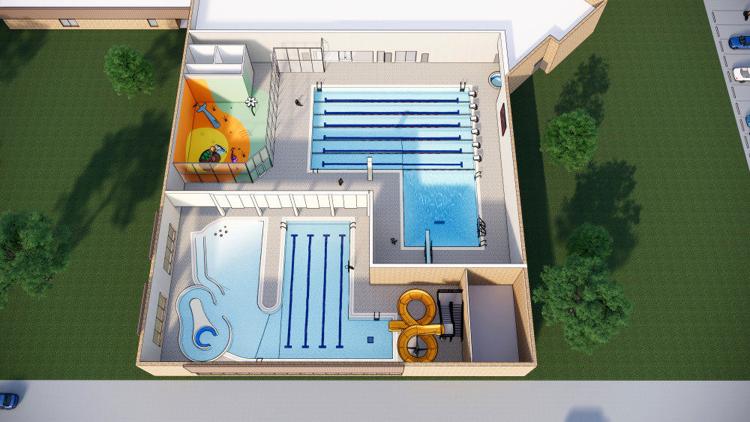 — Renovated from the ground up.
— No separate locker rooms for women, girls, men, and boys; there will only be locker rooms for women/girls and men/boys.
— Both the men's and women's locker rooms will have individual showers to provide privacy.
— New bathrooms and lockers also will be provided in the completely renovated space.
— Four changing rooms that are accessed by a common hallway outside of the common area, which is more ideal for waiting.
— Lockers will be provided in the hallway for families to store their belongings while using the Rec Center.
— A new "wet classroom" will be provided off the pool, which will have multiple functions.
— Used for swim lessons, lifeguarding classes, swim meets and rentals, including birthday parties.
— Improve the current situation of patrons walking around the facility from the pool in wet clothing.
— The existing office and community room on the west side of the building will switch places.
— Will allow better interaction with the public.
— Better control of traffic.
— Better utilization of staff during the week.
— Renovated activities room for seniors.
FREQUENTLY ASKED QUESTIONS
(Answers provided by the City of Carroll.)
Why do we need an updated Recreation Center?
The current Carroll Recreation Center was built in 1977 at a cost of $2.1 million.
The facility has been well maintained, but areas are in need of renovation or replacement.
Some areas are not ADA (Americans With Disabilities Act) compliant. To keep up with current trends and to rejuvenate the facility, the Recreation Center needs attention. The three most-requested items from the members and users are a running track, more activities/areas for young families and new locker rooms with better air-cooling capabilities. This project will address all of those needs.
Why is this the ideal time to hold a vote on the Recreation Center Project?
— Favorable interest rates: In just a months, interest rates have fallen to an all-time low. Projections in May of 2020 show that the current interest rates would save taxpayers $500,000 in interest payments from projects completed in December of 2019.
— Favorable bidding climate: Due to the current economic environment, some commercial projects are not moving forward. If commercial building activity slows, the city could receive favorable bids for the project, saving taxpayers money.
— Avoid later inflationary costs: It is projected that each year the project is delayed, the cost of the project will increase 5 percent or $600,000 annually.
How will the project be funded?
— $1 million in LOST funds that the council has allocated to the project.
— $5.9 million in General Obligation Capital Loan Notes which will be put to a public vote in September..
— $7.61 million in General Obligation LOST Bonds which will be repaid with future LOST funds.
What will the new Carroll Recreation Center look like?
— Being greeted by a Recreation Center employee when entering the building
— More family change rooms