Despite a last-minute recommendation from school administrators to require face coverings at school, the Carroll School Board voted 3-2 Wednesday to "strongly recommend" but not require the coverings when school starts later this month.
During a school board meeting held in the Carroll High School auditorium that included more than two hours of back-and-forth between board members, health officials, teachers and parents — a discussion that several times devolved into shouting — the board decided to keep all of the recommendations presented by school officials for starting the school year during the coronavirus pandemic other than changing the mask requirement to a recommendation. School starts on Tuesday, Aug. 25.
School board members received the revised proposed plan, which had not been made public before the meeting, the night before they met. Several said that before they received the plan they believed the recommendation would not be to require masks, which is what had been outlined in a draft of the plan the district has made public since July.
School board members Karen Friedlein, Cindy Johnson and Jen Munson voted for a plan that recommended rather than required masks. Board members Duane Horsley and Onica Ulveling, who both had expressed a desire for stronger requirements, voted against the changed plan.
The plan dictates that school will start later month with a primarily in-person, five-day-a-week format, although parents will have the option to choose to keep their students at home to learn online. If they do so, they are asked to commit to the online model for at least a semester.
The school has plans in place for switching to a hybrid model (having half of students in class one day while the other half are learning at home, then switching the next day), or an all-online model, if cases increase or mandates from the state change.
Dozens of people attended the meeting, with many speaking. Several health officials outlined what they described as the efficacy and importance of masks, while many parents maintained they want to be able to choose if their children wear masks.
In a survey sent to parents that received more than 800 responses, the district learned that 17.5 percent of those surveyed said they wouldn't send their children to school if masks were required.
More than 50 percent said they preferred a learning plan that had students in class in person five days a week. Less than half of those who responded said they have "excellent" Internet reliability at home.
Of those who took the survey, 22 percent of parents would prefer remote learning for their children if the school offers an in-person learning plan.
More than 50 percent of parents said they need bus transportation for their students in the fall, compared to about 63 percent who said their children took the bus before the pandemic.
In reference to how comfortable their students would be wearing a mask to school, 13 percent said their students would be very comfortable; 22 percent, mostly comfortable; 32 percent, a little comfortable; and 32 percent, not at all comfortable. A small number of respondents said their children are medically unable to wear a mask.
If schools open in the fall without the availability of a vaccine, most parents said they still would send their children to school, with 21 percent saying "maybe" and less than 5 percent saying "no."
Roxanne Aden, a parent and a teacher's assistant at Adams Elementary School, has spoken at several school board meetings against having students wear masks.
"As a parent, do we want our kid in a masks all day, sitting in a desk all day, trying to learn?" she asked Wednesday evening. "It'll be miserable for these children. They're not dying of this."
"The task of reopening schools is a big one, it's a hard one, it's a difficult one," Carroll Schools Superintendent Casey Berlau said. "It's easily the most-difficult task I've faced in my just over 20 years as an educator."
In reference to the administration's suggestion that masks be required, Berlau said the proposal stemmed from the fact that it's next to impossible to keep students and staff 6 feet apart from each other all day at school.
Separately from the mask proposal, the plan Berlau proposed to the board included a variety of other points.
Students who live within two miles of their school if they're in kindergarten through eighth grade, and within three miles of their school if they're in high school, likely won't be able to ride the bus to school. The school is spreading kids out on buses, meaning fewer of them can ride the bus at once.
Students in town with special needs, preschool students and students in daycare will continue to be bused, as well as rural students. The school currently is working to determine who in the district needs transportation and is looking at the possibility of having drop-off and pick-up points throughout the district to reduce the times a bus needs to stop.
With the expectation that more parents will be driving their students to school, the district also is looking at how to improve traffic at the school during drop-off and pick-up.
Schools are taking steps to reduce building traffic and large groups of students in small areas. Principals are planning to have students carry their supplies in a backpack throughout the day rather than regularly returning to a locker. Building visitors would be limited as much as possible, and the school likely would limit rentals of the school buildings by outside groups unless they're using the space for activities that directly relate to students.
Students and staff will be asked to take their own temperatures before attending school, and those with a temperature of 100.4 or higher can't attend school or school activities.
"That's a mind shift for a lot of us; we always operated with, 'If I can get up, I need to be at work or at school or at practice,' " Berlau said. "We have to shift that away to, 'If you're not feeling well and you have these symptoms, if you have a temperature, rather than taking Tylenol and coming to school, we need you to stay home.' There's the potential you could exposing others."
Students and staff who had coronavirus or coronavirus symptoms need to be symptom- and fever-free, without the help of medication, for 24 hours before returning to school, a switch from a previous version of the school's plan that said they need to be symptom-free for 72 hours.
Berlau said that teachers who tested positive for coronavirus but were asymptomatic still would quarantine, rather than being asked to teach.
If a large group of teachers test positive and were quarantining, the school doesn't have a deep-enough pool of substitute teachers to replace them all and likely would have to look at a different model of learning, he said.
The district is adding an additional school nurse to its staff for the coming year and will have designated isolation rooms for those who develop symptoms while at school.
"There is not any scenario we're talking about where we're not thinking we'll have a case," Berlau said. "We will have a case. We'll have cases, and we'll deal with those."
The school also is working on maintaining sufficient air flow through the schools, Berlau said; some parents and board members had expressed concern about air quality in classrooms for students wearing masks.
Board members also discussed adding language to the school's existing bullying and harassment policy to specify that students can't be bullied or harassed for wearing or not wearing a mask.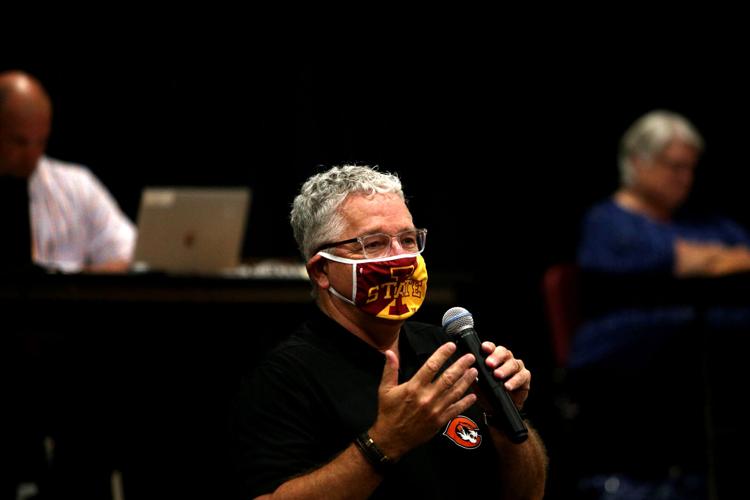 Each of the district's principals summarized how their individual school buildings and teams will seek to craft students' days during the pandemic. Much of the day-to-day workings in each school building will continue to be figured out as the school year approaches and begins, they said.
New Elementary Principal Patrick Rabbitt said that much of the success in helping kids social distance would be through creating new routines, which teachers first would learn together before passing them on to their students.
"I have a professional obligation to protect your child, and your child, and your grandmother who's a teacher, and your father who's a custodian — I have an obligation to protect them, and I don't take that lightly," he said. "I'm speaking from my heart that I'm focused on the students. So we might disagree, but I am focused on students and I need to support my teachers."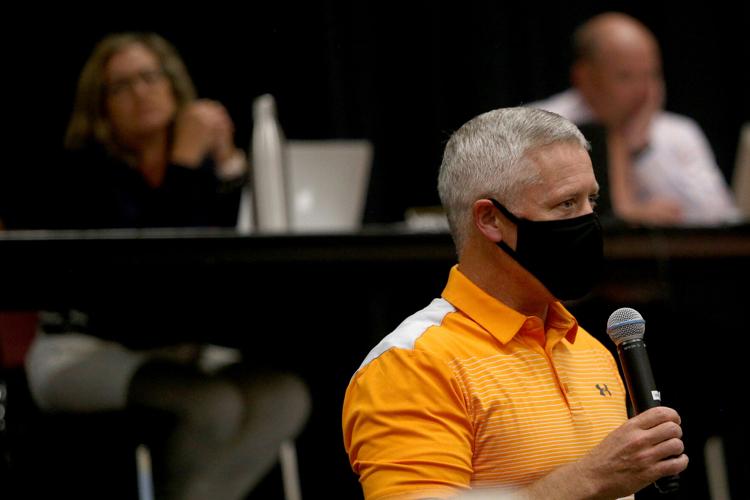 Middle School Principal Jerry Raymond talked about plans to have students using their lockers less, spreading out for lunch and social distancing during restroom breaks. He noted that even if most students are in masks most of the day, administrators are looking at ways to offer some classes — science, music or physical education, for instance — outside or in larger areas so students can take a break from wearing masks.
Patty Mishark, a fifth-grade teacher at Carroll Middle School, said teachers have been working for weeks to measure their classrooms and determine ways to space out students and give them options for removing masks, particularly if some families opt for remote learning and in-person class sizes are smaller.
"We want your kids to be happy; we want your kids to be learning," she said. "Every teacher you have, we're going to do the best we can. We'll listen to what you say and will work with your students. No one wants miserable kids — trust me; I teach fifth grade."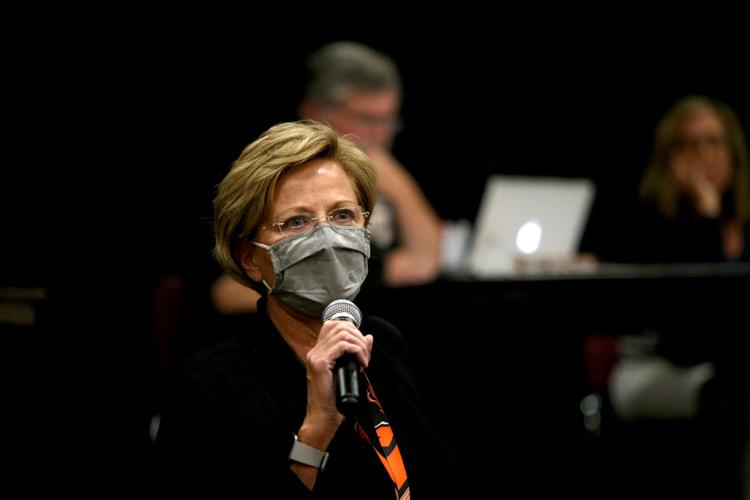 High School Principal Tammie McKenzie noted that the high school is facing different challenges as students travel between nine classes throughout the day, some students attend Des Moines Area Community College classes and others travel from the Ar-We-Va Community School District to take classes at Carroll High. High school officials are looking at options such as an open campus for lunch, using the gym to spread out and more. Her main goal, McKenzie said, is to make sure students can be at school in person.
"We've got to get kids in school; we need to keep them in there," she said. "We need to get through this temporary roadblock the best way we can, working together when none of us really knows what the right answer is right now."
Health officials weigh in
State leaders recently announced that one metric that would be used to determine if schools should halt in-person learning would be the county's positivity rate — how many people tested positive for coronavirus compared to how many were tested overall.
Districts could request to switch to all-online learning if the county's positivity rate is between 15 and 20 percent and 10 percent of students are absent from school, or if the county's positivity rate exceeds 20 percent, Gov. Kim Reynolds said.
Sara Schulte, Carroll County public health nurse, said during the meeting that as of Wednesday afternoon, Carroll County's positivity rate was 5.6 percent, but that the rate was increasing in younger people. She said that the age 0–17 group had a 13 percent positivity rate; 18–40 had 33 percent; 41–60 had 32 percent; 61–80 had 18 percent; and 81 and older had 4 percent.
Dr. Michelle Heim, physician adviser to the Carroll County Public Health Department and a family medicine physician at McFarland Clinic, which Wednesday announced it supported widespread public mask use, said she believes masks need to be worn in school.
"We want to keep kids in school as long as we can," she said. "When one student gets infected, it can shut down almost half a classroom in one fell swoop."
The school board's decision
The factors the school board discussed while deciding whether to require or recommend masks ranged from air quality in classrooms to the inconsistency of requiring masks during school but not during sports.
The school's plan addressed academics but not sports; many parents and several board members said they were uncomfortable with a plan that would require students to wear masks at school but then later in the day to attend school-sponsored athletic events without one.
Horsley said he doesn't want anyone to have to wear masks, but he sees them as the best option to make sure kids can stay in school when such large groups are filling each of the district's buildings.
Munson said that she prefers she and her children have the option to choose masks or not.
"If the people that are scared put their kids online, what do we have for people that aren't scared, that want our kids to live, that want our kids to go to school?" she asked.
Members of the audience applauded for Munson's question, and others applauded later when Johnson countered, "If you don't wear a mask for two weeks and somebody dies, they can't come back to life."
Friedlein spoke about the district's responsibility to provide face coverings and training on how to use them if it mandated the use of masks. How, she questioned, would the school monitor if families cleaned and maintained their students' masks if they use their own face coverings rather than those provided by the school?
District officials have been saying for months they are following guidance from the Centers for Disease Control, Iowa Department of Public Health, Iowa Department of Education, governor's office and Carroll County Public Health Department — which is what prompted Johnson to suggest the board vote to recommend rather than require masks, as the CDC is using "recommend" but not "require" in its guidelines.
"I think 'strongly recommend' gives parents more of the option to go ahead and have their children in masks, rather than bucking something because it's sticking in their craw because they're told what to do," Johnson said. "It looks like I flipped, but I was going both ways all week. I see the merits of both arguments."
Johnson added that she still believes students and staff members should wear masks, with the exception of students with conditions such as cerebral palsy, autism or Asperger's syndrome — for those students, she said, "a mask would be one of the dumbest things you could put on them."
"I would hope that as many people as possible could wear a mask, because we want to protect each other," Johnson said. "It becomes a kindness."
Parents who want to follow the school's recommendation but can't afford masks for their kids can get them for free from the Community of Concern food pantry, said Summer Parrott, who is on the pantry's board of directors. Those needing masks can call Community of Concern at 712-792-5150 or visit the pantry between 8 and 11:30 a.m., Monday through Friday.