Objections to three Carroll High School library books sparked policy discussions at the Carroll Community School District Board of Education's meeting Monday night. 
At a school board meeting in late August, concerned parent Amy Dea approached the board during public comment to raise awareness of three library books in the Carroll High School library she says are "sexually explicit" and "pervasively vulgar." She said the books do not belong in the school library and argued for the school board to formulate and apply objective criteria to materials deemed questionable, similar to the standards currently in place for the appropriate use of school computers, which restricts students from accessing obscene material.
The three books in question are not currently on the library shelves and are now being read by school staff. Director of Teaching and Learning Karinne Tharaldson said at Monday night's meeting that while no formal request to reconsider the library books has been made, she is leading a committee of certified teachers who are reviewing the books now and taking the issue seriously. 
School board member Duane Horsely said the school district is at a crossroads on what they want to set forward as a standard. He said there are a lot of concerned citizens regarding the issue and not all of them were in the room to attend the meeting Monday night, which drew an audience of about a dozen community members. He said he wants the three books in question to be removed from the high school library, or at least, require parental permission for students to check the books out. Horsley suggests giving school administration the support and freedom to set the objective standards for library books that come into question by community members. 
School Board President Cindy Johnson said she agrees with the compromise of allowing parental permission to check out library books deemed questionable, but defended the value of one book in question: "Tricks" by Ellen Hopkins. The book is about five troubled teenage characters and addresses topics of sexuality and drug use.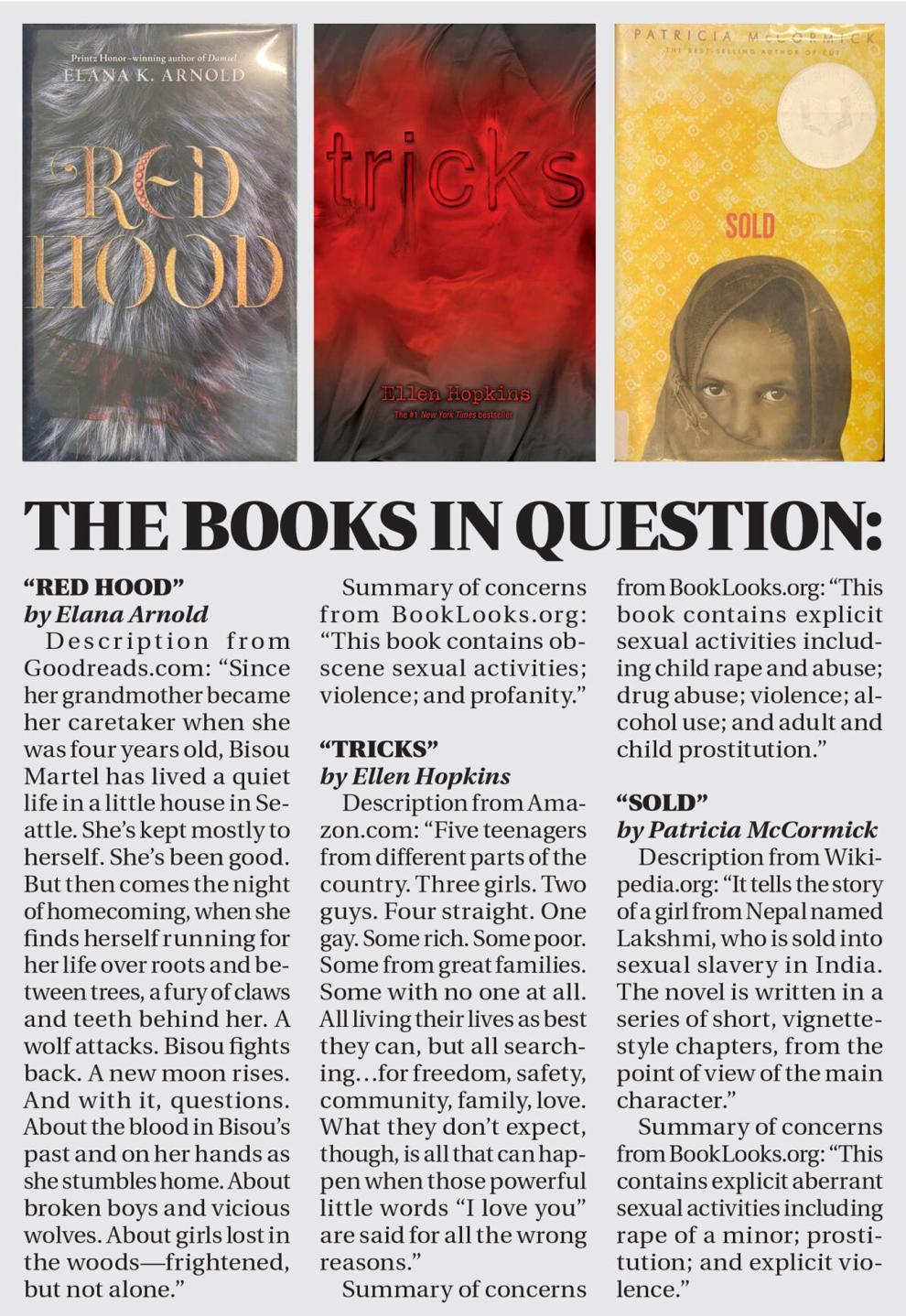 Johnson said she has a grandchild who finds hope in the book and said the text speaks to his experiences of having parents with drug addictions. She said while the book is "nasty," the story is also a cautionary tale.
"Ellen Hopkins' books are brutal. They're awful. But, they're speaking a truth to kids that you don't know, and I'm glad that you don't have that issue in your home," Johnson said, speaking to the audience at the Monday night meeting.
Horsley said while he can see how some kids may identify with the books in question, he doesn't believe it's appropriate to have those books in the library as he feels they contain too graphic of descriptions and could "lead one or two kids down a bad path." He also cited board policy regarding the appropriate use of school computers.
"We're worried about pictures and graphics and things hitting a computer, but right up in a kid's head there's a pretty good graphic going on when they're reading some of that material," Horsley said.
He added he wants to support public education and believes the school district should take hard action to put standards in place to address the issue, especially due to the Iowa Legislature considering the implementation of private school vouchers in the coming legislative session.
"We need people to have reasons to stay in public education," Horsley said. "If we don't have some standards here, we're getting more people to say, 'I want a voucher, I want to go somewhere else.'"
School board member Onica Ulveling said she doesn't think there's an easy way to define a standard or a line where some books are okay to be checked out by anyone or if a book should require parental permission, but also said that doesn't mean that restriction can't or shouldn't be implemented.
"One parent's choice over what their child sees, reads and listens to does not extend to my choice of what my child sees, reads and listens to. Therefore, I'm not in favor of just taking these books off of the shelf," Ulveling said.
She said there are already policies in place to address these issues, such as submitting a formal complaint to reconsider the library books, and that the committee lead by Tharaldson who are reviewing the books is doing what needs to be done.
Ulveling also said books introduce kids to worlds they wouldn't otherwise be exposed to.
"Look around this room," she said. "There is not diversity to a great extent in this room and there is some in our district, but there are kids that need to be prepared to go out in the world and some of these books, some parents might not want their kids to read. We don't get to say, 'Well, you can't read this book about a transgender child' or 'You can't read this book about a bisexual child.' I'm sorry, you're going to encounter those people in the world."
School board member Kristen Lundstrom agreed it's hard to decide on the standard of what is offensive and what isn't.
"Everybody's standards are different on what's appropriate and what's not. It's like parenting," Lundstrom said. "Some people's curfews are midnight, some people's curfews are 10. Some don't let them go out on school nights, and some let them go out every single night."
She said parents have control over what their child reads and if parents don't want their child to read a particular book, then parents should tell their child to not check that book out. Lundstrom also adds if kids are looking at explicit content in books, then they are already doing so on their phones and computers as well.
Horsley pointed to board policy 628R1, which refers to selection of library books, and asked for clarification about a particular section of the policy stating, "Material shall be subjected to a test of literary merit and reality by the media specialists and licensed staff who will take into consideration their reading of public and community standards of morality."
"I don't know what we use a test of literary merit, but that's why we have people in the room here today regarding library books, wanting I think to know a little bit of a balance, what do we have for a standard here? What are we going to have as a gauge or a benchmark when something has crossed over a line?" Horsley said.
Tharaldson said literary merit is determined by "many, many things" and gave examples such as: Does the book stand the test of time? Are the characters realistic? Does the book generate discussion?
Tharaldson also said that the Heartland Area Education Agency is conducting an audit of the school district's entire library collection and will identify what materials in the library are outdated as well as suggest materials the library should purchase.
No action was taken by the board Monday night regarding policy, as the agenda items were only a policy discussion.
School board member Karen Friedlein was not present in-person at the meeting.
How library books are reconsidered
During a September school board meeting, Johnson read a statement directed at Dea pointing to board policy.
"I know that you've been attending our meetings and I suspect you think that this is the proper way to address your concerns and that supposition is incorrect," Johnson said to Dea at the September school board meeting.
Johnson then cited school board policy 630R1, which outlines the step-by-step process for reconsideration of library materials.
The policy states after a complaint about library materials is received, school officials will first try to solve the issue informally through an explanation of the selection process, criteria to be met by the library materials and the qualifications of those selecting the library material. The individual may file a formal complaint if they are not satisfied after consulting school officials, which requires the submission of a reconsideration request form that asks questions such as, 'What brought this item to your attention?' and 'In your opinion, what harmful effects upon students might result from use of this item?'
Once the formal complaint is filed, a committee is formed to reconsider the material and will make a final decision to either make no removal action, remove the material or limit the educational use of the material. The committee would be made up of: one licensed employee designated annually by the superintendent and/or designee, one media specialist designated annually by the superintendent and/or designee, one member of the administrative team designated annually by the superintendent and/or designee, three members of the community appointed annually by the board and two high school students, selected annually by the high school principal.
Johnson said at Monday night's meeting that the issue is a 'slippery slope' and that policy must be followed to address the issue.
As of Monday night's school board meeting, no formal request has been submitted to reconsider the three library books in question.
"But, until those are turned in, it's kind of hearsay," Johnson said.
Guidelines for library books
According to school board policy 628, library books or instructional materials are selected by licensed employees based on the following:
"— support the educational philosophy, goals and objectives of the school district
— consider the age, emotional development, ability level, and social development of students for whom the materials are selected
— are within the school district's budget
— foster respect and appreciation for cultural diversity and difference of opinion
— stimulate growth in factual knowledge and literary appreciation
— encourage students to become decision-makers, to exercise freedom of thought and to make independent judgment through the examination and evaluation of relevant information, evidence, and differing viewpoints
— portray the variety of careers, roles, and lifestyles open to persons of both genders
— increase an awareness of the rights, duties, and responsibilities of each member of a multicultural society."
Board policy 628R1 states material for use in libraries and classrooms should meet the following guidelines:
"A. Religion — Material shall represent the major religions in a factual, unbiased manner. The primary source material of the major religions shall be considered appropriate, but material which advocates rather than informs, or is designed to sway reader judgment regarding religion, shall not be included in the school libraries or classrooms.
B. Racism — Material shall present a diversity of race, custom, culture, and belief as a positive aspect of the nation's heritage and give candid treatment to unresolved intercultural problems, including those which involve prejudice, discrimination, and the undesirable consequences of withholding rights, freedom, or respect of an individual.
C. Sexism — Material shall reflect sensitivity to the needs, rights, traits and aspirations of men and women without preference or bias.
D. Age — Material shall recognize the diverse contributions of various age groups and portray the continuing contributions of maturing members of society.
E. Ideology — Material shall present basic primary and factual information on an ideology or philosophy of government which exerts or has exerted a strong force, either favorably or unfavorably, over civilization or society, past or present. This material shall not be selected with the intention to sway reader judgment and shall be related to the maturity level of the intended audience.
F. Profanity and Sex — Material shall be subjected to a test of literary merit and reality by the media specialists and licensed staff who will take into consideration their reading of public and community standards of morality.
G. Controversial issues materials will be directed toward maintaining a balanced collection representing various views."
The policy further states, "The selection decision should be made on the basis of whether the material presents an accurate representation of society and culture, whether the circumstances depicted are realistically portrayed, or whether the material has literary or social value when the material is viewed as a whole. These guidelines shall not be construed in such a manner as to preclude materials which accurately represent the customs, morals, manners, culture, or society of a different time or a different place."