Theresa Boeckman took a sharp turn before finding the road to a long, rewarding teaching career.
She's retiring as a full-time teacher after compiling 29 years in local Catholic schools, with the last 15 years teaching Kuemper Catholic School fifth-graders.
A teaching career wasn't Boeckman's destination deep into her studies at Iowa State University.
"My dream had been to become a CPA, and I had all kinds of business classes under my belt," she said.
However, Boeckman then had an awakening of sorts.
"I was an accounting major and I was in upper levels of accounting along with every other business class under the sun. I hated every one of them.
"I called my boyfriend and said, 'I'm going to switch to education.' "
Boeckman said it's difficult to pinpoint a reason she suddenly chose education studies. She loved kids from her days of baby-sitting, and she had very high regard for the teachers she had when she attended Holy Spirit Grade School and Kuemper High School, where she graduated in 1985.
"Once I switched to education, I loved it. My grades were stellar," she said. "My business grades were decent, but I didn't love it. … I never could have been an office numbers-cruncher."
Boeckman did a lot of substitute teaching at different grade levels after she graduated from Iowa State at the end of 1989. Since then, she's made the following stops in her career: first grade at Christ the King in Mount Carmel, 1990-91; seventh/eighth grades part time at Holy Spirit, 1992-93; fifth/sixth grades at Holy Spirit, 1993-96; fifth grade at St. Lawrence, 1996-97; sixth grade at St. Lawrence, 1997-2002; fourth grade at St. Lawrence 2002-03; fourth grade at St. Angela, 2003-05; fifth grade at St. Angela, 2005-19; and fifth grade at St. Lawrence, 2019-20. Local Catholic schools unified under the Kuemper Catholic School System in 2003-04.
"My favorite grade? Definitely fifth graders," Boeckman said. "Fifth graders are so genuine. They very much want to learn. They're very loving and caring, very eager and curious, and it just makes for an all-around great age. In another sense, they're starting to really figure out who they are. I felt like maybe I helped them in that direction.
"A lot of people think, 'Oh my gosh, are you kidding? Fifth-graders?' (Fifth-graders) are just hitting adolescence, so it's just really an interesting age, never a dull moment, never the same day."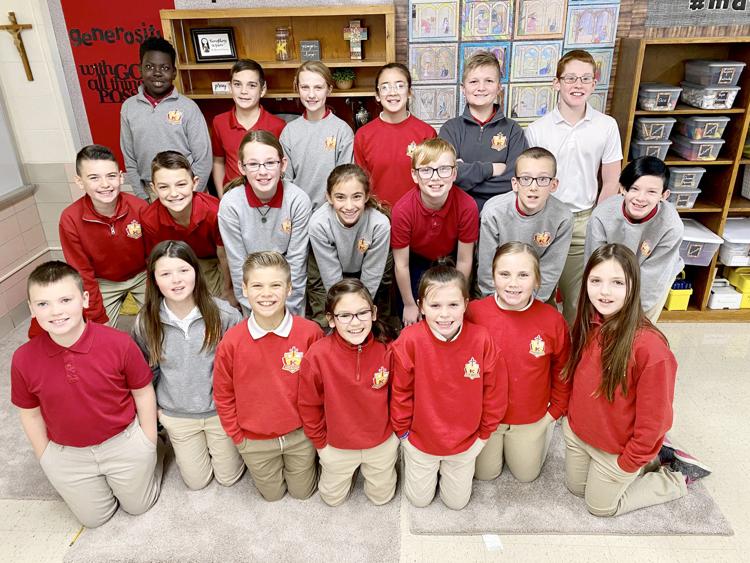 Under departmentalization of teachers in fifth grade, the last several years Boeckman primarily taught math, social studies and religion.
Last school year began a major realignment in the Kuemper centers — fourth through sixth grades attended St. Lawrence, and seventh and eighth grades attended St. Angela.
"The excitement of those kids was so awesome because every kid coming into that building (St. Lawrence Center) last year, not one of them had previously stepped foot in there," Boeckman said. "So you had approximately 240 kids coming in brand new. It was a super beginning.
"And it was the strangest ending ever. I'd have to say my last year of teaching was exciting; never could I have imagined."
Schools across Iowa closed suddenly in mid-March as the state took severe steps to block the spread of COVID-19.
"We walked out of school March 12 and never saw (the students) again. That was strange to me, and I'm old," she said, adding, "I couldn't imagine what it was like for an 11-year-old."
She continued to stay in contact with her students through optional online learning, but each student participated at a different level.
Not wanting to end the school year emptily, Boeckman recently visited the homes of all her fifth-graders.
"I needed that closure personally to see their faces, and I kind of felt like they did too maybe. But it was great to see them," she said. "I went to all their homes. That was super neat to see where they lived."
Visits ranged from a few minutes to a lot longer.
"It was kind of hard because I wore my mask. I didn't go into anybody's house, and we kept our distance," she said. "A lot of parents were home because they were working from home, so I was able to visit with them."
How did students respond to having their teacher visit?
"I think they loved it," she said. "Through this whole remote learning and no school, I think people in general are thirsting for that face-to-face and that normalcy.
"It will be interesting to know how COVID-19 has affected our youngsters, not having normal, not getting to see their friends."
Boeckman said she received a lot of big smiles, and added, "I had one girl say, 'I just wish I could hug you, so we did the elbow (bump)."
What has been her biggest reward over the last 29 years?
"The kids, the kids, the kids," Boeckman responded.
"You can learn a lot through the eyes of a child. Their perspective can help you to take a step back and find an appreciation. Sometimes the older you get, you get stuck in these ruts and mindsets. I joke every year, 'My gosh, I'm older, but they're still 10 coming in.' And they can teach you so much."
In fact, as she's had to learn fast-changing classroom technology, Boeckman said, students have given her invaluable help.
"At some point I had to not be afraid of technology and try it, and not be afraid to let the kids show me, because they're not afraid," she said. "One great thing about kids in general and especially 10- and 11-year-olds, they are so willing to show you and they're so proud of themselves."
In her career, Boeckman said, she was lucky to become a colleague with a number of her former teachers, such as Mary Jane Eischeid, Jo Molitor, Bill Kane, Denis Bormann, Winnie Geelan-Potthoff and Jean Guy.
"I'll miss my colleagues, most definitely," she said. "Kuemper is a family. I'll miss them a lot."
Boeckman plans to still do a lot of substitute teaching but will now have more time to devote to her family.
"Family time is precious," she said. "I decided all this before COVID-19. Knowing I can substitute anytime is a bonus."
Theresa is the oldest of four children of Larry and Sharon Clark. Larry managed the Social Security office in Carroll from 1973 to '92 and was inducted into the Iowa High School Coaches Association Hall of Fame in 2017, as his Kuemper boys teams won four state championships and finished runner-up twice during his 23 years (1989–2012) leading the Knights. Sharon held various secretarial positions, including for Region XII Council of Governments, and worked for GE for several years and ran a daycare out of the family's home. Theresa's sister Jodi Ludwig has taught at Kuemper 21 years and lives in Carroll with her family. Her sister Amy is a nurse and lives in Lee's Summit, Missouri, with her family. Her brother, Mike, is a lawyer and lives in Solon, Iowa, with his family.
Theresa and her husband, Bob, a 1979 graduate of the former St. Bernard High School in Breda who's manager of Schaller Telephone, have four children, all Kuemper graduates: Miranda (2008), a physician's assistant for an emergency room in Bentonville, Arkansas, where she lives with husband Graham Kalish; Austin (2010), a graduate of Des Moines University completing his first year of residency as a doctor of osteopathic medicine at UnityPoint Lutheran Hospital in Des Moines with a goal of becoming a family practitioner in rural Iowa; Brandon (2013), an agricultural engineer at Toyne Manufacturing in Breda who is engaged to Cassidy Eckerman, who's pursuing an education degree; and Tucker (2016), who received an agricultural business degree and works for Huegerich Farms of Breda. Miranda and Austin are both University of Iowa graduates, while Brandon and Tucker are Iowa State grads.