The nonprofit Carroll High School Foundation, an organization built to boost the full public school system in Carroll, is donating $30,000 in top-performance COVID-19-prevention shields with a mask wrapping to 200 teachers at all levels in the Carroll Community School District and 800 students in preschool to fourth grade.
Wearing the donated shields will be voluntary for both teachers and students under district policy, which strongly recommends but doesn't mandate masks in response to the global coronavirus.
CHS Foundation members found widespread interest in the shields from faculty over recent weeks as they prepared for school. The protective devices — known as humanity shields — are expected to arrive in days from the manufacturer, the high-profile Juneau, Alaska-based Rapid Response PPE, and perhaps will be ready to distribute before classes start on Tuesday.
The humanity shield, produced in both adult and children's sizes, is made of a clear plastic material integrated with a barrier cloth made from medical-grade nonwoven filter fabric. The shield also uses a Velcro closure, which, unlike elastic, does not stretch out after repeated use.
The donation is bolstered by the Bill Evans Foundation For Kids, which provided $10,000 to the foundation.
No taxpayer dollars are involved in the CHS Foundation shield project, which is line with the foundation's history of providing contributions for hundreds of programs and projects the district cannot afford, or chooses not to include in its budget.
The donation is the brainchild of Shellie Haluska, the president of the Carroll High School Foundation. Haluska stressed the optional aspect of the shield donation — and said the support of the faculty led to a foundation vote.
"After much discussion, the Carroll High School Foundation passed with a unanimous vote to purchase face shields for 100 percent of the faculty at the Carroll Community School District and shields for 100 percent of elementary students (preschool through 4th grade)," Haluska said.
Haluska, a 2006 CHS alum, and co-valedictorian of that class, said the shields should boost academics in the Carroll Schools, the mission of the foundation. For her part, Haluska, an Edward Jones financial advisor and her husband, Sean, the Carroll market president of Availa Bank, have three daughters, including one in first grade and another in preschool.
"I love Carroll; I love the kids here," Haluska said. "I think there is nothing more important than academics for Carroll's kids."
Shellie Haluska said many school districts are using the shields.
"Shields allow a better connection in our classrooms," she said. "Faculty and students will be able to see facial expressions, smiles, and can connect better emotionally with a shield. This connection creates a better experience and learning environment. In elementary specifically, a shield can feel less intimidating than a mask. Shields are easier to sanitize and clean. They are less restricting for teachers and students and make it easier to breathe. This also provides a visual appeal and feelings of uniformity with our new safety accessory in the classroom."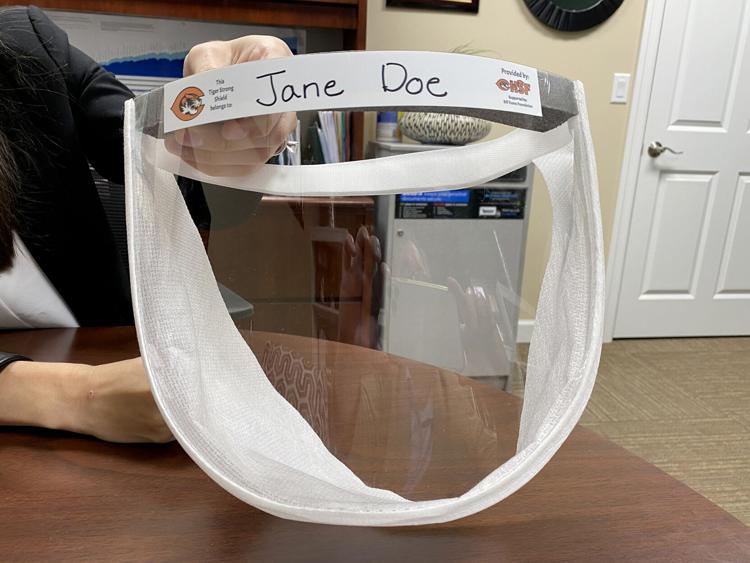 Middle and high school students are more able to spread out, to social distance, so the foundation focused on the younger grades where kids learn in cloistered groups, she said.
"Elementary school thrives in groups," Haluska said. "They can't socially distance and keep people safe."
The foundation is branded with the Carroll High name to generate interest with alumni and donors, but its contribution goes beyond the high school to all grades.
Money for the shields is coming from the foundation's general fund, which has been built over the last decade with fundraisers, donations and bequests.
That said, the Carroll High School Foundation is soliciting donations to help pay for the shield donation expense.
"We need support," Haluska said. "We have already received a very gracious donation from Bill Evans Foundation for Kids to apply to the expense, but we could use as much support as possible from our parents and community to make sure we can have funds available for other items needed this year and in future academic years."
2. Write a check made payable to "CHS Foundation" and mail to Carroll High School Foundation, P.O. Box 314, Carroll, IA 51401