A Yale city employee falsified reports and failed to test the city's drinking water for most of last year, according to the Iowa Department of Natural Resources.
There's no evidence that the water was unsafe to drink in the Guthrie County town, but it's impossible to know for sure because of the falsified data.
Kendall Kipp started as the city's water and street supervisor in January 2011 and was required to test the water daily for chlorine, which is added to the water to kill bacteria. He also was supposed to monitor iron levels, which can be a barometer for toxins such as arsenic, and manganese that can affect infants.
In February, the state conducted a routine check of the city water's chlorine concentrations and found that they were three times lower than what Kipp was recording in monthly reports, according to a letter the Department of Natural Resources later sent to the Yale mayor and city council. The actual measured concentrations were lower than state-required minimums to keep the water safe to consume.
When the department reviewed Kipp's reports, it found that Kipp was recording remarkably consistent day-to-day test results. For instance, in February 2020, Kipp reported chlorine concentrations at the city's water treatment plant that ranged from .90 to .94 mg/L and had many consecutive days with the exact same test result.
No other public water system report reviewed by the Times Herald in nearby communities had such consistency.
In reality, the amount of so-called "free" chlorine — the amount of chlorine in the water that is available to eliminate contaminants — was .28 mg/L at the Yale treatment plant and .17 at the town's Community Building. The state's minimum requirement is .30 mg/L.
"He was not doing the sampling," said Keith Wilken, a senior environmental specialist for the natural resources department.
It's unclear how long Kipp had been falsifying the data. Wilken said the inaccurate reports date to at least February 2020, and investigative documents show Kipp was questioned about the data going back to July 2019.
The state's routine tests of municipal drinking water are completed about every three years.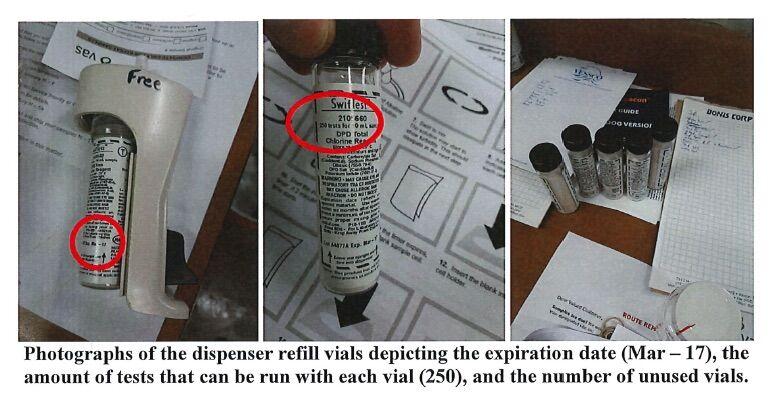 Kipp initially said he had been testing the water every three days but eventually admitted "he is just making up numbers," according to the letter to the city. A state officer who watched Kipp perform the tests noted that he wasn't conducting them properly and, in some instances, was using test materials that had expired in 2014.
Kipp did not respond to a request to comment for this article.
He still is employed by Yale as its streets supervisor, but someone else is handling the water testing, Yale Mayor Steve Stanton said.
"We take the safety of our water supply very seriously," Stanton said. "I live in this town and drink the water."
The city has purchased new test equipment and is upgrading its chlorine injection system, he said.
When asked why Kipp is still employed by the city — which had been paying Kipp about $840 per month for his water duties —  Stanton said the city council has the ultimate authority over his employment. The five city council members either declined to comment or did not respond to requests to comment for this article.
The state stripped Kipp of his certifications for drinking water treatment and distribution in November, according to a Department of Natural Resources administrative order. He still is being paid $850 per month by Yale to repair and plow streets.
Wilken said his department did not identify the reason Kipp wasn't testing the water. The department occasionally uncovers a lack of testing in smaller municipal water systems, which can come from a lack of time, resources and support, Wilken said.
"We've also seen the situations where it just appears to be laziness," he said. "Just trying to get it done as quick as one can, and you start cutting corners here or there, and nobody catches you cutting corners at one sampling, and before you know it, it progresses into a big issue."