This is the first story in a three-part series about a group of friends who were infected by the coronavirus.
MANILLA: It started with a seemingly harmless afternoon of cards.
Euchre.
The longtime friends had been so careful before that September afternoon, when they gathered at a two-story house on the edge of town with lots of windows and a big front porch and a quarter in their purses to wager on the games.
They had played there so many times before. Some dressed up, and someone always brought a treat.
That day it was cherry pie.
There they were: Joan, Nina, Phyllis and Stella. Nina's husband took a pass on the card party that day because he wasn't feeling so well.
But never mind that, because everyone had been so careful since the start of the coronavirus pandemic, and he had health problems that were probably acting up.
All of them had stayed home for the most part and wore masks in public when they needed to go out. Safer than safe, they thought, even though three people had died in town in the past three weeks from the virus.
And when you're retired and have halted your lives for months, the allure of normalcy is tempting.
There was a bottle of hand sanitizer ready at the front door, and the ladies wore masks when they weren't eating pie.
They tried to keep a safe distance, but Joan's hands were arthritic and Nina had to help her with the cards.
It's hard to remember who won the $1 pot that day, because so much has happened since. So much is gone.
The next day, Nina's husband collapsed.
THE SICKNESS SPREADS
Nina Rasmussen (pronounced NINE-UH) is a whip-smart woman from St. Louis who met her husband Keith playing softball in Omaha.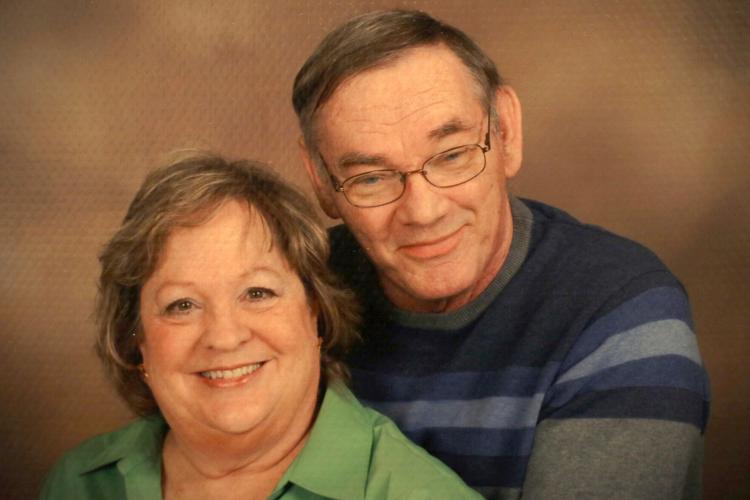 He was gregarious when they met and a jokester with a sharp sense of humor, and they quickly clicked and started a life together decades ago.
Keith grew up in Manilla, but they moved to Las Vegas because Keith wanted to start a pest removal business. His cousin was successful doing the same thing there — where it's a regular task to quell the scorpions and huge cockroaches in homes and businesses — and the cousin agreed to lend part of his client list. Nina worked from home as a recruiter for businesses.
They never had children, but they hosted lavish parties with friends with multi-course meals for holidays and held private golf tournaments for the group in the summers, when Keith would slow-cook ribs with his own special marinade and Nina would make 10 pounds of potato salad.
They moved back to Keith's hometown about a decade ago, in part to take care of his ailing father.
They settled into a slower life, going for burgers after church at the local bowling alley and playing cards with friends.
Keith had diabetes and heart problems for decades, so when he got sick in September they thought it was just another episode.
He hadn't been feeling right and skipped the card party at the house with the big front porch, and the next day he became severely ill and fell.
"I was afraid to call the ambulance because I thought I'd never see him again," Nina recalled.
She drove him to the hospital in Denison instead, and doctors there eventually decided to transfer him to a Council Bluffs hospital. It was late in the day, and Nina decided to drive to see him the next morning.
Keith, who at that point had a bad cough, tested positive for the coronavirus and went into isolation.
"I said, 'Goodbye, honey, I love you,' " Nina recalled.
She wondered whether she was infected, too. And would there be others?
A WALL BETWEEN
Joan was the first to show symptoms after the card game, and less than a week after they had gathered for euchre, she was short of breath and short of oxygen when she arrived at the Denison hospital.
For Nina, the virus struck another two days later. Keith had been in the hospital for a week.
Barely able to move, Nina could not dial 911 for help as she lay in her bed at her house on the south side of Manilla. She was delirious.
Somehow she called Joan's daughter, who called a paramedic friend, who called the hospital. It dispatched an ambulance to her.
"I was about dead when they got me to the hospital," Nina recalled. "I was completely out of it, and I couldn't breathe."
The paramedics wheeled her to a room that shared a wall with Joan, her very best friend.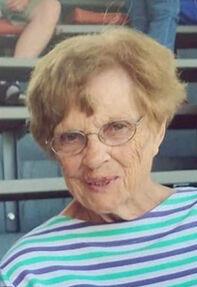 Joan Bauer had convinced Nina to sing with her in the local church choir not long after Nina moved to town. Joan had a gentle, angelic voice, and Nina stayed close to her to follow the tunes.
They sang together for Saturday night services, and during the week they'd travel for lunch or shopping or just to see the places that Joan knew well and Nina knew nothing about.
Joan often talked of her husband, who had died not long before the women met. Her stories about growing up on a farm near Templeton, how much she loved driving a pickup truck on gravel roads as a teenager and everything that had happened since, were so soulful and earnest that there was no doubting they were true.
Nina admired Joan for always knowing what was going on in town but for never being a gossip. And for the way she maneuvered through crosswords in the newspaper and usually won at Scrabble. And for raising money for a children's playground in town and organizing delivered meals for its older residents.
It was Joan who had planned the game of cards at her house those few days before, and now it was Joan on the other side of the wall at the hospital.
They couldn't talk to each other, and Nina could barely think. She was in a sleepless fog when she heard the clanking of chairs and tables and whatever else on the other side of the wall and wondered whether her friend was dying.
Then Joan was transferred to an Omaha hospital, and Nina was alone with her thoughts.
Keith must have infected Nina, and Nina must have infected Joan.
She worried: Had she killed her best friend?