This is the second story in a three-part series about a group of friends who were infected by the coronavirus. Part one is here.
MANILLA: The symptoms surfaced when Joan Bauer tried to go for a walk outside and was winded after climbing a hill near her house.
She had traveled less than a block.
The next day Joan, 86, had a cough and felt ill and called a doctor, wondering if she might be infected by the coronavirus.
No, she was told. Joan had tested positive for the virus in June while she was recovering from a blood infection at a nursing home in Missouri Valley, and it was unlikely she had the disease again.
But just days before she began to feel ill, she had hosted a small gathering of friends to play euchre on a September afternoon, and the husband of one of them had become sick and tested positive after.
They had worn masks as they played cards, except for when they ate pie. Joan's daughter Barb Rasmussen saw them without masks when she arrived to take Joan shopping for groceries and washed dishes while they finished.
She worried, but all of the friends had stayed home for months as the pandemic raged, and this was just a game of cards.
Now, Joan's condition continued to worsen. She was weak and couldn't catch her breath, even when she was sitting. A nurse paid her a visit at home to do a quick assessment, and she urged Joan to go to the hospital.
Joan was low on oxygen when she arrived. And again she tested positive for the coronavirus.
Barb got sick, too.
AN EMPTY HOUSE
It already had been an odd and depressing year.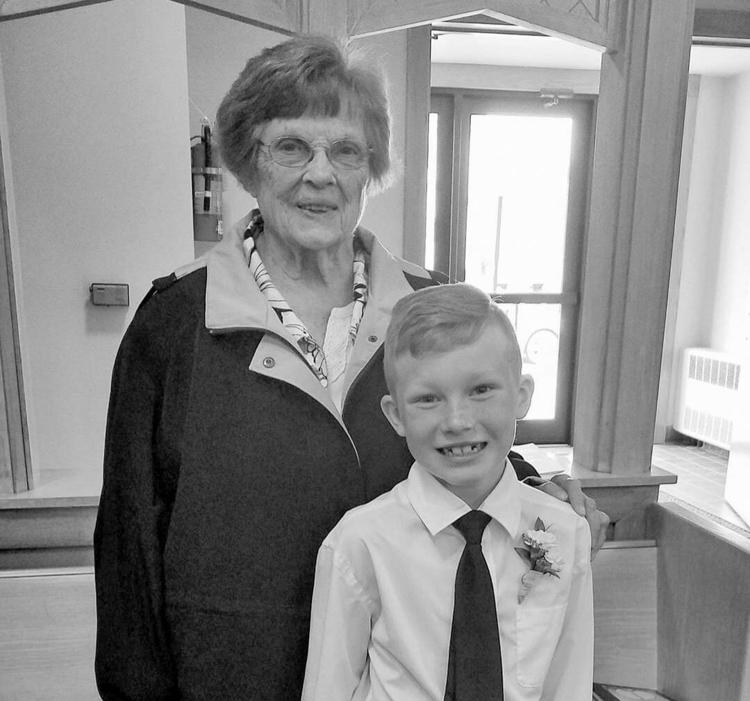 Joan's house usually was the go-to gathering spot for her eight children, 18 grandchildren and 37 great-grandchildren.
It was the best place in town to watch fireworks on the Fourth of July, and when cousins had slumber parties, Joan gathered them around the coffee table to pray the rosary.
Joan had lost her husband Don in 2009 when he died of cancer, but that didn't slow her down. She drove near and far to see friends and volunteered her time to deliver Meals on Wheels and take tickets at ballgames.
Sometimes she was hard to track down.
"She would call back like four days later because she was so busy," said Kari Nuzback, Joan's granddaughter who lives near Manning. "You nearly had to schedule an appointment to see her."
But not much of that was possible during the pandemic. Kari is the director of Garden View in Carroll, an assisted-living facility for older residents, and she warned her grandmother that the virus often is deadly for people her age.
So it was going to be the first year that Joan's house wasn't packed with family for Christmas, when dozens of people gathered to open presents and play cards and eat soups from Crock-Pots.
And so, when Joan lay in a hospital bed after being infected, and she talked to her children in online video chats, she had a question.
What was their favorite food that Joan had made?
For her daughter Barb, it was the mashed potatoes and applesauce. Others insisted it was her signature fruit salad.
That's what Joan wanted to keep in her mind as her body slowly slipped from this world.
NO ONE'S FAULT
For three days, Joan was at the hospital in Denison as the virus began to ravage her lungs.
There was a number on her ground-floor window so her family could find it for visits. They looked through glass and talked by phone.
After her breathing got worse and she was transferred to an Omaha hospital, Joan started saying her goodbyes in those video calls. She wanted to know her children and grandchildren's fondest memories, especially and unselfishly about her husband Don.
She appeared on their computer screens with a tube of oxygen piped into her nose and was lucid and seemed happier than she ought to be.
Some were hopeful that she would improve, but Joan thought otherwise and had made peace with it. Her soul was clean, and she said she was ready to see her husband, her sister and her parents again. She said it felt like God was with her.
Joan didn't want to wear the machine that masked her face and plugged her ears to force oxygen into her lungs. She didn't want the even-more-intrusive ventilator with a tube down her throat.
Someone else might need it, she said.
It had been about two weeks since she invited a small group of her closest friends over to her house for a game of cards, when they talked about this and that and ate pie, and her best friend Nina helped her play because it seemed like forever since her arthritic fingers had worked the way they should.
In the hospital video calls, Joan was delighted when she learned her first great-great-grandchild was on the way, but she was saddened to hear that Nina's husband Keith had died.
He had been the first of the group to get sick, and she knew the sorrow of losing a spouse.
She worried about Nina, who was still alone in a hospital bed on the other side of the wall in Denison that had separated their rooms after Nina got sick, too.
All of this, it wasn't anyone's fault. It was just a game of cards.
On Sept. 26, daughter Barb, who had recovered from the virus, got a phone call that Joan was fading fast.
None of her family could be with her in those final hours and minutes. A nurse aide named Hannah held Joan's hand as she took her last breaths and was gone.