The masks people wear to limit the spread of the new coronavirus cause challenges for a particular section of the population that depends on seeing others' lips.
During Better Hearing and Speech Month in May, audiologist Sondra Rierson is emphasizing the use of masks or face shields that show wearers' mouths, helping people who are deaf or hard of hearing to understand them when they speak.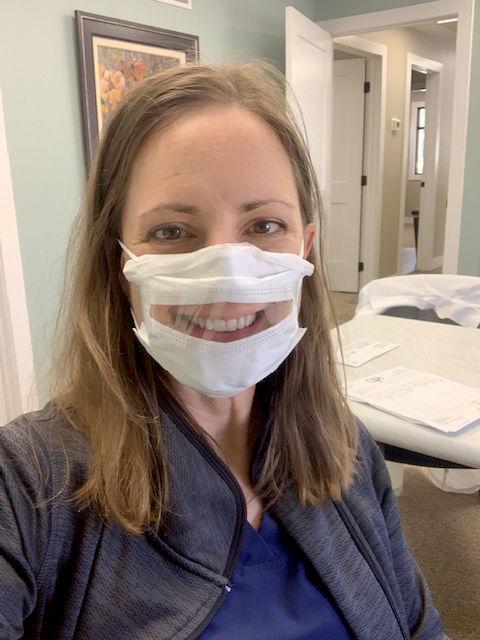 Rierson has masks available that incorporate a clear panel in the center at the business she founded and owns, Adaptive Audiology, which just celebrated its first year in business. The masks keep the mouth visible even while it's covered, making it easier for others to read wearers' lips.
"Better Speech and Hearing Month is a good time to get the word out to let people think about people who are hearing-impaired," Rierson said. "This pandemic affects us differently, and for people who are hard of hearing, we need to be considerate of the fact that we've taken away the ability of an extra means of communication when we wear a mask."
The need to see someone's lips is present for people with various levels of hearing loss, including those who wear hearing aids; "lip cues" supplement limited hearing to help those people better understand what someone is saying, Rierson said. Wearing a mask removes those cues, in addition to decreasing speech intensity by about 12 decibels, she said.
Rierson has distributed some of the Safe 'N' Clear masks she ordered weeks ago and just recently received — the company currently is not accepting additional orders because of high demand — to other healthcare workers, including local dentists and those working at care centers.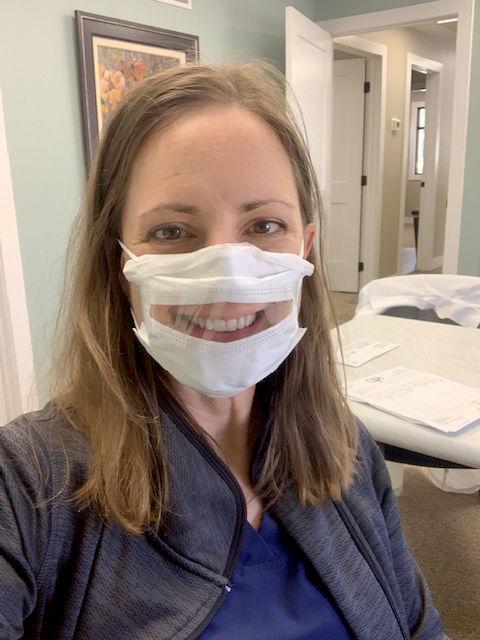 Health-care workers or others who need one of the masks can contact her office at 712-775-2625 to see if any are available.
"If you have someone in your life that needs to be able to see your lips because they're so hard of hearing, that makes them feel so good that you care enough about them to do that," Rierson said.
However, the number of available masks is limited, and Rierson said that if someone local who has been sewing masks were able to create a washable design that incorporates a clear vinyl center, she would love to work with them to help distribute them.
"Anyone who has the ingenuity and tools to do that," she said, "that would be wonderful."
When Rierson received the masks in the past week and began wearing them, she saw a returning patient, who previously had expressed frustration at not being able to hear her through her mask. His face lit up when he noticed her new mask.
"He was so thrilled that he could understand me," Rierson said.
Clear face shields — they're being made by Trophies Plus and other sources in the area — also work well for those who need lip cues, but they're not always usable in certain situations.
The need for the masks is part of a larger conversation and awareness Rierson hopes to see in the area.
"This is something to spur some thought in our community," she said. "I love the idea of people thinking about those who are hearing impaired and stuck in their homes. If you have a family member or friend stuck at home and socially isolated, make sure they're not sitting in silence."
She noted that in the context of protecting hearing, silence is bad for the brain; someone who is alone should listen to talk radio or the TV, listen to books on tape — they could read along with them if hearing them is difficult — or read aloud to themselves to audibly stimulate their brains.
And as the weather improves, those in the community who know of someone who is living alone should make a point to drop by and have a conversation with them outside.
And if people are finding that they're having a difficult time understanding others, it's important to have their hearing checked, Rierson said.
"Better Speech and Hearing Month is really based on communication," she said. "We as human beings need to communicate. If we don't, it's very damaging to our bodies to be isolated like this. Getting these masks in this month and being able to give them out, it's a really important way to re-emphasize how important it is to communicate with others.
"We can't let a pandemic stop us from doing that — we just have to get more creative."