Mrs. Glynn and Co. had been open for only one year before the coronavirus pandemic forced it and other retail stores to close for more than a month to help stem the spread of the virus.
Then on May 1: "I've missed you all so much, and I'm excited to welcome you once again," owner Beth Glynn wrote on Facebook.
State officials had allowed some businesses to reopen with restrictions. At Glynn and Co., customers were asked to peek in the window before being waved inside. There were no more than three at a time allowed inside, and everyone was asked to sanitize their hands upon entering.
Many of Glynn's customers shopped online during the closure, but the in-person experience is important to see the shop's full collection of home decor, gifts and other items.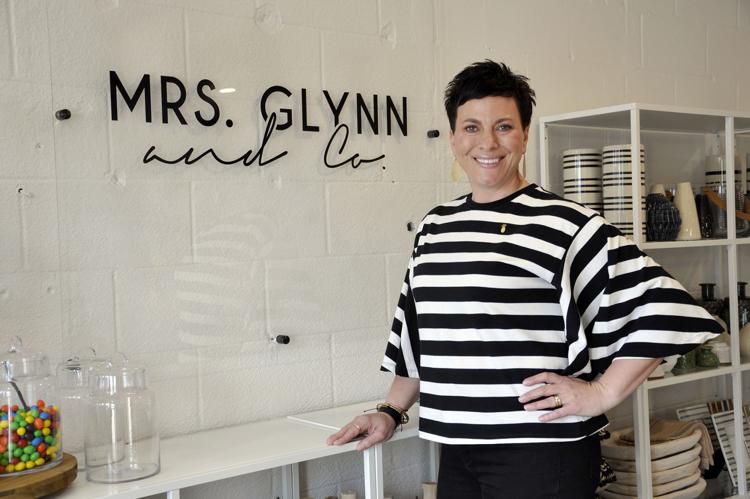 In the past week Glynn stocked her shop with creative congratulations cards for graduating seniors.
Then on Monday, a pickup truck crashed through the store's front wall.
"I'm a little heartbroken after having to be forced to be closed during all the Covid things — now having to be closed again," Glynn said of COVID-19, the disease caused by the new coronavirus. "It was an accident. I'm just grateful that no one was in there, neither me or my employees."
The crash happened about 11:30 a.m. when a 70-year-old Manilla man was hoping to park near the store but pressed the accelerator pedal instead of the brake.
The man wasn't injured, and no one was in the store because it's closed on Mondays.
Glynn, who grew up in Earling, and her husband Dirk, a native of Creston, moved to Carroll about 16 years ago and have two adolescent children.
Her business — which she describes as a "modern meets old-fashioned shop offering a curated collection of homegoods and lifestyle products" — opened in March 2019 at 207 W. Fourth St.
Glynn said it's unclear when she might reopen the store building to customers, but that she's not worried about having to shutter the business permanently.
"I feel like the Carroll community and the surrounding communities are very supportive of local businesses, and we've been building a loyal customer base," she said. "I just keep saying that we're down, but we're not out."
To shop at the store online, go to www.mrsglynnandco.com.