The first of four potential graduation dates for Carroll High School panned out — though it was a bit sweltering — and almost all of this year's 103 graduates gathered at Carroll Athletic Field Saturday evening to close out the strange end of their time with the Carroll Community School District.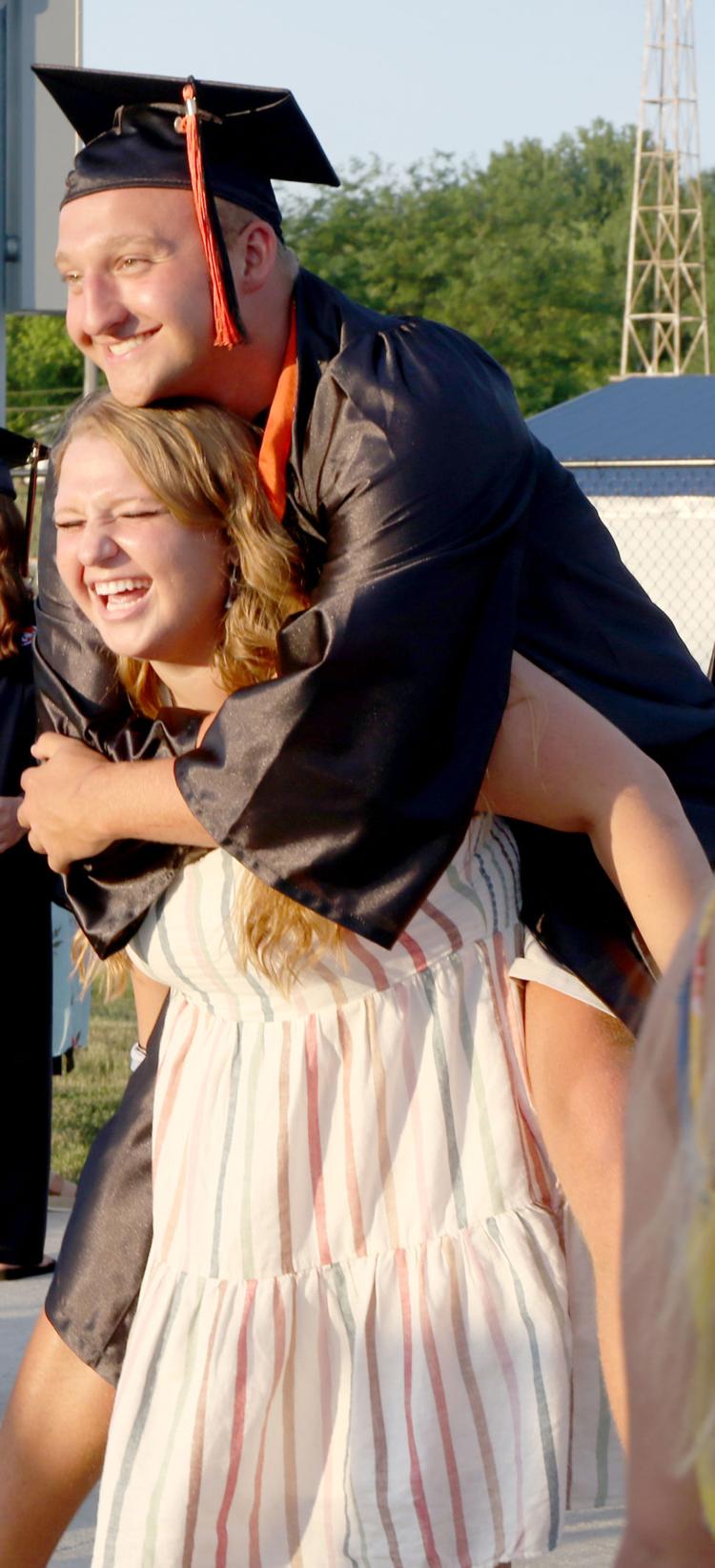 In an unexpected twist, they finished up their senior year online, last heading to school in person on March 13 before schools statewide were closed because of the new coronavirus.
Still, the altered commencement ceremony held at Carroll's stadium — with students spaced six feet apart in an outdoors setting, pre-recorded commencement speakers and a limited audience — allowed what school leaders described as important closure for Carroll High School's Class of 2020.
"It is difficult when we have interruptions in our life, and in 2020, we have had a historical interruption with the pandemic, and none of us will soon forget how it interrupted our lives," Carroll Schools Superintendent Casey Berlau said during the commencement ceremony. "It makes tonight even more special."
The students in the class with the 10 highest grade point averages were Makayla Bueltel, Nicholas Haberl, Eric Malcom, Ashley Onken, Owen Perrin, Taydem Shoesmith, Lauren Snyder, Eliot Tidgren, Rachel White and Luke Woosley.
One main consensus among the five student speakers (four valedictorians, Haberl, Perrin, Snyder and Woosley, and salutatorian Bueltel) was that 2020 was, well, weird.
Perrin, who along with seniors Joseph McCartan and Eliot Tidgren won the Critic's Choice banner for best improv performance in the Iowa High School Speech Association Large Group All-State Festival in February, noted that his class attended fewer days of school than any other graduating class and commended "all those girls who collected Bath and Body Works hand sanitizers in middle school."
He also passed on the five most-important lessons he learned at Carroll:
"First and foremost: something about getting off a dead horse;
"Don't be the last person in the lunch line on Crispito day;
"Don't go to the bathrooms on Crispito day (Crispitos are rolled, fried tortillas filled with meat);
"The mitochondria is the powerhouse of the cell ("I have no idea what that means," Perrin admitted);
"Most importantly, don't graduate during a pandemic."
Still, students agreed that their dozen years' worth of memories in the school district supersede the odd end to their final year at Carroll High School.
In her speech, Bueltel hearkened back to elementary-school days when "we all believed that the third floor (at Adams Elementary School) was haunted and our only care in the world was being the last one standing in a game of Red Rover."
Woosley asked the students to take a look at the peers sitting around them.
"No matter if they are your best friend or you don't like them for stealing your crush all the way back in seventh grade; it doesn't matter," he said. "In some way, shape, or form, the 100-some people sitting around you today had some part of molding you into who you are."
Snyder noted that the members of the Class of 2020 are unique for more reasons than ending their high-school career during a pandemic.
"Even though I don't remember my senior prom or campout, I couldn't ask to share the memories I do have with a better class or a better school," she said.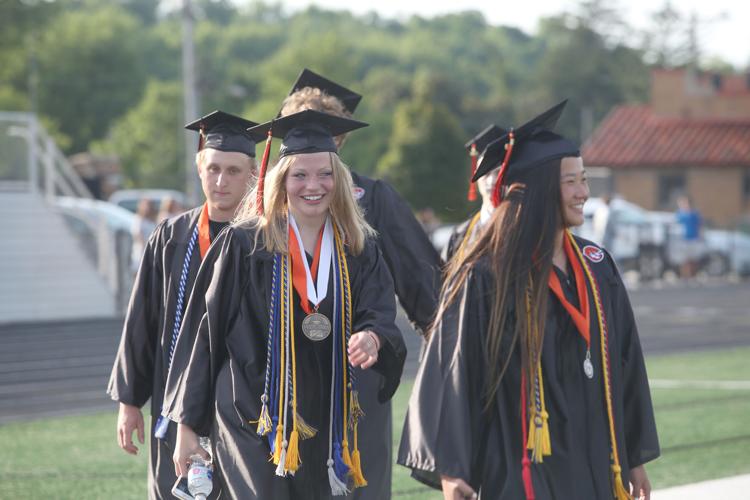 Haberl urged, "Embrace every opportunity as if it were your last, because as our senior class knows all too well, everything can be taken away from you in an instant. None of us knows what lies ahead of us, whether it be college, the workforce or the military, and what Mr. Tigges always says is that you will inevitably fall on your face, once for sure if not more, but it's how you respond when you get back up. I know that each of us from the Class of 2020 will get back up even stronger and more resilient than where we started when this virus turned our whole lives upside down."
The graduating members of the Class of 2020 were led to their seats by Carroll High juniors, who were selected by the senior class and assisted in a variety of ways during the commencement ceremony. Although not all were able to be present Saturday, the junior escorts and ushers selected to participate included Slade Sibenaller, Ella Collison, Laura Sweeney, Trinity Tassel, Gracie Simmons, Gabe Pettitt, Jack Troutman and Tory Feldman.
Commencement speaker Dennis McCartan, Carroll High School counselor, psychology teacher and football coach, urged students as they enter the world always to write handwritten thank-you notes rather than resorting to easier, high-tech measures of gratitude.
He added, "Say 'please' and 'thank you' to anyone that is waiting on you. If you have learned nothing during this time, please understand you are not better than those that serve you on a daily basis."
McCartan noted that the Class of 2020 has received more attention than any other Carroll High School graduating class.
"If the last nine weeks of the school year defines you, then we did a terrible job the last 13 years," he said. "You are better than this, and it's about perspective."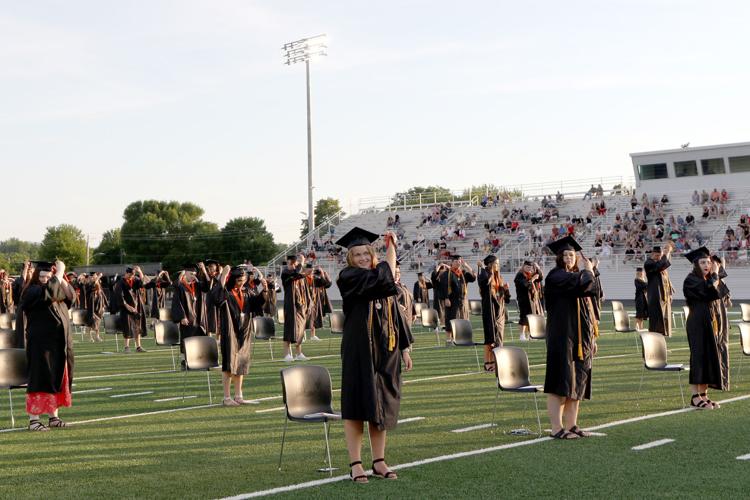 And for Carroll High School Principal Tammie McKenzie, the altered, outdoor ceremony carried a bit of nostalgia.
"Since I graduated from college in an outdoor ceremony, it has always been my wish to find a venue and arrange for our Carroll High School graduates to be able to celebrate their graduation in the same way," she said, thanking Carroll County Public Health, the Carroll County Emergency Management and Berlau for working together to make the commencement ceremony a reality. "I am proud to be surrounded by such an amazing community of students, teachers, staff and parents and share with you the pride I have in the students sitting in front of me at this time."