AMES: Des Moines Area Community College this year sponsored an entry raised by 2020 Glidden-Ralston High School graduate Grant Borkowski in the 38th annual Iowa Governor's Celebrity Steer Show.
Due to the coronavirus pandemic and cancellation of the Iowa State Fair, the event's traditional site, this year's show was held Saturday, Aug. 15, at the Iowa State University campus in Ames.
Celebrity exhibitor of Borkowski's steer, named Buster, was Morgan Knapp of Bloomfield, a DMACC agribusiness student and Davis County Schools alum.
Buster brought in $17,500 for Ronald McDonald House Charities of Iowa during the show's charity auction, which raised more than $250,000 in total. Buster's buyers were James Oil Co., DMACC Agribusiness, Borkowski Family and Iowa Culinary Institute.
Every summer, show sponsors — including DMACC, which just celebrated its 19th year as a sponsor — purchase a steer from an Iowa 4-H member upon the completion of their respective county fair. Buster Bear was raised by Borkowski and earned grand champion market steer and reserve supreme champion market animal honors in July at the Carroll County Beef Show during the Carroll County Fair. DMACC purchased Buster and made a slight addition to the steer's name, calling him Buster Bear, as a fun nod to the DMACC mascot, as well as to the classic children's book "The Adventures of Buster Bear." DMACC then donated 50 copies of the book to Ronald McDonald House locations in Iowa as part of its sponsorship.
Knapp, a Mark Pearson FFA leadership scholar at DMACC and participant in the American Angus Association's 2020 Miss American Angus competition, served as DMACC's celebrity representative at this year's event and joined Borkowski in the show ring with Buster Bear. Borkowski, son of Dave and Lisa Borkowski of rural Carroll, is attending Iowa State University this fall, majoring in agricultural business and minoring in agronomy.
Since its inception in 1983, the Iowa Governor's Charity Steer Show has raised more than $4.1 million for the Ronald McDonald House locations in Des Moines, Iowa City and Sioux City. The houses are located near hospitals and provide a "home away from home" for families of seriously ill children. The Iowa Beef Industry Council and Iowa Cattlemen's Association sponsor the annual show and charity auction.
The show's grand champion steer this year was Mighty Minne, a crossbred raised by Tyson Von Glan of Vail and shown by Kevin Reynolds, husband of Iowa Gov. Kim Reynolds. Tyson, 13, is a seventh-grader at Ar-We-Va School and son of Clint and Renee Von Glan. Tyson follows in the footsteps of his brothers, Ben and Cody. Ben had the champion steer in 2014, and Cody's entry took top honors in 2017.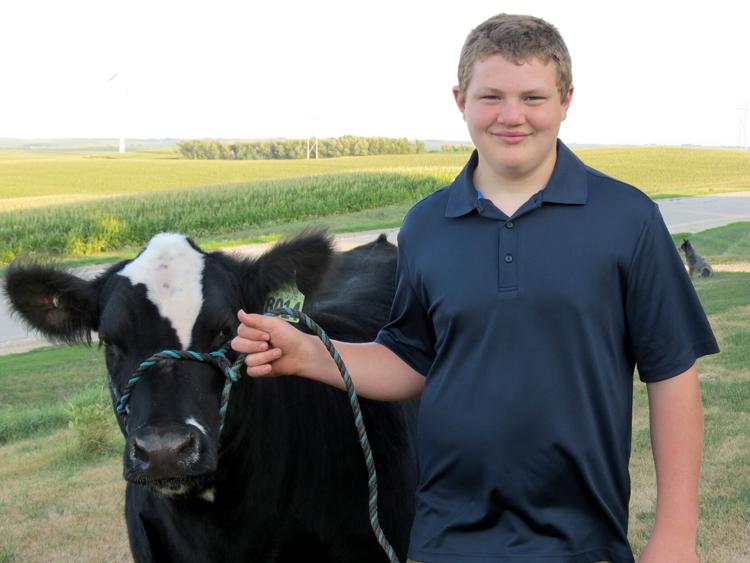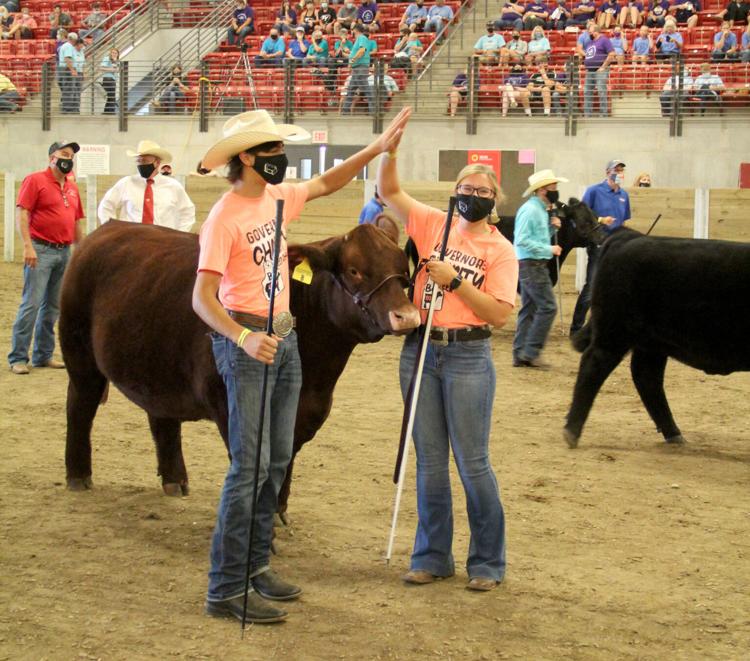 Another participant in the show was Renee Grimm, 18, daughter of Ken and Renee Grimm, who farm between Manning and Audubon. The family's Koo's Kattle Kompany raises Maine Anjou. Renee raised a shorthorn-Maine Anjou crossbred steer she named Bo. Renee graduated this spring from IKM-Manning High School and is attending Iowa State University, where she plans to double major in animal science and agricultural systems and technology.
More coverage of the local participants will be featured in an upcoming farm section.