Tough but fair. An exceptional educator.
Those qualities stood out about Father Thomas Donahoe during his 21 years' service at Kuemper Catholic High School — beginning as a religion teacher when Kuemper first opened in 1954. Donahoe succeeded Kuemper's first-ever superintendent, Father Leo Lenz, and led the school from 1961 to '75. Following Donahoe's death on Nov. 5 at age 94 in Fort Dodge, former staff members who served under him praised his leadership.
Donahoe, who was born in 1926 in Fort Dodge and ordained in 1954, was assistant pastor at the former SS. Peter and Paul Church in Carroll from 1954 to '58, when he became part of the original Kuemper faculty. He was assistant administrator to Lenz before being named superintendent.
Dan Balk, who was a math teacher, coach and athletic director during his 42 years at Kuemper from 1960 to 2002, said, "I don't mean to shortchange any other people that I worked for, but I thought (Donahoe) was probably the finest superintendent. He was an exceptional school man. I almost felt spoiled working for him because he really did things that made school a great experience for everybody. He had great expectations of the people who worked for him, and those expectations, I think, made us really put in the effort you need to have a good school system."
Balk was a big fan of the modular class schedule system that Donahoe implemented along with Cletus Windschitl, longtime Kuemper administrator who passed away on Oct. 24 at age 88.
"I thought it was the best educational delivery system I ever worked with," Balk said. "It assigned classes the amount of time they needed to be successful. Typical classes lasted 40 minutes daily; however, more-demanding courses, such as the sciences, were given an hour.
"That particular system, considering what we were expected to teach, I thought it was the most-efficient educational delivery system that you could use."
Vern Henkenius, a 1961 Kuemper graduate, at Donahoe's invitation joined the faculty and coaching staff at his alma mater after he graduated from the University of Iowa. Henkenius taught social studies and was head boys basketball coach from 1965 till he left for positions in the Carroll Community School District in 1974.
Henkenius said Donahoe welcomed discussion on issues but also had a unique way of signaling when debate was finished.
"Back in those days, the employees could smoke around the school building — in the teachers' lounge, and administrators would smoke in their offices. Whenever you or a group were having a conversation with him and he had a cigarette in his hand he would pause for a moment. He would put that cigarette between his index finger and his thumb and he'd start rolling it, look at you and say, 'End of conversation.'
"Everybody got up and left. A decision had been made. But he accentuated it by rolling that cigarette between his thumb and index finger."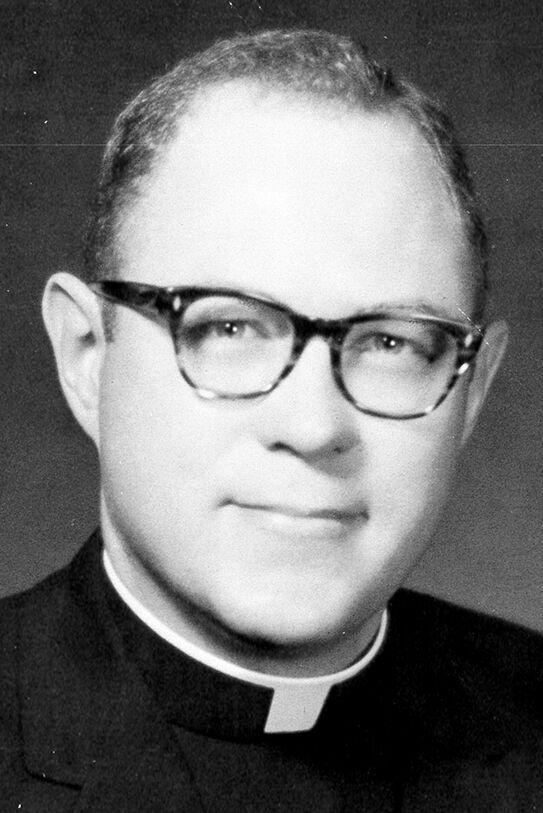 Henkenius added, "He was tough. He knew how far he could go in respect to the budget. He was a good budget guy, but he was fair. When you walked out of his office after a decision was made, you always accepted it and moved on."
Donahoe had a playful side, too.
Henkenius, who compiled a 94-37 basketball record at Kuemper including a State Tournament runner-up finish his first year, said, "We'd be practicing in the gym after school, and he'd come in and he'd say, 'Wait , boys, I have to show you something.' He'd come out on the floor, take the ball and throw up a few shots, trying to show the boys how he could shoot the basketball."
It was probably a sling shot from the hip, Henkenius said with a laugh, adding, "So he was a kids' person as well as a strong administrator."
Henkenius noted that Donahoe was in charge when Kuemper's enrollment swelled past 1,000 and an addition was built onto the south side of the school.
Donahoe hired Jeanne Spieler in 1971 as a physical education teacher, girls golf coach and cheerleading moderator. That turned into Spieler's 43-year career with Kuemper, the final 16 years as director of guidance. She coached varsity golf throughout her career and persuaded Donahoe to start the girls' volleyball program. She was varsity head coach from 1972 to 2009, and after turning over the reins coached the eighth-grade team.
"I felt Father Donahoe and I had a good working relationship," Spieler said. "There were definitely some tough meetings, but Father Donahoe always made a point to touch base later in the day just to say 'Hi' or 'How's it going?' He didn't hold grudges, and I felt his door was always open."
In her first year in 1971, Spieler said, Kuemper had a faculty of 57 teachers, including seven priests and 19 nuns, and enrollment was approximately 1,100.
"Father Donahoe was very motivated to making sure Kuemper Catholic maintained a high quality of performance," she said, adding, "The school atmosphere was one of very supportive of him and his ideas."
Donahoe always was present around the building, Spieler recalled, whether he was opening a retreat with Benediction of the Blessed Sacrament, lighting a candle symbolizing the start of the Advent season or standing in the gymnasium doorway during a basketball game.
John Steffes, a 1982 Kuemper graduate who's now Kuemper Catholic School System president, said, "I was not a student or staff member at Kuemper during monsignor's time here, so I did not know him early in my career at Kuemper. But I was always struck by the fondness and excitement in the many voices of alumni and colleagues as the tone of their voices always changed when the name 'Father Donahoe' came up. Over the years I heard story after story of respect and admiration for the man. I finally got to meet Father Donahoe at our school's 50th anniversary in 2004, so I was a bit star-struck. I began a wonderful friendship with him ever since. He absolutely loved Kuemper. He was always proud to be on staff here when the doors of the high school opened in 1954. He was also very proud to call himself a colleague and friend of our high school's founder, Father Leo Lenz.
"I continue to be inspired by Father Donahoe's loyal service to Kuemper and to the Church. We will miss him."
Monsignor Donahoe's service in Sioux City Diocese
Monsignor Thomas Donahoe, a native of Fort Dodge, was ordained in 1954.
Following is a timeline of his service in the Catholic Diocese of Sioux City:
— Temporary chaplain, St. Anthony's House, Sioux City, 1954
— Assistant pastor, SS. Peter and Paul Parish, Carroll, 1954-1958
— Faculty, Kuemper High School, Carroll, 1954-1961
— Superintendent, Kuemper High School, Carroll, 1961-1975
— Pastor, St. Patrick Parish, Sheldon, 1975-1986
— College of Consultors, Diocese of Sioux City, 1979-1983
— Pastor, Immaculate Conception Parish, Sioux City, 1986-1993
— Pastor, Immaculate Conception Parish, Graettinger, 1993-2002