MANNING: With the state and the nation still reeling from the coronavirus pandemic, Main Street Manning tried to bring a semblance of normalcy back to residents for Father's Day.
The local economic development group organized a breakfast drive-thru with Deb's Corner Cafe. Although it started at 8:30 a.m., cars began lining up shortly after 8 a.m.
Those attending the drive-thru ordered their meals at the start of the line, and when they reached the cafe, an employee brought their packaged meals to their vehicle.
Jean Voege, Main Street executive director and organization committee chair, stood at the start of the line to greet the drivers and other passengers.
"So they get a slip of paper that tells us what car they are and then we just write how many meals they ordered," she said. "And we text that to the cook, and she starts cooking them as she gets the order."
Twenty-five cars had placed orders in the first 15 minutes of the drive-thru event. The meals were offered for a free-will offering and included a ham and cheese omelet, fresh fruit and Texas Toast.
The donation money will help offset the expenses of the event and the leftover proceeds will go toward supporting local businesses and other events in Manning.
Offering the drive-thru in the morning gave residents something to do for Father's Day and allowed them to have the rest of their day free for other activities, organizers said.
The first 100 cars received a bag of goodies from local businesses along with their takeout meals.
"Primarily they're discounts, and the businesses could decide however much discount that they wanted, and some of them are actual physical items that were contributed by businesses," Voege said. "And then some organizations gave a donation of a certain amount of dollars and then we went out and bought different kinds of snacks with that, and the businesses got recognized."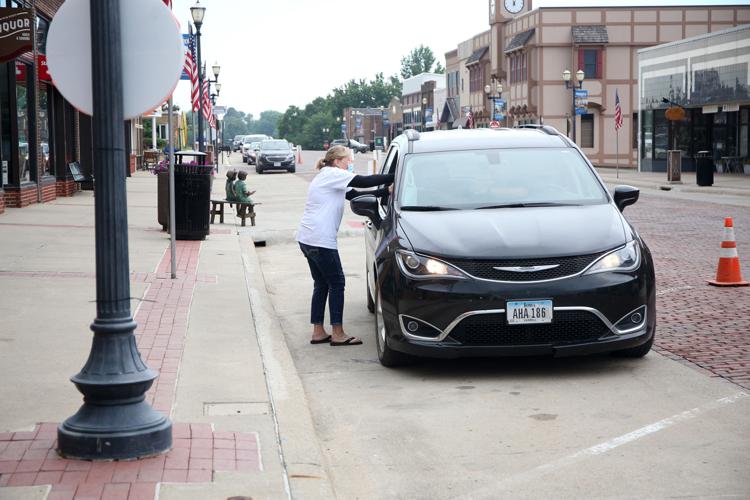 Voege said that in the past, an omelet breakfast had been offered near the VFW Hall, but the event was canceled this year because of the pandemic.
"So then we could step in and do it," she said, while maintaining social distance and wearing face masks.
Manning also hosted a drive-thru for lunch for Mother's Day. Nearly 90 vehicles participated, and Deb's Corner Cafe sold out of about 270 prepared meals that day.
"It was really successful, and so we had a few people even that day ask us, 'Are you gonna do this for Father's Day?'," Voege said. "So we did it for Father's Day."
She said Main Street Manning appreciates the support from everyone in the community who participated in the drive-thru Father's Day event.