LAKE VIEW: Construction projects expanding East Sac County Community School District buildings in Lake View and Sac City are expected to start in April, with completion eyed by the fall of 2022.
The East Sac County School Board awarded contracts to the low bidders at its meeting on Feb. 25.
Badding Construction of Carroll won the contract for work at the high school in Lake View, and Wiltgen Brothers Inc. of Le Mars was awarded the contract for the elementary building in Sac City. Badding bid approximately $5.6 million, while Wiltgen's bid was about $2.8 million. Four firms bid on just the high school project, and five on just the elementary project. Another three companies submitted combined bids on both projects.
The two contracts' total is within about $40,000 of the cost that was estimated.
Drees Co. of Carroll will be a subcontractor in both projects for HVAC, plumbing and electrical work.
The school district will pay for the work using $4 million from the PPEL (physical plant and equipment levy) of $1 per $1,000 valuation voters approved last fall and $5.5 million borrowed against the 1-cent SAVE (Secure an Advanced Vision for Education) sales tax. The board approved financing with Iowa State Bank in Sac City and United Bank of Iowa in Ida Grove. Interest rate on the PPEL is a little over 1 percent, and the SAVE rate, which goes up over time, averages about 1.6 percent. The PPEL is a 10-year note, and the SAVE a nine-year note.
"We're excited for our communities to upgrade our facilities," East Sac County Superintendent Jeff Kruse said. "The last big project we'd done in this district was in the '80s (construction of the elementary building in Sac City). So it was time to make some renovations. It will allow us to become more efficient as we continue with our board goal of moving down to two main educational facilities."
The district currently has four buildings: the high school in Lake View, the fifth-through-eighth-grade school and prekindergarten-through-fourth-grade school, both in Sac City, and a former elementary school in Wall Lake that was closed after last year.
At the high school in Lake View, construction will include seven additional classrooms, a new kitchen and a commons area. The building does not currently have a commons area.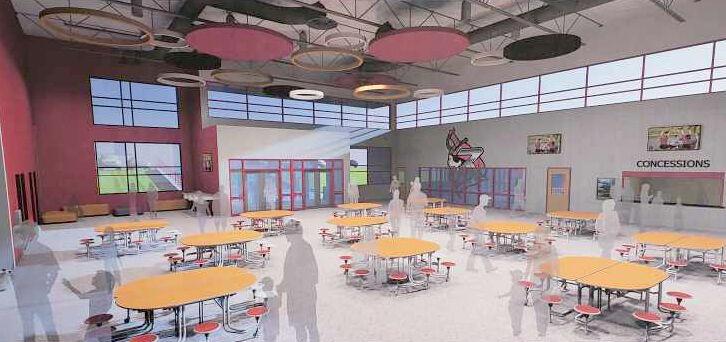 "The big difference at the high school, it will have a new commons and kitchen area," Kruse said. "It's an addition that's been greatly needed here at the high school. Now when we host activities, we don't have a commons area for people.
"Also, kids currently eat in an old gym, and they have to carry lunch trays up and down steps. When you have a student in a wheelchair or on crutches, it's not very accessible."
Also enhancing accessibility in the school, an elevator will be constructed between the first and second floors.
The current high school is made up of four different sections, the oldest built nearly 100 years ago, and the others in the 1950s, '60s and '70s. A goal is to tear down the oldest portion in the next several years, Kruse said.
Expansion at the elementary school will include six new classrooms, including a science room and instrumental-music room.
In an alternate project at the elementary, bids were requested for dividing three existing classrooms into seven smaller rooms, which would be used for support services such as Title 1 and special education. The board turned down a $350,000 bid for that work. Kruse said the district might be able to divide the rooms at about one-third that cost by installing floor-to-ceiling portable walls.
"We're still trying to decide how we're going to make arrangements for those support-service areas," he said.
When the projects are completed, the schools will be restructured, with prekindergarten through sixth grade in Sac City and seventh through 12th grades in Lake View, and the middle school in Sac City, currently housing fifth through eighth grades, will be closed.
Enrollment is estimated at 450 for prekindergarten through sixth grade and 350 for seventh through 12th grades.