DUNLAP: Political partisans or provocateurs have become increasingly brazen and profane with yard signs and flags in a polarized nation.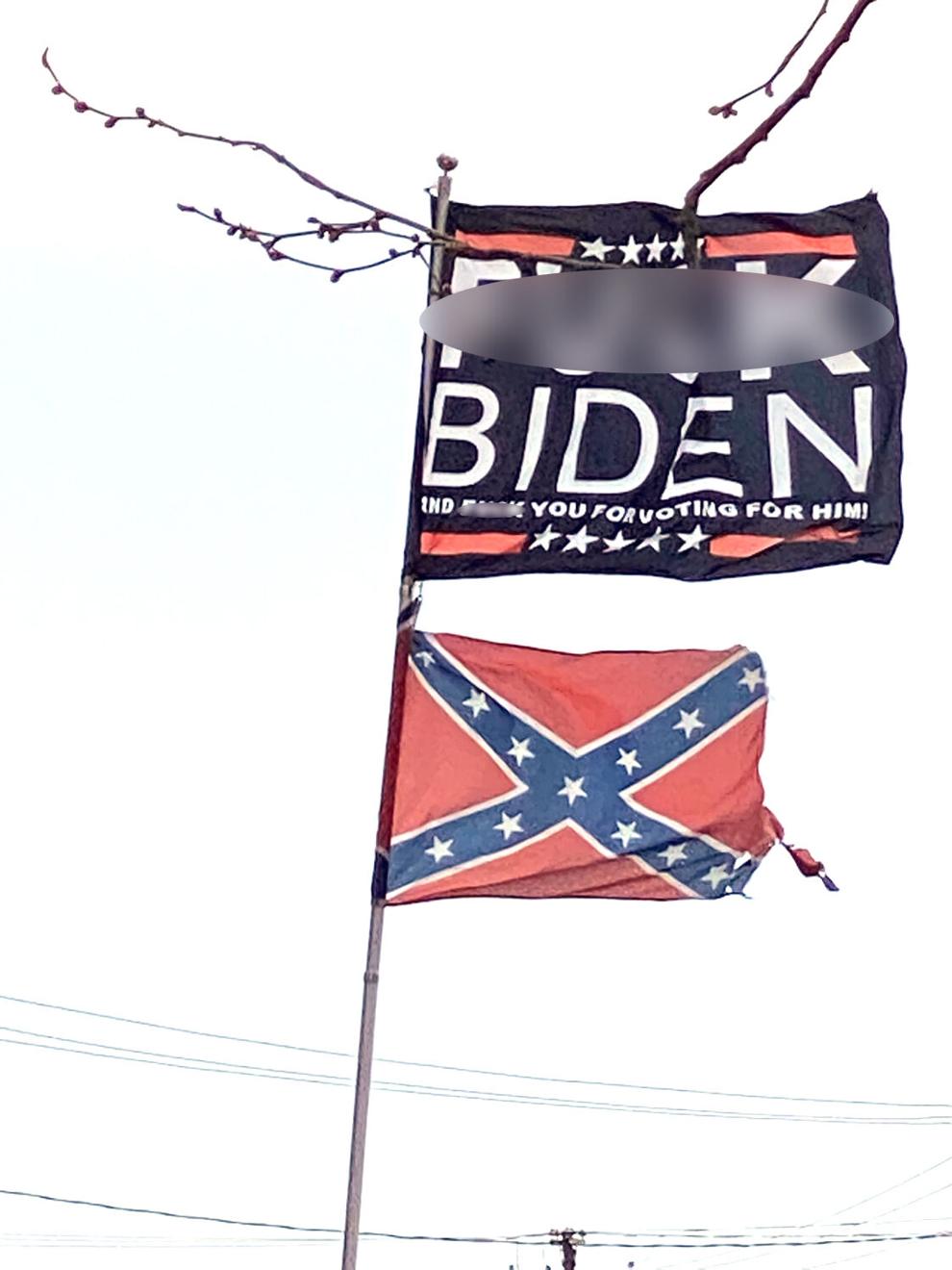 Messages and slogans flown by Democrats and Republicans with aggressive and profane content that would have been unthinkable in past generations — or in some cases even in recent years — are not uncommon or even surprising sights in Iowa today. The signs have been aimed at former President Trump, Secretary of State Hillary Clinton or President Barack Obama. Several residents and property owners of western Iowa today are flying flags expressing rage with the current occupant of the Oval Office, President Joe Biden.
Many are on remote rural roads or in neighborhoods. They may offend or inspire, but most are clearly tied to a specific home or farm — the expression of an individual or family or even business viewpoint, obscene as it may be.
But Dunlap, a city at the crossroads of Harrison and Crawford counties, is dealing with an obscene flag that proclaims "F*** Biden" and "F*** you for voting for him" (the profanities are used in their entireties) in its central business district. The anti-Biden flag flies above a Conferedate flag on a pole in front of a home along U.S. Highway 30, a federal route that goes right through the city of 1,000 people.
And there is nothing the city can legally do about it, says City Clerk Meredith Van Houten. It's free speech, the profanity protected with no zoning solution or other way to get it down, she said.
"If you find a suggestion, I am willing to call the city attorney again," Van Houten said.
Van Houten said city officials have to no avail considered several angles to get the F-word flag down from a $44,000 home owned by Michael James Ferguson, 54, 224 N. Sixth St. Ferguson did not return a phone to a number listed on public records for him. Van Houten confirmed that Ferguson is the person paying the city utility bill at the home.
"You can't regulate signs on the basis of content," Alan Kemp, executive director of the Iowa League of Cites, said in a phone interview. "Of course this then has spread to things like a flag."
Van Houten notes Dunlap is far from the only place in rural western Iowa where the "F-Biden" flags fly. But fairly or unfairly, because of the highly-visible location at a house — in a zoned residential area with business neighbors — the flag creates extra concern for the community's image, she said.
"It doesn't matter what political party you are," Van Houten said. "It doesn't look good when you have the F-word on Highway 30."
The Times Herald reached out to two Dunlap business owners who are horrified by both the Confederate and F-Biden flags but would not go on record to express that view for fear of reprisal.
Kemp said the profane signs cut across partisan lines.
"People are allowed to have these flags like this, and even with the past administration, there was the same thing, only you substitute Trump for Biden," Kemp said.
Kemp said the Iowa League of Cities spoke with Dunlap officials on the matter.
He said an official solution likely is out of reach for Dunlap, but that local residents or business owners upset about a highly visible profanity in town could prevail upon the homeowner to change the F-Biden sign to "Dump Biden" or "Impeach Biden" to deliver a similar political message without the profanity on a school bus route.
"That's absolutely the case," he said. "As one city attorney said, he says, 'Everybody is entitled to their political opinion, that's fine, but when you put something like this up, and it's something that can be seen by elementary-school-aged children walking, do you really want that in their face?' "
Kemp said rational people would see that the F-Biden flag is not good for the community based on the language alone, not politics. But the flag-flying homeowner likely will not listen to that appeal, he said.
"I have worked as a city administrator in the past, and yeah, I know these types of individuals in the community," Kemp said. "Yeah, you're not going to prevail on them."
He added, "You're just sort of left as the city not being able to take any actions, and it's just going to be up to the residents to maybe prevail on this guy, and hopefully that works, but if not, maybe try to ignore it until he gets he tired of worrying about the flag."