When Logan Canuso thinks of the American flag, he thinks of his mom.
And when he recently took pen to paper to express those feelings, the result stood out among more than 130 essays about the American flag.
Canuso, 10, a fifth grader at Carroll Middle School, was selected as the winner of this year's American Legion flag essay contest for his class. Various American Legion posts partner with area classes each year for the contest. The Breda American Legion organizes the contest for Logan's fifth-grade class at Carroll Community Schools.
A total of 134 students wrote essays about what the American flag means to them, said Bob Fasbender, one of the Breda American Legion members who headed up the contest partnership this year, along with Legion member Ralph Wiederin.
During an assembly held at the school Jan. 14, every student who wrote an essay received a certificate of appreciation from the Legion and stood to shake Fasbender and Wiederin's hands.
That moment in particular was meaningful for Fasbender, who attended an Honor Flight for veterans to Washington, D.C., several years ago and said what he remembers the most is the handshakes from the people greeting the arriving veterans.
He experienced that again in the Carroll Middle School gym.
"You can tell when you shake someone's hand if they mean it or not," Fasbender said. "It really meant a lot to me that we got a lot of good handshakes from these kids."
As part of the assembly, Logan read his essay, referencing his mother, retired Lt. Cmdr. Amy Canuso, now a psychiatrist at St. Anthony Regional Hospital who served as a physician in the U.S. Navy from 2006 to 2018. As a Greenside member of the Navy, she worked largely with the Marine Corps.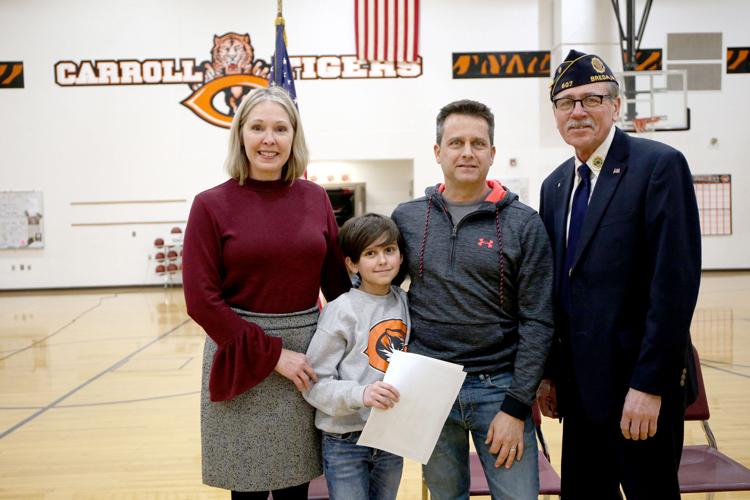 "When I see the U.S. flag I remember my mom and all the people she helped during the Afghanistan War," Logan read.
His essay covered the history of the flag and also offered tips on respecting the flag: standing when a flag ceremony starts and as a flag is hoisted, then: "Once the flag is raised, recite the Pledge of Allegiance. Once that is done, you can sit down."
He shared, in his words, a story he'd heard about Canuso's time in the military relating to the American flag:
"She was in a small American military camp surrounded by allied camps. When a solider died in one of the allied camps, they asked their camp to raise their flag at half. But according to flag etiquette you can't do that. So they didn't raise their flag at all when a soldier died."
Amy Canuso later expanded on the recounting: In a grouping of allied American, British, Australian and Swiss troops in Afghanistan, it was customary for some of the camps to lower their flags to half staff when there was a casualty in an adjoining camp. But different countries practice different flag etiquettes, and America's didn't permit Canuso's camp to lower its flag for another country's casualty because of the requirements the troop had to follow regarding flying the flag at half staff.
After an officer from another country's camp demanded to know why the American troops wouldn't share in that symbol, the personnel in Canuso's camp discussed the requirements for American flag etiquette and ultimately determined that although they couldn't lower the flag to half staff when an allied troop member died, they could choose not to raise the flag at all that day.
From then on, that's what they did.
"We decided not flying it that day was acceptable," Amy Canuso said in an interview. "When other soldiers were killed, we wouldn't fly our flag in a show of support and solidarity. That decision was a good one, because it helped maintain good relationships with our allied forces, within our regulations."
She added that she is proud Logan's essay was recognized, and humbled at the mention of her military service.
"You never think you're making such an impression," she said.
As for Logan, he didn't expect to win at all.
"I was happy, but also like — I thought one of my friends would win," he said. "When they told me I won, I was like … OK."
He admitted that his entire body was shaking when he stood up to read his essay out loud to the crowd — the largest crowd he's spoken in front of — but said he was proud of the accomplishment.
"It's kinda neat," he said.
Winning essays are passed on to be considered in various tiers of a statewide competition, and although Logan's essay didn't advance through the next round, Fasbender said, the 10-year-old will be invited to read the essay again at the Breda cemetery on Memorial Day — an event that also will include jets flying overhead, a 21-gun salute and the playing of taps.
"This is quite an honor," Fasbender said.
And hearing kids share their feelings on the American flag is meaningful, too, for Fasbender, a Vietnam War Navy veteran who marked 50 years with the American Legion last year.
"When I was in the Navy, our purpose was to show the colors on the flag," he said. "I sailed around the world doing this, and in the back of my mind, it was always a pride to see the flag flying and knowing you stood for something that was really significant to the world. You took pride in that."