COON RAPIDS: Amanda Miller's enthusiasm for her profession and her new position — principal of Coon Rapids-Bayard Junior-Senior High School — is unmistakable.
The week before the 2020–21 school year began on Monday, Aug. 17, Miller responded to a question about the rewards of her education career by quickly locating the clipping of an ad she's kept introducing Liz (Halbur) Peterson as a new family-medicine physician assistant at Stewart Memorial Community Hospital in Lake City.
"This is the cool thing to me, when I see something in a newspaper like this," she said. "This is one of my former students (a 2013 East Sac County High School grad). This is cool when I see students I've worked with go off, get a career and find success. That's so rewarding to me to even think that I had a little something to do with that. That's why I'm here, to give students that foundation and then to be able to make a great life for themselves. That's why I do what I do.
"Whether it's a student who came and installed my dishwasher after he'd gone to trade school or a student who goes on to become a doctor, I find that so rewarding to know I had a little part of that student finding success, whatever success means to them."
Miller comes to Coon Rapids-Bayard after serving as a counselor the first 12 years of her career — two years at Schaller-Crestland, then 10 years at East Sac County High School in Lake View.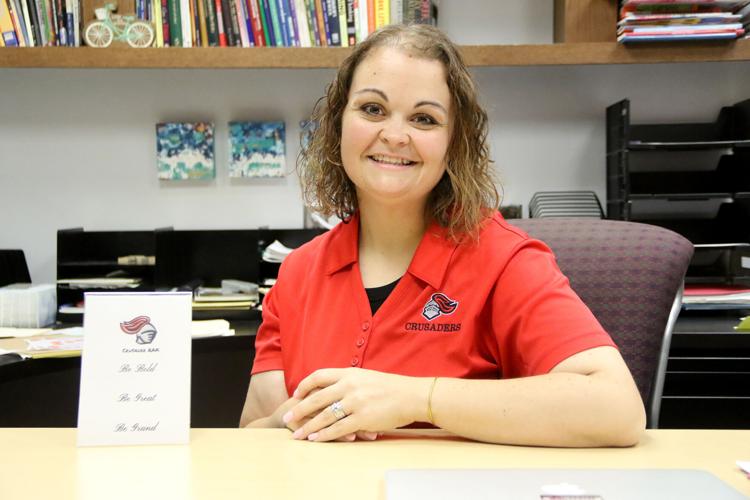 Miller, 38, believes her move from counselor to principal is a good fit.
"It would seem more difficult, almost, going from a classroom teacher to principal," she said. "As a counselor, I was very involved in the goings-on of the office. I felt I already had a lot of leadership with students, and I was ready to take on more of a leadership role."
Miller said she's taken to heart lessons she learned working with East Sac Principal Kevin Litterer.
— "What you permit, you promote. If you're going to let something happen, it's almost as if you're promoting that."
— "Communication really is key. For those challenged families, meeting with them often and communicating openly about both strengths and challenges of their students really makes the challenges a lot easier to navigate."
— "Always have an end in mind so that you're working toward a goal. Don't think in just the short term; think about how things are going to play out in the long game. Always be forward-thinking and thinking about not only what are going to be the repercussions but also the good things that are going to come in the end. So always have the future in sight."
The No. 1 goal is to graduate students, she said.
"That's why they're here, to get that high school diploma and move on," she said. "So how can we get them the skills now that they're going to need?"
The focus is to provide students with career opportunities and set them on the right path.
"I don't care whether you're headed off to a four-year university or straight into the workforce," Miller said, "it's our charge as a secondary school to get you the opportunities while you are still in school so you have some idea where you're steering.
"I think it's really important that we have core education for all students, so whether you're someone who has challenges in school or whether you're a high-flier, we're able to build you up. So support those students who struggle but also challenge those students who are gifted as far as academics go."
With her small-town background — a native of Wall Lake and serving in rural Iowa districts her first two career stops — Miller found the Coon Rapids-Bayard position highly attractive.
Coon Rapids-Bayard has 110 students in sixth through eighth grades and 170 in ninth through 12th grades.
"It's a small-town school like where I came from," Miller said. "I'm a small-town educator. My reasoning for that is you really have an opportunity to get to know the families and the kids. The Coon Rapids and Bayard communities are known for being very supportive of their school."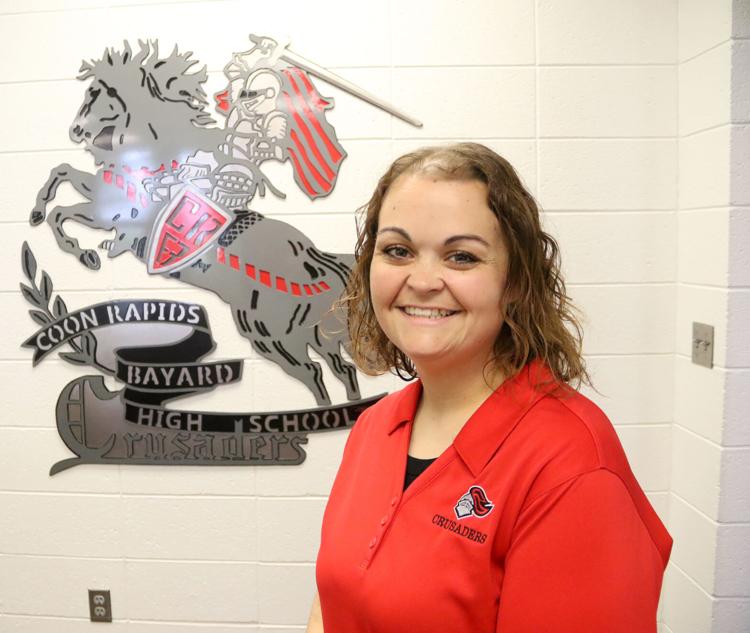 Miller sees advantages to the junior high and high school, as well as the elementary grades, all being housed in one building in Coon Rapids.
"It gives us the unique flexibility to offer electives in our middle school, and we can share some teachers," she said.
She continued, "Everybody's been very friendly and welcoming. We really have a good core group of teachers here, and I'm also very impressed by the group of new teachers we've hired, so I'm really excited for the students of this district. We really have a good group of educators for them."
Eric Trager serves as superintendent of both the Coon Rapids-Bayard and Audubon districts, and Miller works with Coon Rapids-Bayard elementary principal Becky Halbur and also can communicate with Audubon's principals.
"We have that sounding board," she said, adding, "It's been very helpful during the pandemic to have more voices at the administrative level to make decisions."
Miller was hired in February before the coronavirus pandemic shut down all Iowa schools. Absolutely, she said, she would have taken the position anyway, even if she'd known the pandemic impact.
"I guess I feel like, why not take on one of the biggest challenges of your career fight at the beginning?" she said. "Strangely, it gave me a good opportunity to get to know people before even coming here."
Even from her home in Wall Lake, she used electronic communication to meet with teacher groups and participate in professional-development opportunities.
"A lot of hirings also were done electronically this year, so I was in on the majority of hiring our new staff for this school year," she related. "I really think I had a unique opportunity to be more involved than a new principal typically would be. Strangely, I feel I got a leg up because of the pandemic."
With the coronavirus posing a potential threat to plans for in-person instruction, Miller said, "We have to be ready for anything. I feel like we need to have 35 plans ready, and then it's the 36th we're going to need."
The CR-B school year started with in-person classes Mondays, Tuesdays, Thursdays and Fridays, and remote learning on Wednesdays.
"Wednesday will give time for some deep-cleaning and also for teachers to work with students who are remote-learning full time," Miller said. "We felt we needed extra time for teachers who will be working with online students, because when else would they do that and take into consideration their own time? We felt we needed to give teachers that time to really get going with the school year and understanding how it's going to work having students in their classrooms and students full time online."
She added, "We have a lot of things in place to do our best to mitigate the (coronavirus) issue. Daily we're going to be evaluating how our plans are going and what we may need to change, what's working, what's not. So we'll be in constant communication about that."
Miller, daughter of David and Cheryl Waggie of Wall Lake, said an education career always seemed to be her in her future.
"I grew up a teacher's kid and gym rat, so it was just a familiar and comfortable place for me," she said.
Her dad, who retired in 2018, taught and coached throughout his 32-year career at Wall Lake, then Wall Lake View Auburn and now East Sac following consolidations over the years. He posted a 654-209-39 record as head volleyball coach from 1986 to 2017. He took his 2001, 2006 and 2007 teams to the state tournament. He coached 17 conference championship teams, won eight Twin Lakes Conference Coach of the Year awards and was a six-time district coach of the year. He was awarded the Golden Plaque of Distinction from the Iowa Girls High School Athletic Union in 2010.
Cheryl Waggie meanwhile had her in-home Cheryl's Daycare, which she still operates today.
Amanda, who has a younger sister, Alison, and brother, Jason, graduated from WLVA in 2000, received a bachelor's degree in child psychology from the University of Iowa in 2005, a master's degree in school counseling from Drake University in 2008, and professional administrator's license from Morningside College in 2017.
"I've always enjoyed helping others," she said. "I have a good sense of future planning and an ability to see both sides of the story. Studying 'how people work' was a natural fit for me. I grew up immersed in the educational field from my dad, and school counseling was the perfect fit for me."
At WLVA, she played setter on the volleyball team for her dad, competed in shot put and discus in track, and took on a number of student-leadership roles — student council, class officer and National Honor Society.
"I was one of those kids, I was involved in school, and I always had a job too (interning in the physical therapy department at Stewart Memorial)," she said.
Proud dad David Waggie, who crossed career paths with Amanda at East Sac, said his daughter takes a lot of strengths into her new position: dedication to her profession, enthusiasm, leadership ability to get people pepped-up even if she's having a tough day, and self-confidence.
Although, he added with a laugh that students shouldn't look to her for help with algebra, explaining, "Math wasn't her best subject."
Miller said of her career overlapping her dad's, "It was something really cool to be able to work at the same school. I loved being a WLVA Wolverine, so to return to the same school — I actually had that goal to be the high school counselor at East Sac by the time I hit 50 years old, and I made it a few months before 30, so that was a big professional goal for me. I know it sounds kind of corny, but that was the goal I set and I reached it about 20 years early, so we had a really good run there."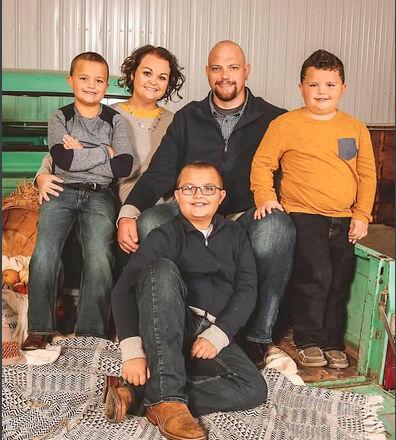 Demonstrating her commitment to her new position and the community, Amanda, husband Brandon and their three sons — Nolan, 12, a sixth-grader, Nile, 8, a second-grader, and Nick, 6, a first-grader — moved from Wall Lake to Coon Rapids in June. Brandon, a 2002 WLVA graduate and son of Sharon Walton, owner of Kathy's Korner restaurant in Lake View, and stepson of Bill Walton, who works at Essentia Protein Solutions in Lytton, switched jobs from Evapco in Lake View to Scranton Manufacturing; both are metal-fabrication businesses.
The Millers are all avid sports enthusiasts, cheering the Iowa Hawkeyes and Chicago Cubs.
"We're a sports family," Amanda said. "Out kids like to play sports. Really our hobby is, if they're not playing sports, then we're at school or wherever the field is, going to a game."