As Meredith Dryden took a second to straighten her hair at a cameraman's request (she had "wispies," he commented), her husband, Noah Dryden, turned to look at her.
"Are my wispies good?" asked Noah, bald from chemotherapy.
The moment of levity was a welcome release as the Drydens this spring recounted their hellish last few months — months that included a testicular cancer diagnosis for Noah and a newborn who became gravely ill soon after.
The Drydens recently participated in a video fundraising campaign for the Ronald McDonald House Charities of Central Iowa, describing how the house had helped them during that time. Although they were interviewed — by Carson King, who rose to fundraising fame after his tongue-in-cheek online plea for beer money raised several million dollars for the University of Iowa Children's Hospital — in March, the release of their video was delayed until this month because of the coronavirus pandemic.
In it, the Drydens describe the tumultuous months surrounding their second child's birth.
On December 9, 2019, Noah, 34, a senior designer with JEO Consulting Group in Carroll, was diagnosed with stage IIB testicular cancer, meaning the cancer had spread and would need to be treated with chemotherapy.
On December 20, their daughter, Amelia, was born. They also have a 3-year-old son, Leroy.
On January 6, Amelia was life-flighted to MercyOne Children's Hospital in Des Moines after being diagnosed with RSV, a respiratory virus.
On January 7, a new Ronald McDonald House opened at that hospital. The Drydens were the first family to check in. They stayed for 21 days.
The houses provide a place to stay for families whose children, up to age 21, are being treated at a nearby hospital. In this case, the house was located within the hospital.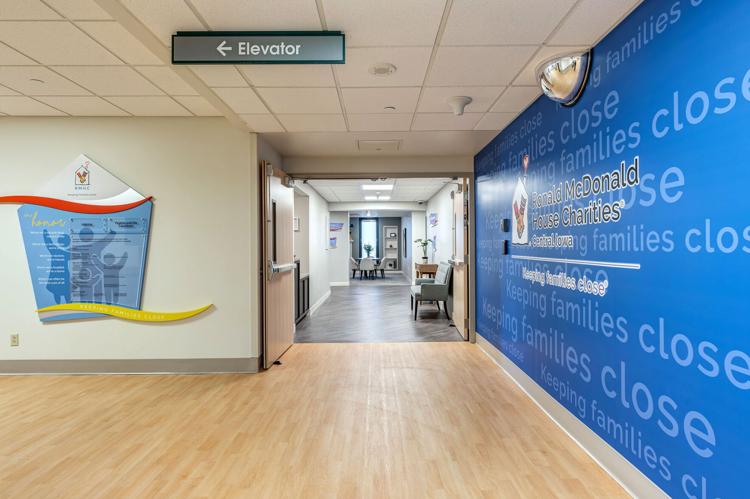 Amelia was being treated on the third floor of MercyOne, while the Ronald McDonald House was located on the fourth floor — a 30-second walk away from their daughter's hospital room, but also a place for Noah and Meredith, 31, a family medicine doctor at McFarland Clinic, to get better rest.
After all, the couple knew that neither of them would have left their 2-week-old newborn's hospital room for that 21-day stay if they hadn't had a nearby place to stay.
"Just having a place to sleep, having a place to eat, it's the things you take for granted every day in life that, when you're stuck in a small (hospital) room with a pull-out bed, those things become pretty huge, especially after you're there for a while and your back starts hurting and your fatigue sets in," Meredith said. "It's the things we take for granted every day, but when you're in that scenario, it's really a blessing."
Having a comfortable home away from home so near their daughter's hospital room was vital both for Meredith, as a nursing mom, and Noah, whose doctors in Carroll coordinated with those in Des Moines so that he could start his first round of chemotherapy while their daughter was in the hospital there.
"I was still there physically — it was tough," he said. "But just to be there and be able to go back to the Ronald McDonald House to sleep when I wasn't feeling well, to have a place I could go be alone so they didn't have to see me when I felt like I was at my worst, but yet they could still know that I was there for them, that was so important."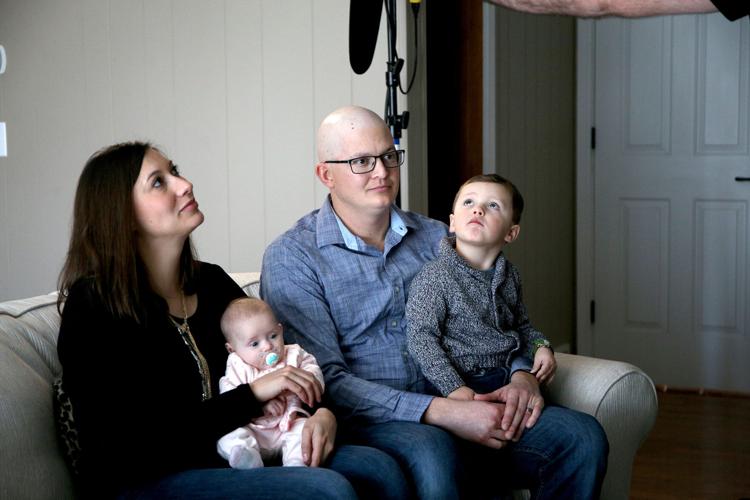 The family recalled the experience during an interview in their Carroll home with King and other representatives from Ronald McDonald House, including former Carroll resident Mike Bach, board president of Ronald McDonald House Charities of Central Iowa.
Bach, the former owner of U-Save Rental in Carroll and a 24-year member of the Carroll Fire Department, retired to Des Moines at the beginning of the year.
He said it was a special experience to work with the Carroll family on the fundraising video.
"That one definitely touched home, because Noah used to run around with my son," Bach said. "I've known him since he was a little boy, and his family, so this touched home. The house was very proud to have him represent us in this large campaign."
Bach said the Ronald McDonald House fundraiser is a worthy cause for those in the Carroll area, as the Des Moines house serves many families and patients from Carroll and the surrounding counties, and all of the money raised stays local.
King participated in the effort along with the Barrett Boesen Foundation, which will match donations to the effort up to $50,000 through the end of September. More information about the Dryden family and how to donate is available at www.rmhdesmoines.org/latest-news/dryden-family. Those who want to donate via Venmo can do so at @rmhdesmoines.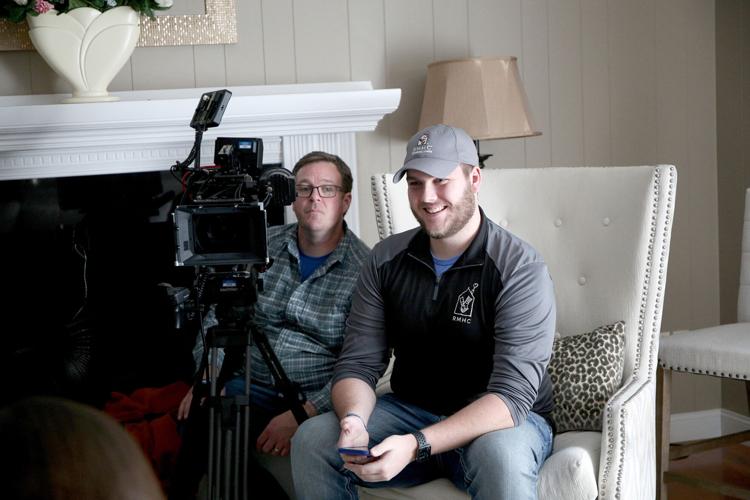 "There was so much in our life that was up in the air that we were trying to deal with as we went and learn about; all this happened so fast," Noah said. "And to get to Des Moines not knowing what the future looked like, not knowing what chemo treatments looked like, not knowing what was going to happen to Amelia and how long we were going to be there, and to have the Ronald McDonald House to settle in, to really make our home for those 21 days — we were very fortunate and blessed."
Amelia, now 8 months old, is healthy, just learned to crawl and is starting to pull herself up on furniture. She wants to keep up with big brother, 3-year-old Leroy, who is "all boy," loves to be outside and is very protective of his little sister, Noah said.
As for Noah, he completed his third round of chemotherapy in early March and is cancer-free.
"I cannot say enough good about that (Ronald McDonald House) program, about what they do for families in need," Noah said. "Obviously, you hope nobody ever needs it, but that's obviously not realistic. When you're in that situation, it's really wonderful to have a nice place to stay, meals brought in by volunteers — we didn't have a lot going on at that time that felt like home and felt like family, and that brought a sense of that. We'll forever be indebted to them."
During the interview, which was paused several times to deal with the inevitable needs of young children, some of the film crew asked the Drydens what they had for breakfast. (Noah shared Cheerios and fresh blueberries with his son.)
They also share a love for baking, which the film crew discovered when they asked the family to select an activity they enjoyed for some additional footage for the video.
They decided to bake cookies, reminiscent of when the Ronald McDonald House volunteers would surprise them with fresh-baked goods.
"Something Leroy really enjoys is baking," Noah said. "And then I get to make cookies, so it's a good day."
— Donate on Venmo at @rmhdesmoines
— Donations through September will be matched by the Barrett Boesen Foundation, up to $50,000.