About 200 Denison Community High School students walked out of class at 10 a.m. today to protest a teacher's use of a racial slur and demand remedies to what many pupils of different races say is systemic prejudice in one of Iowa's growing and most ethnically diverse rural cities.
Students peacefully gathered outside the western entrance to the high school, where they carried signs and chanted for social change as about a dozen members of the media covered the event. Superintendent Mike Pardun confirmed to the Times Herald that the teacher, Crystal Holt, who teaches social sciences, has been placed on indefinite leave from the school.
With the iconic Denison water tower in the background touting the city's link to native daughter Donna Reed's movie "It's A Wonderful Life," one student held a sign reading, "It's a hate life." Other students chanted "We want results" and "We want justice."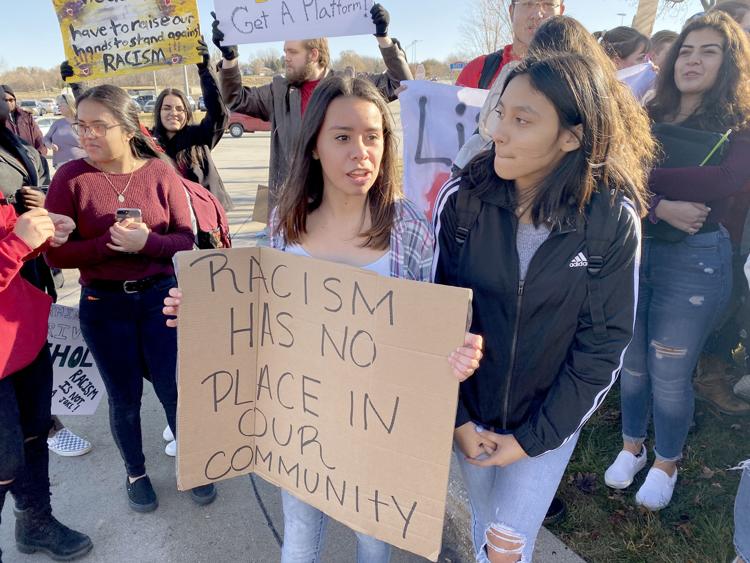 No counter-protestors were in sight, and the students streamed back into classes after about a half hour. Pardun said the district has not determined whether students who left the building during class time would be reprimanded for truancy.
"We haven't worked through that," he said in an interview with the Times Herald, noting that the school board is meeting tonight.
The protest stemmed most directly from Holt's use of the N-word in a class in which students were examining a death-penalty case involving convicted killer Kenneth Junior French, who in 1993 reportedly used racist and anti-gay language before gunning down four people in North Carolina.
Holt, wife of State Rep. Steven Holt, R-Denison, said in a Denison radio interview that the introduction of the actual N-word was necessary for historical and legal context.
Holt, during the classroom exercise, said she had to explain to students that the term "pejorative" means "derogatory," and that led to her having to use the full N-word for educational purposes.
"In the course of teaching and trying to deal with issues of racism, that is a word that comes up in literature," Holt said is the KDSN-FM Radio interview. "It's a word that comes up in this court case. It's a word that has a lot of meaning with the issue of racism, so it's something we have to address and discuss."
She added, "Racism is a social disease, and to fully understand all the aspects of racism and the impact it's had on people and out history and our development as a nation, you have to be able to understand how it's used."
Meanwhile, students contend Crystal Holt used the word needlessly — and multiple times — and has a history of insensitive behavior at the school. Students released a tape of Holt using the word N-word as well as two derisive terms about people who are gay to make a historical point. Holt authenticated the tape in the KDSN interview.
"You can use that word (the N-word) in context of the situation," Holt said amidst audible pushback from students. "Yes you can, yes, you can. … It was testimony from the case. So you can't repeat testimony from the case?"
Later, Holt told a diverse group of students that, "You guys, this is called political correctness bullcrap."
One student leader, who spoke on behalf of students gathered for the protest this morning, said Holt should be given a chance for professional improvement and character growth.
"The controversy swirling around Mrs. Holt is not an isolated episode, not a concern confined to one faculty member," senior Christopher Espino, 18, said a speech outside of the school. "Many of us have experienced discrimination that, either accidental or intentional, causes great pain. Often, because of faculty friendships and career-and-salary concerns, internal investigations sweep many of the problems under the rug, allow people off the hook. We are therefore asking for a full evaluation from an outside organization of all issues related to diversity in our school system, from personnel and hiring matters, to the difference in punishment between the races of students, to a host of other matters."
Pardun told the Times Herald that "at this stage" the inquiry will be conducted internally and that the district has no plans to bring in an outside investigator as the students requested.
"We learned of a situation at Denison High School today that involved a teacher using a racial slur in a classroom recently," the district posted on its website. "We take the issue of racism extremely seriously and regret and apologize for any impact this has had on anyone. We are conducting an internal investigation into the matter, and we will work in concert with our students, families and faculty to resolve the situation. Denison Community Schools remains committed to ensuring an environment where students feel safe. We understand the gravity of the situation and will continue to work diligently in the coming days until the situation is rectified."
The students, while showing solidarity with Espino's remarks, actually were more split on what they believe should be the professional fate for Holt. Many students said she should be terminated. Others agree with Espino, who said he believes "in self improvement and an opportunity for professional redemption and character growth. We support the administration's decision to place Mrs. Holt on leave."
Todd Meehan, 18, a senior who plans to attend Iowa Western Community College for radio broadcasting, said he was in Holt's class when the teacher used the N-word.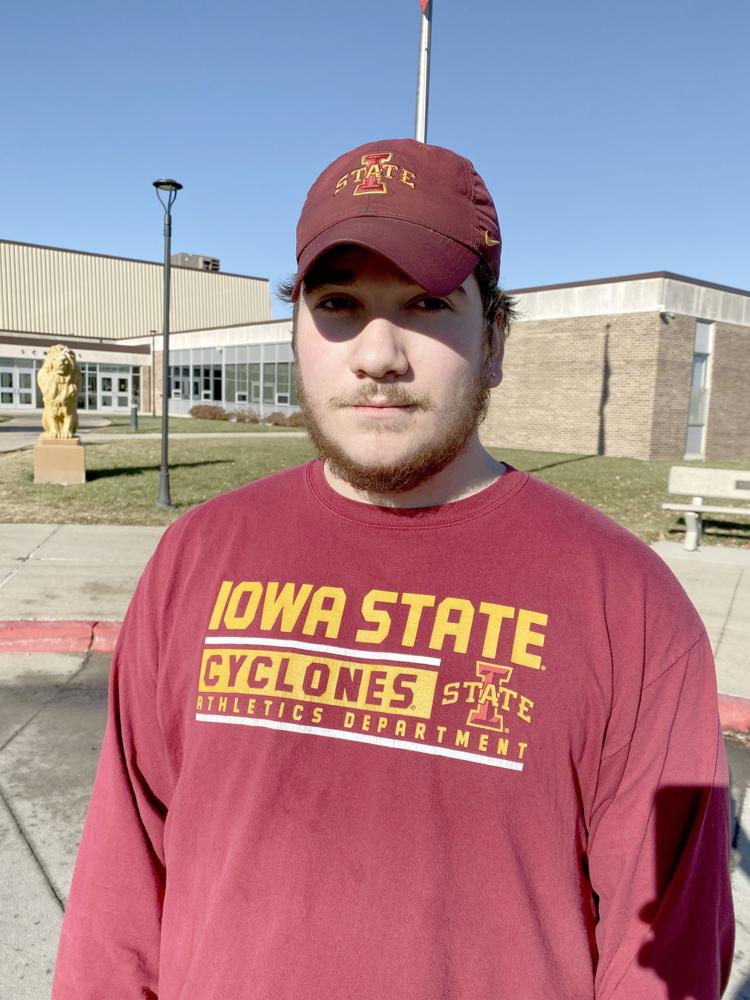 "She shouldn't have said it in the classroom," Meehan said. "We were talking about a case where this guy should get the death penalty or life in prison and we were having an issue coming to a conclusion in the case, and she comes and says, 'It might help you if you knew he went to a party and said he was going to kill some black people and then she used air quotes and then she said the N-word with a hard R (the full slur rather than a shortened version) and at first we were just kind of shocked. We weren't really ready for it."
Denison sophomore Ernesto Carbajal, 16, said he hopes change happens in the school.
"I'm happy with the turnout and I'm happy with the fact that we were able to get our point out," he said.
Carbajal said it is vital that the district contract with an external investigator to ensure justice.
He and other students tell the Times Herald that in addition to concern over the use of the N-word, a program designed to lift minority students called Science Bound has been referred to as "Science brown." Students did not identify faculty or classmates who used that term but said it had been used often enough for many students to be hurt by its use.
Crystal Holt had been active in the program, students said.
When asked about the Science Bound matter, Pardun said it would be part of a broader investigation and declined to comment further.
What does Rep. Steven Holt say?
(Editor's Note: The following is the complete statement State Rep. Steven Holt, R-Denison, released on Facebook related to the controversy surrounding his wife at Denison Community High School.)
Crystal is under attack for simply answering her student's questions at school. I would like to take this opportunity to explain what really happened, since many statements are being made on social media with no context whatsoever.
Here are the facts: Crystal was teaching a government class on death penalty sentencing and they were doing a mock sentencing. Students were determining what were aggravating circumstances. One group had put up hate crimes/racism. Crystal went to check on the group and review what they had put for aggravating circumstances. The discussion turned to the issue of a pejorative term used by the defendant (the real-life Kenneth Junior French case). Several students in the group did not understand what pejorative meant. Crystal tried to explain that he had used a negative racial slur, the "N WORD."
Students still did not seem to understand so she simply told them the word that the defendant had used in the actual case she was teaching. How can students ever truly learn the damaging impact of racism if we cannot even discuss it in context in the classroom?
And as I was just reminded by a friend who commented on this post, not being able to say a word, even when teaching history, when the word was a factor in what is being taught, makes the word more prominent and society less civil, not more.
What is being portrayed on social media suggests that she called someone a racial slur. She did not. She was answering a student question and trying to help them understand.
I have done my best to stay out of this, but it is not only my wife that has become a target. Now it is my children.
Tonight, my 16-year-old daughter began receiving hateful Snapchat messages. One of the most egregious asked her how it felt to have been adopted by racist parents.
We ask not only for your prayers but for your thoughtful reflection of what took place. The manner in which we have lived our daily lives point to our true character, and we hope that you will all remember who we are as you read the statements on social media. Our prayer is for healing and understanding, but we will not allow unfair assaults on our family and our character without at least explaining what actually took place.