JEFFERSON: At age 87, U.S. Sen. Charles Grassley, first elected to office during the Eisenhower administration, smiled broadly when pressed by audience members about a potential re-election campaign next year in a town hall at Landus Cooperative in Jefferson this past week.
"I can do 20 right now," Grassley said, referring to push-ups.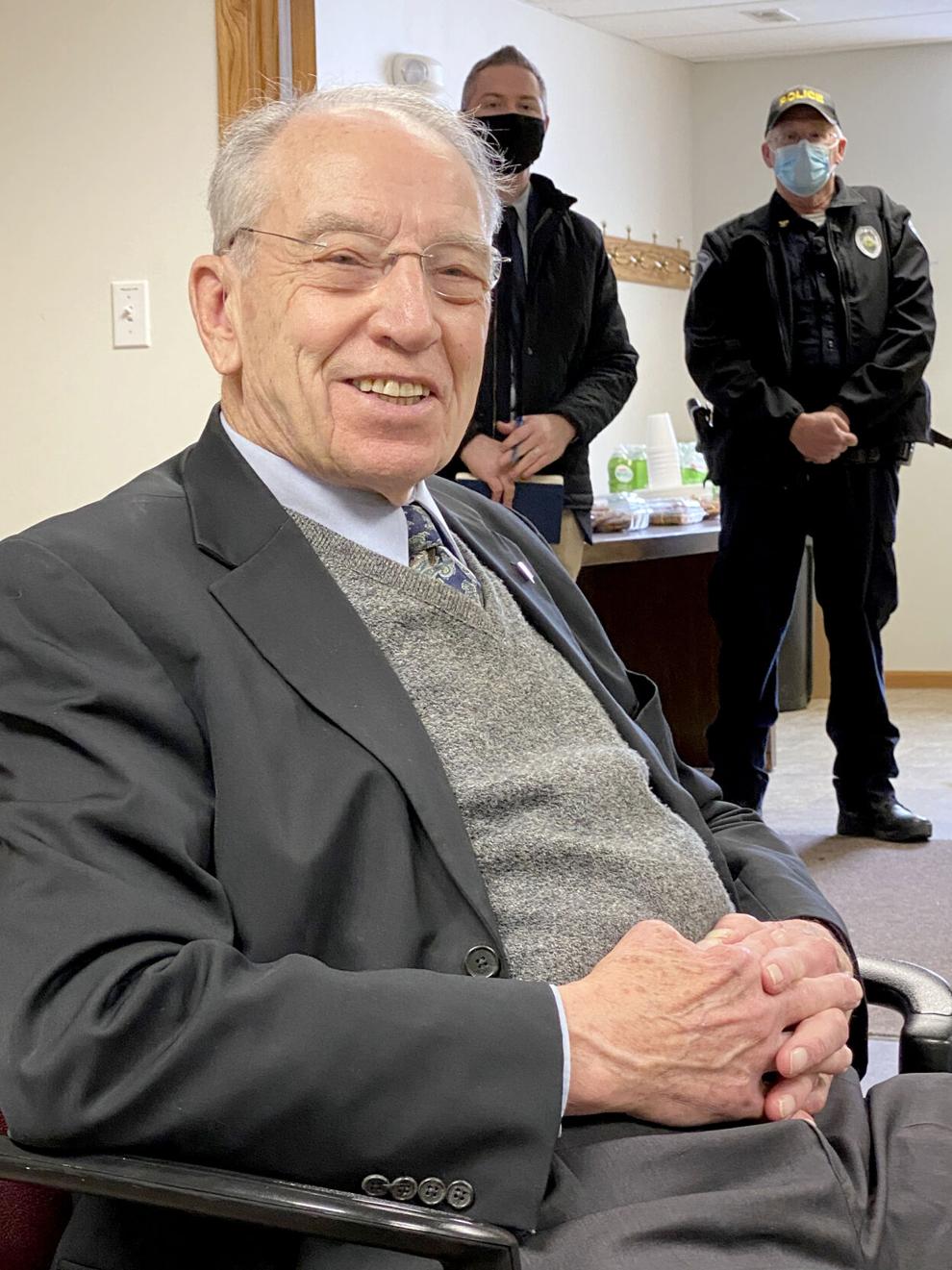 The senator said he would make a decision in a matter of months on whether to seek an eighth, six-year term in the Senate in November 2022. If Grassley does run, and wins and lives through inauguration day on Jan. 20, 2029, he will at age 95 have served 70 consecutive years in public office, as he was sworn in the Iowa House on Jan. 12, 1959.
"I like my work," Grassley said, telling this newspaper later that he would not reveal at this point whether he is leaning for or against another bid for office.
Grassley has been in office since he was 25 years old.
The feat of political endurance would vault Grassley past his late colleague, U.S. Sen. Robert Byrd, a West Virginia Democrat, who served in the West Virginia Statehouse, U.S. House and Senate for a total of 63 years straight. Byrd died in office in 2010 at the age of 92. The late Democratic Michigan Congressman John Dingell served in Congress from 1955 to 2015, a record, but Dingell had no earlier state-level offices, meaning he's behind Byrd and Grassley in total years.
Grassley started in the Iowa House in 1959, then moved to the U.S. House of Representatives in 1975 and on to the Senate in 1981.
Active in farming himself, Grassley fielded a number of questions on agriculture policy during the forum with about 25 people at Landus.
"I don't think you are going to see tariffs used as a tool like they were under Trump," Grassley said of what he expects from the Biden Administration.
Grassley said his No. 1 goal for trade is to finish an agreement with the United States and United Kingdom. Agriculture is expected to be a sticking point in negotiations between the two major trading partners.
Grassley said the push for more electric vehicles will pose a existential threat to ethanol in the long term. But in the coming years, the renewable fuel should be in solid shape, he said.
He also expect Democrats to push for a carbon tax.
Grassley responded to a question from an audience member who was concerned about "cancel culture" — people losing jobs and other public platforms over controversial remarks. Many conservatives argue that their voices are being drowned out by political correctness from the media and universities and other sources of influence in the culture.
"If you want to know what I think about cancel culture, it's like cancel America, cancel what we stand for, all of our history. And I guess that's not the real world to me," Grassley said.
He went on to say, "I mean, you can take down Confederate statues, but how is that going to change the history of 150 years ago? History is history."