The Rev. Ryan Roehrig rapidly taps a fist into his open hand as he contrasts the lifestyle in his new home state of Iowa with the breakneck pace of his native New York.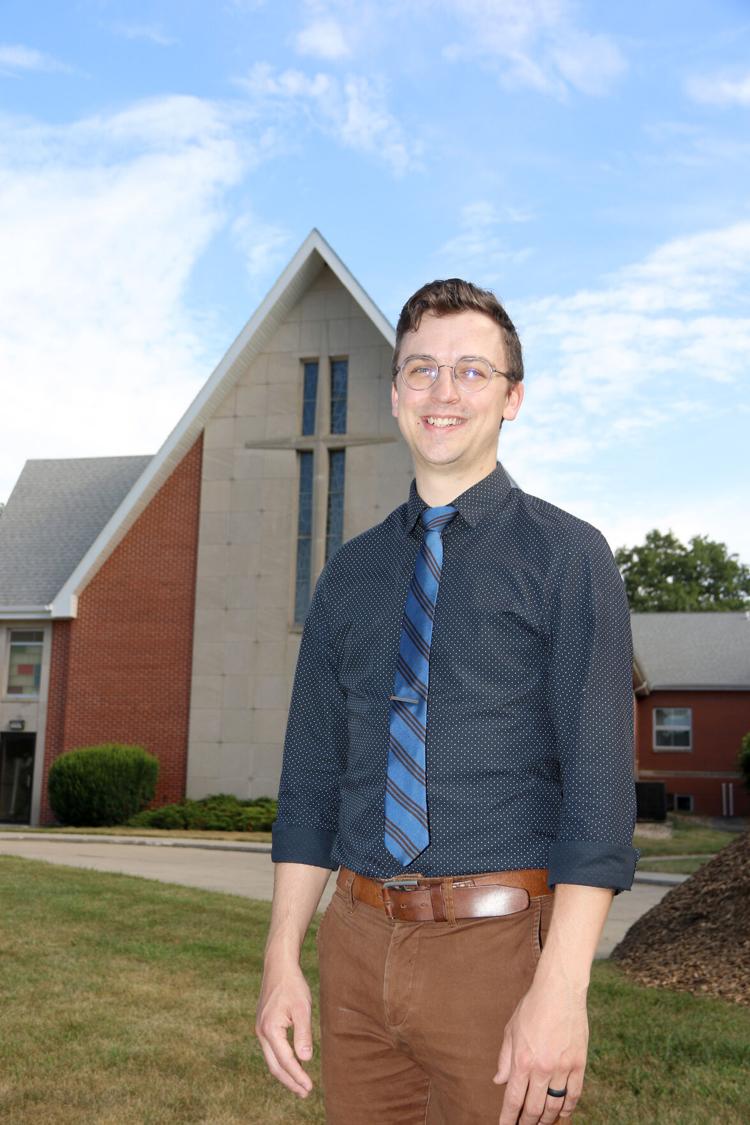 "I kind of fell in love with the ease of it," he said. "In New York, everything is an emergency, everything is fast-paced; and I'm a high-energy person. But I like the mellowness and ease of being in the Midwest. Everything is a little slower, and I like that a lot. It's stressful to be in New York. Even when I go out there to visit, it's stressful."
Recently, Carroll became Roehrig's new Iowa home. He was installed as pastor at St. Paul Lutheran Church Missouri Synod in services on Sunday, July 5. He succeeds the Rev. Brian Licht, who served as pastor here 13 years before moving last year to Risen Christ Lutheran Church in Davenport.
Happy to settle into Midwest living, Roehrig's high-energy makeup still serves him well in fulfilling dedication to his faith and his family. In Carroll, he will shepherd a congregation of more than 480 members from Carroll and nearby communities.
He and wife, Brianne, more familiarly known as Briee, have been married eight years and have three children: Everett, who turned 5 this month; Eleanor, 3; and Arlo, who was born last December.
Roehrig said he and his family immediately felt at home in Carroll.
He describes the community as "cute, peaceful," citing the friendliness and amenities.
"The church in particular, we definitely felt a sense of holiness and welcome," he continued. "We've had a lot of people, ever since we accepted the call, help us with the move. People want you to feel it's your home.
"The town is awesome. I'm very impressed."
Roehrig's move from Empire State to Hawkeye State began after he graduated Riverhead (New York) High School in 2008.
He followed an older sister to Concordia University, a private Lutheran school, in Seward, Nebraska.
The Roehrig family's pastor and his wife both attended Concordia, and their daughter and Ryan's sister went to Concordia together.
"They thought it was awesome," Ryan said.
Roehrig initially thought of studying to become a science teacher, but he changed direction, influenced by the school's Lutheran atmosphere, the religion courses he took and the fact many of his friends were training to go to seminary.
"I realized my gifts and the things I love actually lend themselves very well to being a pastor," he said. "I dove into it my second year of college and fell in love with theology, the church and the idea of becoming a pastor. I never had a particular epiphany moment. I'm a very social person, so that too may be part of why I was drawn to be a pastor."
At home, Roehrig said, his father, Mickey, manager at a lumber and building-materials supplier, and mother, MaryBeth, executive assistant to the CEO at a medical center, both were strong faith role models.
"My mom was always very devoted," he said. "My dad was devoted; he was more quiet about his faith, but he was always there. My parents definitely displayed their faith very well. And my sisters are both still very devout and attend church frequently."
Roehrig graduated from Concordia in 2012 with a degree in history and a pre-seminary certificate. He attended Concordia Seminary in St. Louis for two years and then served as a vicar in New Braunfels, Texas, a community of about 90,000 near San Antonio. He graduated from seminary in 2016, and his first calling as a pastor was to St. Paul Church in Alta, Iowa. The pastor's position opened in Carroll when Licht moved to Davenport.
Jerry Raymond served at the time as president of the council for the congregation and a member of the call committee for finding a new pastor.
"When we interviewed Pastor Ryan we were already feeling very good about what he brings to the table and how it mirrors what our congregation's needs and wants are," Raymond said.
Raymond, who's Carroll Middle School principal, continued, "We were high on the amount of energy he has. He's an easy-to-talk-to, down-to-earth guy. We wanted somebody to whom family is very important, and that obviously is very important to him. One of our goals is to grow our congregation, and he's willing to look at creative ways to make that happen. We're excited to have him and certainly look forward to moving forward with him as our pastor."
For his part, Roehrig said he feels stronger than ever about his call to ministry.
"Ever since I left the seminary I've felt more firm in the direction that I've taken with my vocation, how I've chosen to use my gifts," he said. "You don't necessarily have to be pastor to serve God and do something holy. Anybody, no matter what their job is, can do holy work. I feel I have a lot of energy and excitement, and I like to direct that toward the church and serving people in the church. I think God uses his people to do his work. He pastors. He uses teachers. He uses moms and dads and secretaries and whoever to do his work."
In his role, Roehrig said, it's an honor and rewarding to serve church members at all stages through life — from the joy of welcoming a newborn to the grief of a losing a loved one.
"Besides those critical moments," he said, "I love teaching the faith to kids. That's been a really fun thing about ministry, teaching kids about Jesus."
Roehrig said he looks forward to working toward the future with church members.
"I tend to look not necessarily at where the church is but where they hope to go," he said. "Part of my coming here is that hopefully my gifts can help this church to where they want to go. They do have quite a few families with kids, and I think they really want to strengthen that part of their ministry and help the church be more deeply connected with the town. Just being here isn't enough. You have to illustrate what it is you're doing that's important for people to be a part of it. I think the most important thing people want is to know that the church cares about them and the community around it.
"That's something I'm very passionate about, making the walls of the church more permeable for people. We need to be going out there and caring for other members of our community."
St. Paul's weekly services are at 5 p.m. Saturday and 9 a.m. Sunday. The church also offers its Little Lamb preschool for 3- and 4-year-olds.
Roehrig said the church is particularly blessed to have extraordinarily talented musicians, including organists John Panning and Abe Batten, and chime choir director Judy Panning, John's wife. John Panning is owner and president at Dobson Pipe Organ Builders in Lake City, and Batten is technical designer there. Judy Panning is a longtime music educator.
"The music is a real asset here, and I hope we can continue to do that," Roehrig said. "I hope and pray churches will be a haven for this kind of music."
The music focus strikes a chord at home with the Roehrigs.
Ryan's wife, Briee, a native of Everett, Washington, and graduate of Thompson Valley High School in Loveland, Colorado, received music and education degrees from Concordia. Ryan said Briee, currently a stay-at-home mom, is a gifted singer and flutist. She sang in Concordia University's A Cappella Choir, which performs throughout the U.S. and other countries. Briee has taught at Lutheran schools in St. Louis and Texas.
Roehrig said that he, Briee and their children love to do all kinds of things together, such as camping, cooking and board games.
"We camped last year all the way from Iowa to New York and back, and that was a blast," Roehrig said.
Roehrig likes his recipe for prosciutto-wrapped chicken breast with an orange sauce on couscous and his process to smoke and fry wings. But his sacred food day is Thanksgiving.
"I take a ton of pride in how I make that turkey, and I make a stuffing that is my favorite as well. It uses pepperoni and mozzarella cheese," he said.
The Roehrigs have delved into the vast world of board games — not Monopoly or Life, but Wingspan, The Castles of Burgundy, Viticulture and more.
"There's a whole world of strategy board games that I'm very interested in," he said. "It's a great way to spend time together with my wife. We play games with our kids, and we have people over to our house and play board games. They're great. There are thousands and thousands of board games to play. It's a great outlet, but the best thing is it's more social."
Roehrig said his family has enjoyed discovering Swan Lake State Park, the downtown area and the new Carroll Public Library.
"I love to read, and they have a great collection," he said.
Becoming homeowners for the first time, Roehrig said he and his family have become well acquainted with the local Ace Hardware store.
"Living in our own home and understanding things we need is a new experience," he said.