DENISON — Esperanza Barrena still has moments when she expects her husband to come home from work at the end of the day, even though he burned in a fiery crash more than a year ago that was caused by a drunk driver.
"Half of me is in a grave, half of me is gone," she said Monday morning in a Denison courtroom. "I cannot forgive him. I don't know if someday I could."
She was talking about Ryan Daniel Childers, 22, of Odebolt, who pleaded guilty that morning to three felony homicide by vehicle charges and was sentenced to up to 25 years in prison.
The drunken crash happened about 5:20 a.m. on March 16, 2019, after a night of consuming alcohol while driving. Childers was southbound on U.S. Highway 59 near Holstein in his pickup truck when he passed a vehicle but remained in the northbound lane as his truck crested a hill and struck a smaller northbound pickup truck head-on.
That smaller truck caught fire. Three badly burned bodies were later retrieved from it by investigators and were identified as: Felipe De La Cruz Nava, 39, Francisco Joel Nicia Guerrero, 21 and Jose Danilo Gonzalez Guerrero, 25, all of Denison.
Two lesser charges were dismissed as part of the plea deal — one for serious injury by vehicle and one for supplying alcohol to an underage person — and prosecutors agreed to impose his sentences concurrently for the three felonies. If he would have served them consecutively, his total possible prison term would have been 75 years.
Barrena, the widow of Cruz Nava, was the first to give a victim impact statement at the sentencing.
"He was an honest and hardworking man, and I will always remember him like that," Barrena said.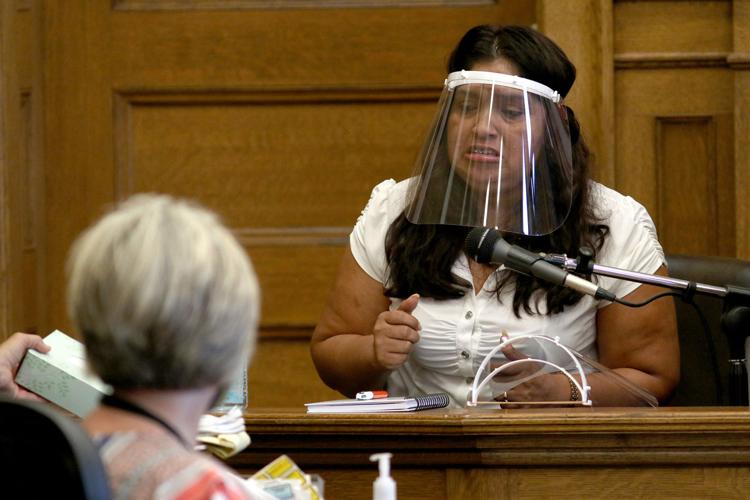 As she cried, Barrena mentioned she lost her job due to depression, panic attacks and anxiety attacks she has experienced since his death. She also lamented that she did not get a last look at her husband, whose body was severely burned.
"Someone came and gave me his belongings, 'Here this is what he had on,'" she said. "I continue waiting for him … the opportunity of me to see him again was taken from me."
The mother of Gonzalez Guerrero, Ana Daysi Guerrero Campos — who also shed tears as she spoke — said the crash is something that all younger people should take note of.
"I do not judge you. I do not wish for you to live with that darkness in your heart," she said to Childers. "I would like for young people to hear, to see, to learn that the things that we do — we didn't plan — how it impacts, how it changes things."
For Silvia Guerrero, the mother of Nicia Guerrero, she wanted to tell the man who "created this awful accident" that it has caused her "tremendous harm."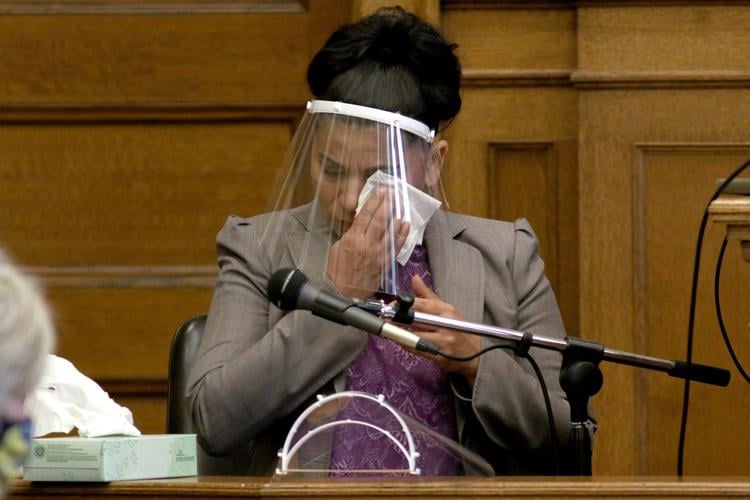 "I forgive you, but you're gonna have to look for that forgiveness from God," she said in her victim impact statement.
John Loughlin, Childers' attorney, said it is "obviously a very terrible case," but he pointed out that Childers has no criminal record and understands he has negatively affected the families.
Childers was ordered to pay the families of the deceased men $150,000 apiece.
In his end statement, Childers said nothing he ever does or say will make his actions right and that he would "give anything" to go back and change what happened.
"I never wanted to be a bad person, I always try to be good," he said. "I even joined the military when I was 19 just to make a better life for us and make my family proud."
District Judge Patrick Tott accepted the guilty pleas, read the sentence and then left the courtroom. A crying Childers embraced three teary-eyed loved ones before being handcuffed and escorted by an Ida County deputy. Childers has a young son who was not in attendance.