DENISON: The Pete Buttigieg mid-morning crowd at Cronk's Cafe in Denison quickly filled the parking lot and nearby on-street spots.
Many who showed up Tuesday to hear the Democratic presidential candidate walked for blocks, a distance of travel to this popular political venue bartender Doug Wiges said he has seen few people cover on foot in 22 years of serving drinks and food here.
Wiges, a Democrat, carried a copy of Buttigieg's autobiography, "The Shortest Way Home," as he descended a residential street to Cronk's, a landmark supper club. He went not just to work, but to hear Buttigieg's stump speech.
"He reminds me of Barack Obama," Wiges said. "It's not about policy specifically, although they're fine. I just find him inspirational when he speaks. And I think other people do, too, and that's what why we have this crowd here."
Buttigieg, the mayor of South Bend, Indiana, and front-runner in the Iowa Democratic presidential caucuses, hit Denison as part of a western Iowa swing and drew about 180 people to a town-hall style meeting, a crowd count reported by the Denison Police Department. Buttigieg's crowd hit 2,100 people Monday night at Abraham Lincoln High School in Council Bluffs.
A former officer in the Naval Reserves, Buttigieg served in Afghanistan. He notes that he would have the most military experience of any president since George H.W. Bush, and the 37-year-old Democrat said he plans to bring that to bear to repair what he says is the damage President Trump has done to the nation's standing around the globe.
"We have allies questioning whether it's a good idea to bet your life on the credibility of the United States," Buttigieg said.
Buttigieg, speaking in front of American and Iowa flags at Cronk's, stressed themes of patriotism and unity.
"I'm never going to let us get to where we think fighting is the point," Buttigieg said.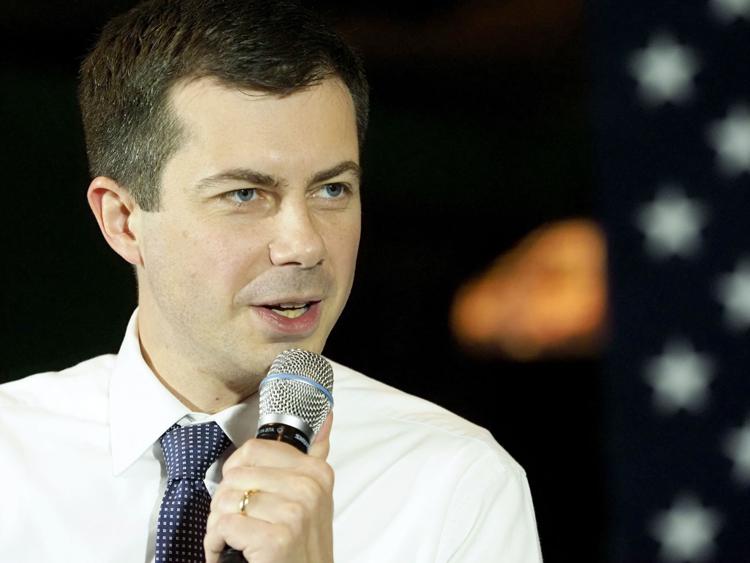 He called for a three-year moratorium on any deployments of U.S. troops to foreign soil, and suggested that a U.S.-led "global climate diplomacy" to bring nations together on environmental issues is a way to establish a modern American influence around the world.
"Frankly, I think this is a pretty good chance to win our credibility back," he said.
Buttigieg spoke in Denison just a day after releasing a plan aimed at improving retirement security for seniors. In addition to protecting Social Security, the Buttigieg plan would create a public option 401(k) to ensure workers can supplement Social Security benefits if they choose. A typical American worker could retire with more than $500,000 in that account, the Indiana Democrat said.
"I might seem like an unlikely character to be the retirement Social Security guy," joked Buttigieg, the youngest candidate in the Democratic White House field.
Carroll County Supervisor Dean Schettler, a Breda Democrat, told Buttigieg that many Iowans are fearful of Medicare-for-all proposals being advanced by other Democrats in the presidential race.
"I think the general population is afraid of Medicare for all because they really don't understand it," Schettler said.
Buttigieg said he supports what he calls "Medicare for all who want it." In other words, the government would offer a public option health-care plan to people of all ages, but allow the private insurance companies to operate as well, giving consumers a choice — a plan that also shows trust in the American people, Buttigieg added.
"It has a little humility baked into the policy," Buttigieg said.