GOWRIE: As other small towns become food deserts on the rural horizon, the citizens of Gowrie took a first step Monday evening in an attempt to rescue their only grocery store from closure.
It was standing room only in the community room at Heartland Bank, where about 150 people gathered. Many left with perhaps more questions than answers.
But one consensus many came to was clear: they have to act now. And in a city with a population of just more than 1,000, it may take a village to save Jamboree Foods.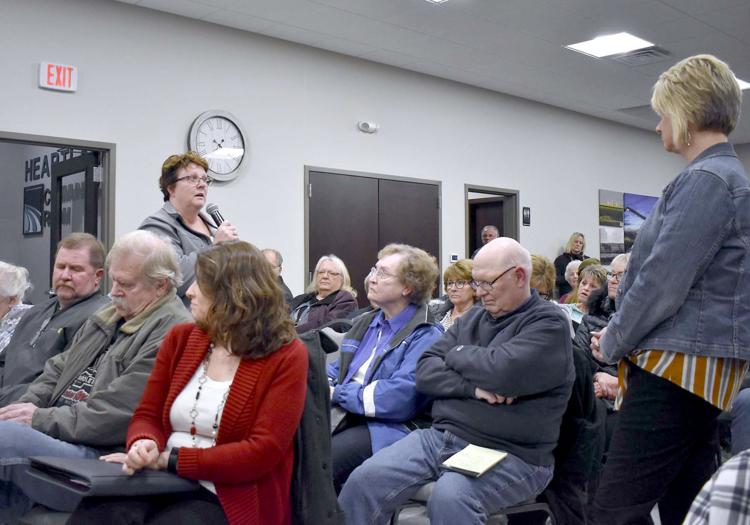 "We want more info just as much as you do," said Phillip DeCastro, a member of the group that first gathered just before Christmas to hatch up a plan. "The problem is we don't have time. … We need to act, like now."
"We can do all we want, but if the community is not going to support it, it's not going to work," said Marcie Boerner on behalf of the newly formed Gowrie Grocery LLC, which has not even had the time yet to become an actual limited liability company.
Jamboree Foods, a location in the small Heartland Market chain, has watched most of its sister stores close over 2019. Jamboree may be next on the chopping block.
After closures in Manson and Rockwell City left most of Calhoun County without a grocery store, a group of six business and city leaders urged quick action under the belief that Gowrie's closure is imminent.
The group said it will take about $250,000 to purchase the building from owner Nick Graham, its equipment and inventory with enough capital to hit the ground running in a community effort.
"If he closes it, he'll liquidate it and we'll be starting from scratch," Boerner said.
Re-opening a closed store will be an even tougher battle, she said, as customer shopping habits will start to change immediately.
The group asked about 10 percent of Gowrie's population to buy an investment share of $2,500 each, or a donation of whatever they can afford to pitch in, to make the goal happen by Jan. 15.
That was on Jan. 6, nine days before their deadline.
Boerner told The Messenger that the deadline may be movable if enough interest is shown. If Monday's response was any indication, the interest is there.
"I'm in," exclaimed former Gowrie Mayor Dave Stokesbary after peppering the board with questions. "I've bet on uglier horses."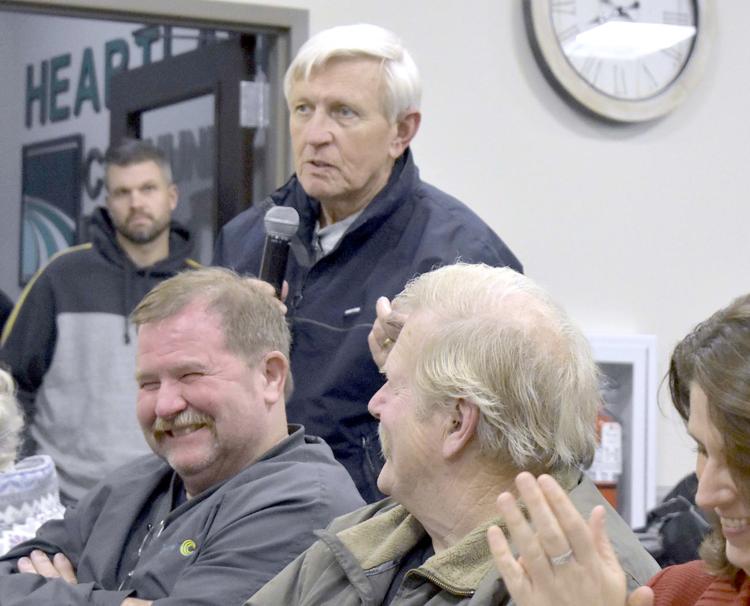 Though several had volunteered to pitch in however they could — from the newspaper in town giving free advertising to the former owner of the store offering to help train the new meat department — Stokesbary's quip drew a stronger response.
After a lot of concern about business plan specifics, that line toward the end of the meeting roused a palpable response from the crowd, shifting their demeanor's focus from the lingering anxiety of a closure to the exciting possibilities of an institution reimagined for success.
The day after the meeting, Boerner said the response has been overwhelmingly positive. Several have already written checks, and a few more were planning to contribute soon. Whether the citizens can pull an investment together fast enough to buy the store from Graham remains to be seen.
Current Jamboree Foods employee Patricia Vladeff, one of three running the store, said there's no time for business plans.
"I'm sorry, but we've been pussy-footing around this for a while, and he's not going to wait any longer," she said. "I really, seriously think he's going to close the doors before too long."
She speculated that the owner spread himself too thin with expansions in 2018. Graham purchased the Gowrie store in November 2018 from Jeff Petersen, who brought a wealth of valuable information to the meeting.
"Nick Graham doesn't have a clue," Petersen said. "His managers in most stores are almost non-existent, and he won't answer phones."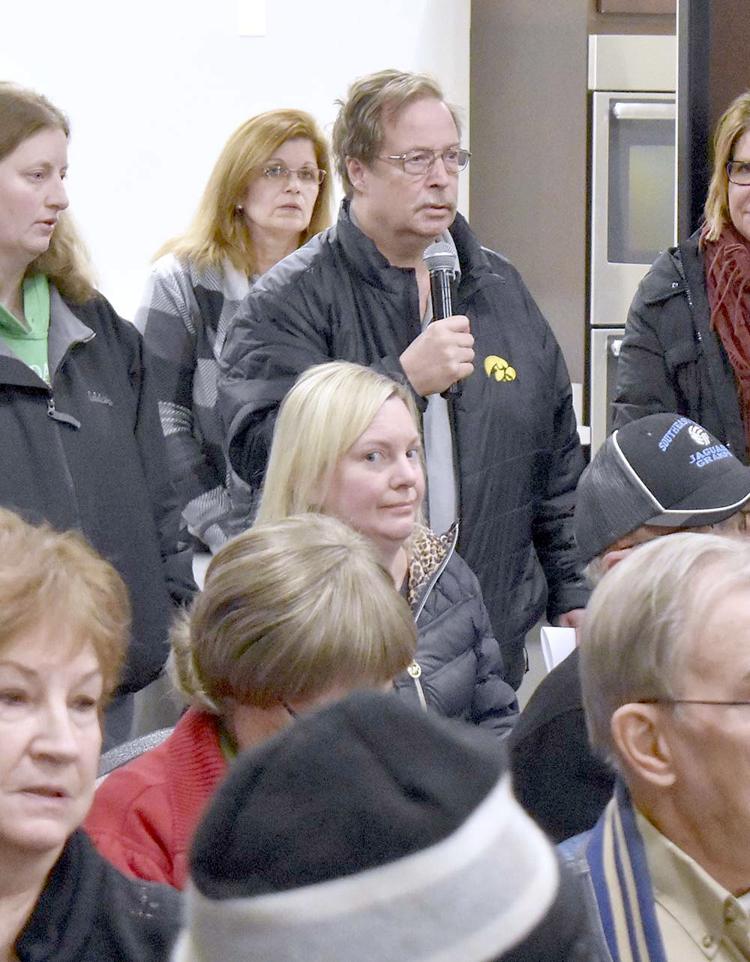 Graham became the youngest grocery store owner in the country in 2006, when he purchased his first grocery store at age 17.
Petersen, who said he sold the business as he aged to get out from under bank loans, advised the group to get experienced managers to run the meat and produce departments.
The store posted help-wanted ads in December on Facebook, looking for people to cut meat. Vladeff said she has been calling her husband to come in to help cut meat.
The quality of meat and produce has been a common complaint on social media among shoppers at Graham's other locations that have since closed.
"You wouldn't believe how much food I've thrown out," Vladeff said. "That's what I have to do in the morning."
As rural grocery stores find themselves competing with the proliferation of Dollar General locations, one of which is slated to come to Gowrie soon, they're starting to challenge the model that used to work for decades.
"It's apparent the old grocery model won't work as much in the future," said group leader Kevin Black, explaining that the success of the new venture likely will be volume driven. "There's going to be changes, and there has to be."
Driving inventories down, holding utilities stable and managing wages would be one key. The other would be the shoppers.
"It's a buyable model," he said, if those aspects can be managed while attracting enough shoppers.
Among those in the audience were J.D. Scholten, of Sioux City, a Democratic challenger of U.S. Rep. Steve King, and Kolby Dewitt, a representative for U.S. Sen. Joni Ernst, R-Iowa.
Scholten, who came within three points of beating King in 2018, has been touring cities with populations of 1,000 people or fewer, where he has heard a variety of concerns about eroding infrastructure and rural Americans being left behind in globalization trends — where the old grocery models no longer work.
"What we're seeing is, corporate America is sucking wealth out of rural America," he told The Messenger.
He said he is working on a public policy proposal to combat the alarming trend of rural grocery stores shuttering across the country, to be revealed in the next month.
Disagreement did abound on whether the grocery store should be cutting down on the overlap of commodities Dollar General can sell cheaper, but one priority emerged.
"There's no chicken like ours," said one employee in the crowd.
"That's right!" another spectator at the front of the room concurred.
If the store stays, the broasted chicken will definitely stay, DeCastro reassured them.
Other specifics of operations surfaced with discussion: the condition of the roof, the condition of the equipment, electrical work in the building and taxes on the property.
"We live off extension cords," said Vladeff, citing concerns about getting electrical work fixed. "Everywhere I turn, I have an extension cord going somewhere."
Public records reflect that $816 in property taxes for the store's two buildings in Gowrie, due in September 2019, were not paid by owner Pilot Creek Properties LLC, which is held by Graham. September taxes not paid on other properties owned by Graham amount to several thousand dollars.
"We would have to get a (legal) opinion to ensure the property is clear and free," group member Brad Lane said.
Petersen said that most of the equipment in the building and the roof have considerable life left.
But the life of the building doesn't mean much if shoppers won't come. A poll of the audience revealed that while many browse the store's weekly circular ads and shopped at the store at least occasionally, significantly fewer in the crowd said they shop for more than half of their groceries at the store. Whether those habits could be changed with improved quality is a variable.
"You've got to realize that 10 percent of the public is buying this," Petersen said. "The other 90 percent won't have anything invested."
"We're the lucky ones because we still have a building and store that's open," Boerner reiterated.
But is it too late to keep it that way?
"We don't know if we don't try," she said.