A recent districtwide initiative showered sparks of kindness through the Carroll Community School District.
From the smallest pupils to high-school seniors, all Carroll students jumped on board with the Kindness Makes Cents campaign in February.
The fundraiser for the Carroll High School Foundation had a goal of $30,000 raised but tacked on an additional objective: 6,000 acts of kindness completed by Carroll students.
The district had blown past both goals by the time the campaign came to a close on Feb. 17, which was Random Acts of Kindness Day.
Kindness Makes Cents replaced the Tiger Trot, which was initiated two years ago but canceled last year because of COVID-19 school closures. Tiger Trot combined an emphasis on physical activity with foundation fundraising and had a successful inaugural year in 2018, but after the yearlong effects of the pandemic touched students and community members alike, foundation members thought a fundraiser focused on mental health was appropriate this year, said Katie Kruse, the Carroll High School Foundation treasurer.
And this year's fundraiser was the most successful yet, raising $34,457 as of Sunday.
The fundraiser is the Carroll High School Foundation's main annual push for donations. Foundation funds support schools in a variety of ways; in the past they've paid for classroom projectors, social and emotional guidance curricula, classroom supplies and more. Teachers apply for funds through the foundation for activities or supplies, and the foundation sometimes identifies additional ways to support students and staff, including through a recent donation of protective face shields and reusable water bottles to reduce the use of water foundations while schools are using COVID-19 precautionary measures.
"A lot of times, teachers will spend their own money on these things, and instead, 'Hey, I can ask the foundation for help,' " Kruse said. "We also get support from teachers who give back to the organization, so it's cool they see the value in (the foundation."
The online fundraising page, which tallied donations from students, family members, staff members, alumni, community members and businesses, includes notes related to donations.
"Two different students found money on the ground and turned it into the school office. No owners were found so they decided to donate it to the CHSF! Way to be kind students!"
"'What you do makes a difference, and you have to decide what kind of difference you want to make.' —Jane Goodall"
"Way to go Tigers! I am proud to support a school that has educated my children, grandchildren, and great grandchildren! Keep being kind CCSD!"
"For all the Fairview and Adams students — Always be kind. Thanks to teachers and staff who support the youngest Tigers!" reads a donation from retired elementary principal Sue Ruch and her husband Phil.
Donations ranged from three- or four-figure donations from local businesses and individuals to Ziploc bags filled with students' own pennies to contribute to the cause.
"The kids' (donations) you can tell; they'd be in envelopes or Ziploc bags with the student's name on it, and it might have been $1.24, and you can tell that meant a ton to that kid to give that amount," Kruse said. "That was really neat, too, to see — they're seeing value in this."
Students competed to see which grades raised the most money and completed the most kind acts.
As a reward, they'll be able to select silly acts for their teachers or principals to complete.
"They might be doing some kissing of pigs, or pieing teachers in their faces," Kruse said.
Schools built paper chains of kindness, each construction-paper link representative on a student's single act of kindness. They remain in the school buildings, a physical manifestation of the proliferation of kind acts. Several schools did penny wars to competitively raise more money for the campaign.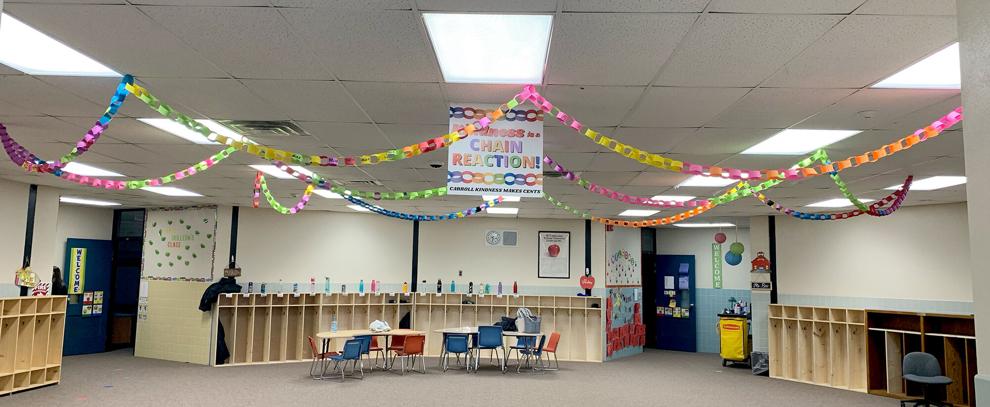 Here's more of a breakdown of how Kindness Makes Cents looked in each of the schools.
The Student Senate hosted a penny war among grades, with coins counting as positive and bills counting as negative — so students put coins in their grades' jars and bills in other grades' jars. Juniors won the war and will receive candy bars from the foundation.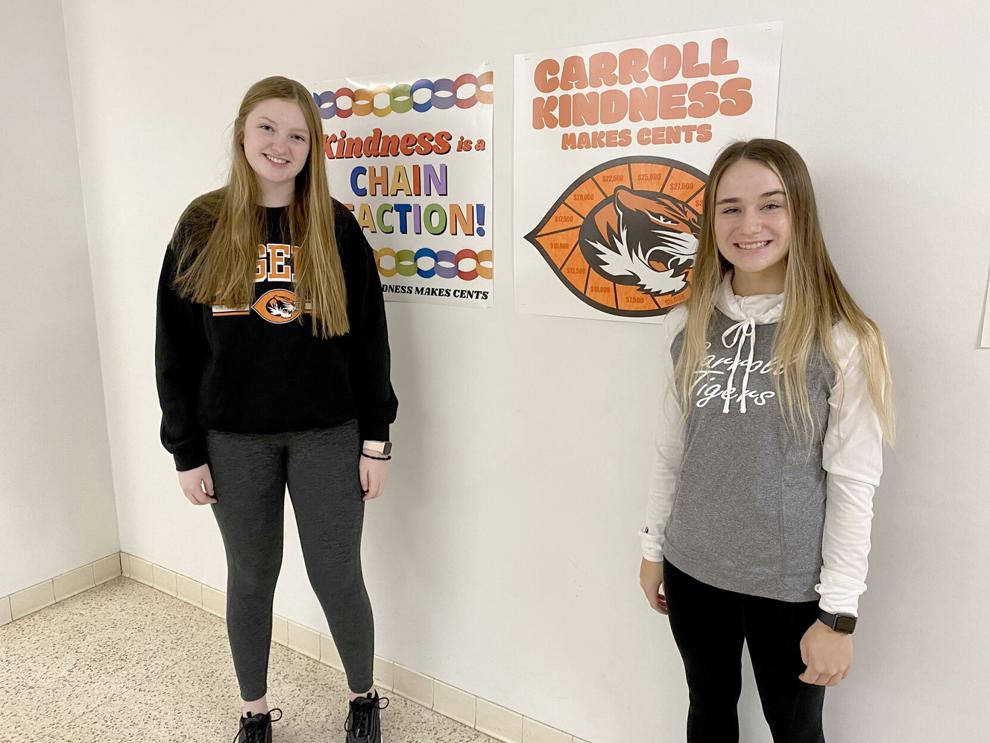 "The kids did a great job helping out when they found out that the funds would come back to the foundation, which supports our school and students," said Kim Klein, Carroll High School language arts teacher and Student Senate adviser.
After meeting with Kruse, Carroll High juniors McKenna Vincent and Brielle Hinners began running social media for the campaign.
"They did a fantastic job communicating this fundraiser to the community, alumni, staff, students and parents," said Chelsea Bissen, Carroll High School business and Tiger Vision teacher. "They also kept everyone updated throughout the campaign and helped brainstorm ways students at CHS could show their kindness."
That included placing sticky notes with encouraging messages around the school for students to enjoy, and writing handwritten notes to members of the community and delivering them with an extra, blank note that the recipient could use to create their own note to pass on — in keeping with the campaign's theme of "kindness is a chain reaction."
Carroll Middle School built paper chains of kindness in the pods for each grade level.
"It was nice to see those in each pod and see how they would grow from one day to the next," middle school principal Jerry Raymond said.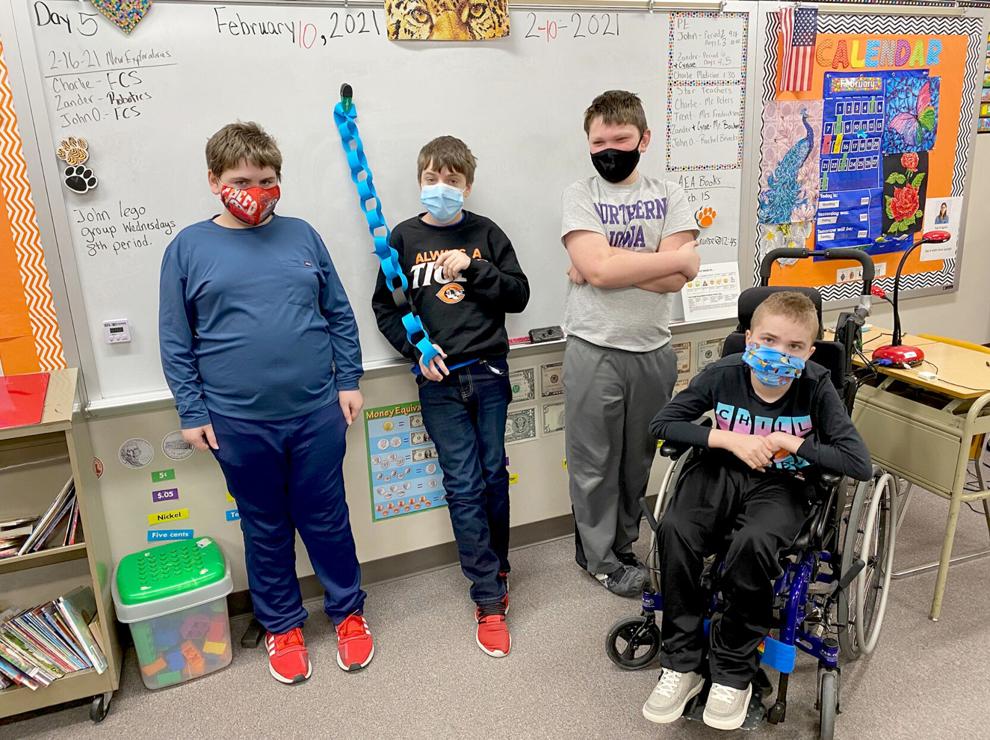 Students held the doors open for each other, carried trays back to the lunchroom, helped in the media center and picked up trash. They also shared with their teachers acts of kindness they sought to do at home — helping parents with chores, cleaning their driveway or taking care of pets. Students also competed to raise funds with a penny war.
"We really hang our hat at trying to develop a culture and climate that is warm and inviting in our school," Raymond said. "And when that takes place, it also creates a safe environment, and that has a reflection in the classroom. Kids are much more eager to learn in the classroom when they have an inviting culture and climate in the school."
Fairview and Adams elementary schools
The youngest participants in the kindness challenged loved filling in Kruse on their acts of kindness when she visited the schools to update a thermometer showing the fundraiser's progress.
I picked up trash in the hallway that wasn't mine, one child told her.
Another: I helped a friend with a homework question they couldn't understand.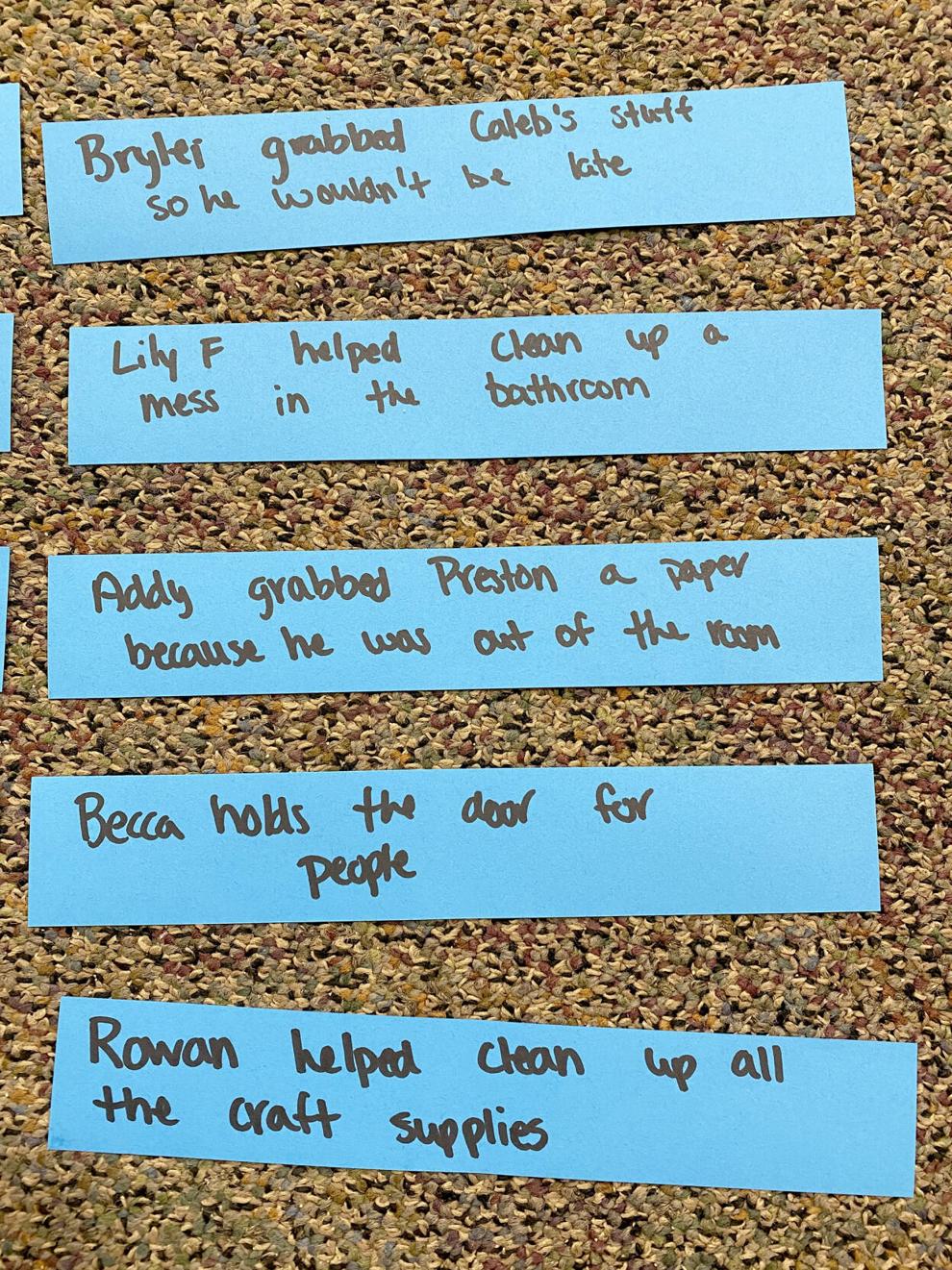 Different classes incorporated kindness in various ways — talking about being a good sport in gym; reading a book about kindness in the library; making paper snowflakes to build a "blizzard of kindness" on the wall (another art class used markers to draw colorful mittens to keep warm).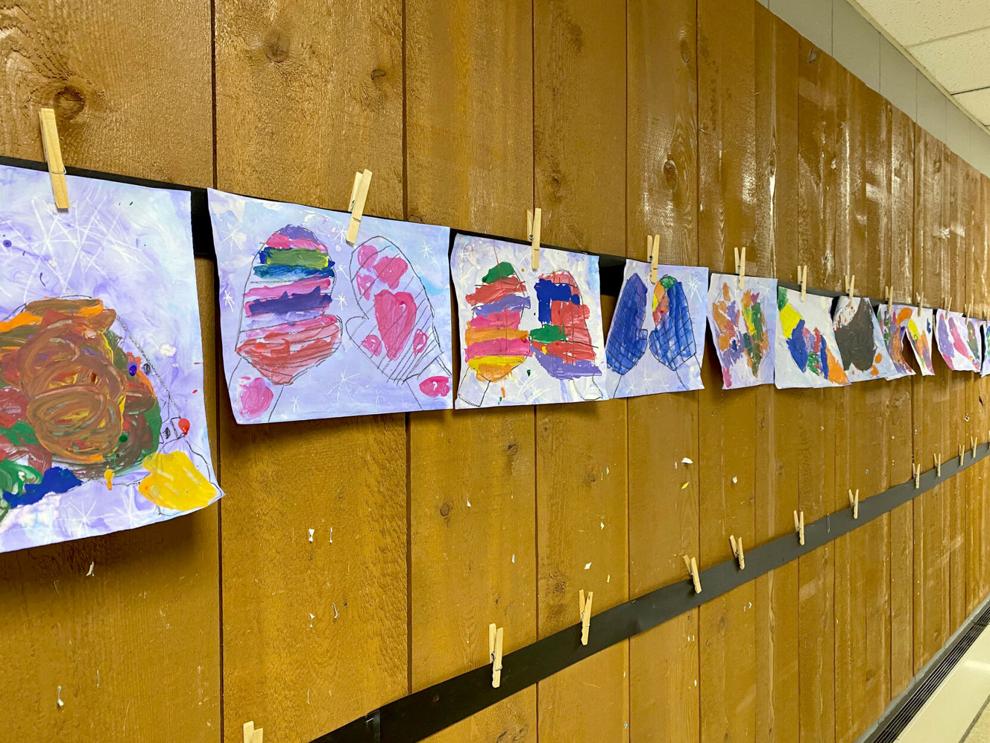 Elementary principal Patrick Rabbitt said he hopes the challenge extends past the school, particularly during a time when negativity is rampant and people are stressed out and worn down from the coronavirus pandemic.
"Kindness is something that we need to make sure we come back to, not only as a school building but as a community," he said. "If we can foster acts of kindness inside the school building, maybe that'll flow out into the community. I understand people are stressed right now, so we're just trying to give the kids an environment inside this building that says, 'When you walk into Carroll Elementary, into the Carroll Community School District, that's a kind community.' "