The 37th annual Friends of Kuemper Ball fundraiser for Kuemper Catholic School System celebrated on Saturday night producing the third-largest total in the campaign history.
This year's effort generated $651,312, pushing the total raised over the last 37 years to just over $12 million.
The 2021 campaign officially began with a kickoff rally in January and was capped Saturday night at the Kuemper Field House with celebration to the theme of "A Knight to Unite."
The 2021 campaign chaircouples were Tony and Gina Badding, Nick and Lisa Bowdish, James and Susie Heiliger, and Jon and Dr. Michelle Heim. Ball coordinator is Cindy Lawler, Kuemper annual giving and alumni director. Many volunteers serve on Special Gifts, Professional and Business committees and as representatives in the parishes in the Kuemper School System.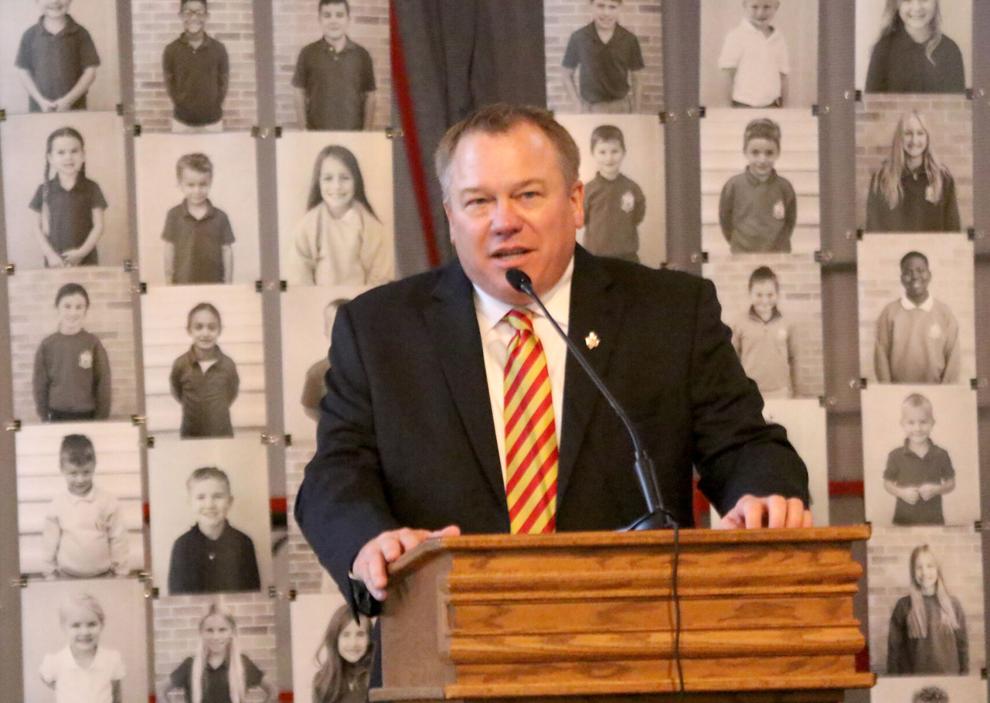 Opening Saturday's program at the Ball, Kuemper President John Steffes said, "'A Knight to Unite,' what a great theme this year. And we have so much to celebrate about the story of Kuemper and the legacy of Father Kuemper, having the choice of K-12 (Catholic) school here in rural Iowa. That's not very common. That's very special. A lot of it is due to you, so thank you for being a part of 'A Knight to Unite' for over 1,100 students, especially during this pandemic year. We are so proud we stayed open all year long face to face. What a great tribute to our teachers, to all our parents and our students out there, keeping Kuemper strong for the future, keeping that mission of mind, body and soul. What a great strong future, so we're so happy to have such a great energy tonight. And now is the time we need Catholic schools in our society, now more than ever. Everyone knows that, so thank you for all your support for Catholic schools."
In the program, before the final total was revealed, Nick Bowdish, one of the chairs, said, "We are excited to be sharing this time together, particularly in light of what we have endured these past 14 months. Connecting and coming together under our shared vision of sustaining a Catholic education for our kids is a tremendous blessing."
Gesturing toward the individual photos of Kuemper students featured in the field house including serving the backdrop on the stage, Bowdish said, "Look at these faces that are both behind me and along the wall to my right. These are the hundreds of reminders why we are called to action. Our collective efforts to keep our rural communities vibrant, thriving and inclusive of an education rooted in God and spiritual development relies on strong teachers, strong parishes, dedicated clergy and parents and community members that are willing to invest more of our time, talents, and financial resources, and frankly, fewer of our words.
"As much as tonight is a celebration, it is also a call to action that we must unite and use our strength as a team to accomplish our shared goals. Willey, Halbur, Mount Carmel, we hear you. We must find a way to keep our rural parishes open. From Dedham to Vail, Templeton to Arcadia, Breda to Carroll, our paths and future all are connected. Let us be reminded that our Catholic faith and strong Kuemper Catholic School System is embedded more in what we do and preserve as a team than what any individual has or decides with a title.
"Please, God, that we may serve as school board members, volunteers in the classroom, and committee members driving specific missions. For no different than in any of our businesses, if you want to get something done, we only need to look in the mirror to find the hands to do God's work."
Ball Coordinator Lawler commented to the Times on the results, "I believe this year's Ball was so successful because of the hard work and dedication of the Ball chairs, committee members and parent volunteers. From day one, Nick, Lisa, Gina, Tony, Susie, James, Michelle and Jon were very driven to make this a successful year, despite COVIDd-19. I also believe that this past year of uncertainty and hardship brought people back to what is fundamentally important for the future of our children and our community. I must also credit the Carroll community for its strong support of Kuemper. We are always humbled by the support we receive from alumni, area businesses and friends of Kuemper for this annual event. And the Heider Family Foundation is such a great gift for our Ball Blitz."
The Heider Family Foundation matches up to $10,000 raised in a blitz the night of the Ball.
The Ball's top two fundraising years are $685,432 in 2016 and $678,529 in 2015.
Funds from the 2020 Ball went to maintaining teacher pay, general operating budget, tuition assistance, technology/office expenses, roof replacement fund and more.
The Ball returned to an in-person celebration this year, after the COVID pandemic forced presentation of a virtual program last year. Meal was served both at the field house and a drive-thru option at the front of Holy Spirit Church. With Lidderdale Country Store catering, 350 meals were served at the field house and 300 at the drive thru. In 2019, approximately 700 meals were served.
Lawler said of return to an in-person Ball, where social distancing and other safety measures were urged, "I think people were ready for an in-person event. We knew attendance at the in-person event would be smaller, but we felt people were ready to get out and celebrate in person. However, we also wanted to be mindful of how many people gathered in the field house. By offering a drive-thru option we were able to give everyone a chance to participate in the Ball and spread people out. The drive-thru option was very well received, but we do look forward to having one big celebration, with everyone together in one building, next year."
More coverage of the Ball will be in Friday's Times Herald.