Templeton Family Farms' Danner brothers knew they were dealing with an old building. But the history-making turn of their demolition job at the now very much former City Hotel in Carroll — which dates to the 1880s — became clear as they found square nails in the structure of the Main Street building they were knocking down in recent days.
Square nails cycled out of widespread use in construction projects well before the 20th century. But the nails were there earlier at what had been more recently the City Apartments this week, among the debris cleared by Chris Danner and Matt Danner, brothers and partners in Templeton Family Farms.
"It goes two ways," Chris Danner said as he watched his brother run an excavator. "Ideally, you restore it, but once it gets to a point, the only thing you can do is tear it down. We are here doing what we're supposed to do."
Local building preservation advocates agreed with city officials that the property, which had a rich history here during the era of passenger rail service, is too run-down to save. The Danners said such a restoration would have been challenging and cost millions, considering the condition of the City Hotel, which the local media had breathlessly described as a luxurious destination barely a decade after the Civil War.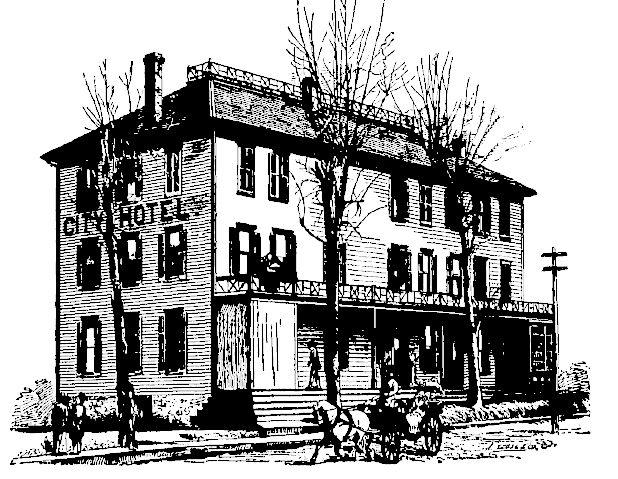 Carroll City Council members just weeks ago approved a bid of $71,250 from Templeton Family Farms, the lowest of seven bids, to demolish the building at 224 N. Main Street on property now owned by the city.
The Danners, using two excavators and lots of experience in the demolition business, took the building down beginning Monday. They will haul debris away, fill a small basement area with clay and seed the lot for grass.
"It will be whatever you want to do with it," Chris Danner said. "It will be an open lot. It will all be blended in with grass seeded over it."
By the end of next week, the City of Carroll should have a "nice lot," Chris Danner said.
Danner, a 1993 graduate of Kuemper Catholic High School who lives southeast of Templeton, said he has no memories of the City Apartments or City Hotel other than driving by it.
"I've never been in it," Danner said. "We had some people who were stopping by and watching us, and a couple of them did mention that years ago they had siblings that lived in it."
City officials expect to request proposals for future use of the land in coming weeks, City Manager Mike Pogge-Weaver said.
"We would like to see it redeveloped to some type of residential use," he said.
At least two parties have expressed interest in the site.
"This was the hotel back in the day, was my understanding," Pogge-Weaver said.
Local media reports reinforce that sentiment.
The Carroll Sentinel on July 9, 1886, reported that "Frank O'Brien's new City Hotel is now in the finest running order" and "is handsomely furnished throughout, and the sleeping rooms are models of comfort." Advertisements in 1886 editions of the newspaper promoted the property with great fanfare, saying "the new City Hotel is completed and ready for its patrons. The finest sleeping rooms to be found anywhere."
Chris Danner said he could quickly tell when the wrecking equipment hit the original part of the building.
"Oh yeah, square nails, late 1800s," he said. "You could find all you want."