RALSTON: With displays of crop-spraying drones and the opening of a Google office in Ralston, Landus on June 29 officially launched its new Innovation Center, a hive of agricultural entrepreneurship and modern features.
The aim of the rural Iowa center is to cultivate strategic partnerships and collaboration between farmer-owners and global innovation leaders to drive a more-sustainable and profitable future of farming.
"The goal is first and foremost without a doubt to help our farmers get a runway to the future, a line of sight to where things are going maybe five, seven years from now," said Matt Carstens, Landus president and CEO.
The international reach of the center is such that Landus officials had to take into account the capacity of the Carroll Airport — a big asset for the new ag hub.
"I think it will bring awesome innovations out there," said Landus Board Member Bill Northey, former Iowa secretary of agriculture. "Some folks will look here, and they can help farmers sort through what that is. That, I think, really shows Landus is serious about innovation."
Northey most-recently served as U.S. Department of Agriculture under secretary for farm production and conservation.
Located at the Landus location in rural Ralston, the Innovation Center features a variety of emerging technologies and what the cooperative calls "moonshot ideas" that will propel ag forward.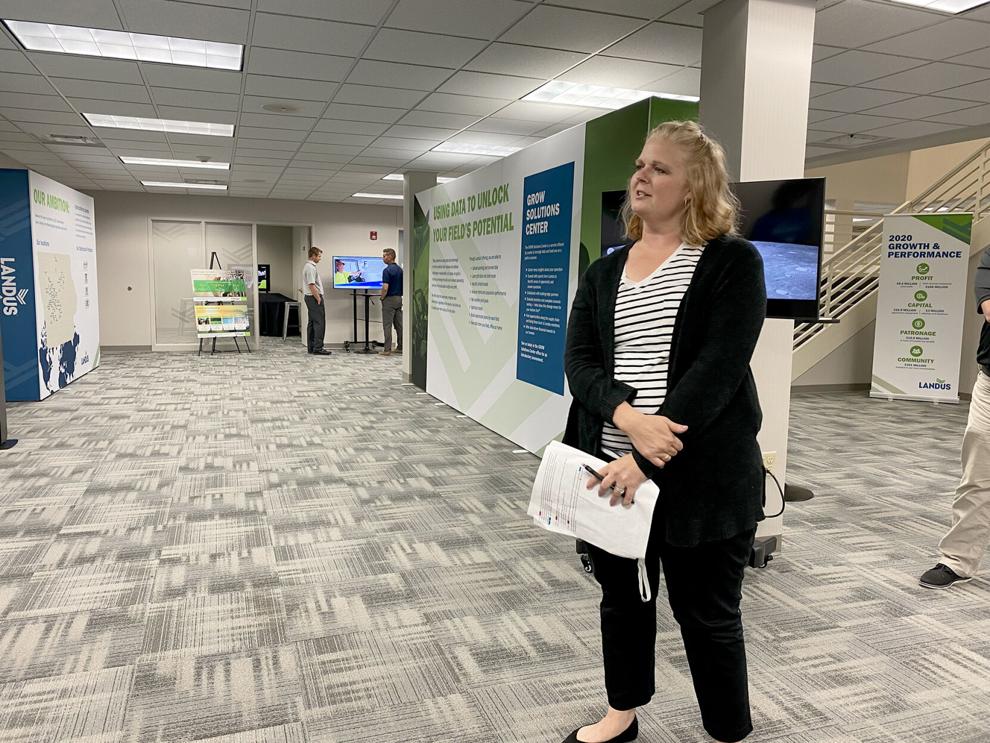 "The agriculture value stream is upside down today. As more and more industries look to us to solve the latest problems of sustainability, consumer desires, rural vitality and food security, it's critical that we enable our farmers to actually drive innovation and co-author the solutions of tomorrow," Carstens said. "We must start putting farmers at the center of ag innovation and better connecting with outside industries and end users if we want to arrive at a more-sustainable and profitable future of farming. This is a non-negotiable stance by our farmer-owners, and Landus is rising to these challenges."
The rural location that once served as a cubicle-filled office space for the former West Central Cooperative has been revitalized to accommodate an ongoing rotation of strategic partners, emerging tech show spaces and modern collaboration.
Google joins several other innovators in the center, including Sentera, Sukup Manufacturing, TerraClear, Enogen, Practical Farmers of Iowa and Rantizo Elevating Precision Ag.
Rantizo showcased its ability to swarm drones over fields and crops to gain important data.
"Drones for agricultural applications are not the future of agriculture; they are very much a valuable tool being used in farm fields across the country now," said Emily Carlson, marketing manager for Rantizo. "Rantizo is excited to land at the Landus Innovation Center to highlight the capabilities of drone application technology and innovation and what it can offer to elevate precision agriculture today."
At Landus, a 10-acre test plot on site will host field trials dedicated to proving out new sustainability solutions and demonstrating the latest ag technologies.
Farmers visiting the center also can interact with experts from the new Landus GROW Solutions Center (visit www.landuscooperative.com/solutions-center) team that offers a virtual access point to instant and ongoing ag advice for farmer questions spanning from sustainability improvements to carbon markets to value-added grain programs.
In addition to the opening of the Innovation Center, the company also has invested in a first-of-its- kind Innovation Cell to redefine the future of farming around emerging technology, sustainability and long-standing farmer legacies.
The Innovation Cell will bring the best and brightest thought leaders in science, technology and small business to collaborate with Iowa farmers at the Innovation Center and pioneer new ideas, Carstens said.
Beyond that, Carstens, a Bagley native who lives in Panora, says the center will boost related economic development as ag-businesspeople gather in Ralston.
Businesspeople associated with the project are staying many nights in Carroll and Jefferson and other area communities with charter flights coming into Carroll.
"It's just been powerful to see this come back to life and what it's meant to the communities," Carstens said. "We have employees who live in these towns. I think it has a tremendous impact."
Carstens said that starting July 6, more than 500 farmers plan to visit to Innovations Center in Ralston just in the near term.
"I want the community members to understand what we do," Carstens said. "Consumers want to know. Carroll and Jefferson are full of consumers. We need to help them feel better about what the path is to get their food."
For its part, Google, the household name involved in the Innovation Center, will help farmers "learn more about their farms," said Molly Toot, the Grow Business leader with Landus.
Toot said Landus soon will have a light-blue, solar-powered Google Rover, a robot that can help retrieve a host of data on crops. She showed videos of the rover to guests at the Innovation Center launch.
"We are very excited about what it can bring to us from a data standpoint," Toot said. "What this partnership allows us to do it take advantage of the data that they already have. They have 27 million acres of data in their system from Iowa, and we can utilize that."