A young local boy's health journey has prompted a fundraiser to benefit the healthcare workers who have helped him succeed and others on a similar path.
Tanner Willey of Carroll, who will turn 4 at the end of the month, was diagnosed in the past year with apraxia, a rare disorder that impedes speech by disrupting the movement of the lips, jaw and tongue.
He regularly receives speech therapy at St. Anthony Regional Hospital, and it's made a difference, said his mother, Leah Willey.
"In the past, Tanner has only been able to 'hum' with his mouth closed to communicate," Leah Willey said in an online post. "Since June, Tanner has come a long way in his speech journey. He is able to say multiple words, but every day is a battle."
Tanner is the son of Leah Willey (Joshua Brown) of Carroll and Tim Willey (Shawnell Rush) of Glidden.
Now, he's the face of a fundraiser to raise awareness about apraxia and to give back to the speech therapy department at St. Anthony that's helping him.
Tanner's family worked with Kelsey Allen of Blissful Adventure Designs in Glidden to create T-shirts to sell. Proceeds will help purchase toys and books for use in the speech therapy department at St. Anthony.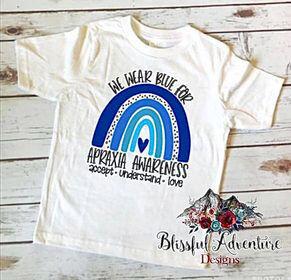 T-shirts are $23 for adult small, medium, large or X-large; $26 for adult 2X and 3X; and $17 for youth X-small, small, medium, large or X-large. Those who don't want to purchase a T-shirt but still want to help can donate.
Payment labeled "Apraxia" can be sent by Venmo to @leahhmariee33, PayPal to leahdunn2012@gmail.com, or by Facebook Pay to Leah Marie Willey (www.facebook.com/leah.m.willey). Those wanting to pay by cash or check can contact Willey for details. Orders can be placed by contacting Willey via her Facbeook page or by emailing leahdunn2012@gmail.com. Ordering closes this Sunday, Sept. 19.
Shirts should be available two or three weeks after ordering closes. Additional shirts will be available at Carroll Design and Salvage after the close of the fundraiser, with those proceeds benefiting the speech therapy department as well.
The fundraiser had raised more than $1,000 as of Wednesday.
"The fundraiser has been more than what we were expecting, and we are forever grateful for the community to help us meet our goal," Willey told the Times Herald. "We've had quite a few people who don't even know any of us personally purchase a T-shirt.
"We just really wanted to bring awareness to a 'silent gift' that a few children in our community 'suffer' from. Apraxia can be a life-long 'gift,' but with the help from St. Anthony's speech therapy department, and the determination from my little boy, he will be able to overcome his daily battle."