Editor's note: We'll continue to update this story as results come in.
Carroll County caucus leaders have announced that unofficial results indicate Pete Buttigieg, former mayor of South Bend, Indiana, was the clear winner in the Carroll County Democratic caucuses.
With 62 percent of statewide precincts reporting so far — Democratic caucus results still are coming in from throughout the state because of a coding glitch in the app caucus leaders were using to report results — Buttigieg is leading statewide as well, with 362.6 statewide delegate equivalents so far.
U.S. Sen. Bernie Sanders of Vermont is close behind with 337.9 statewide delegate equivalents. U.S. Sen. Elizabeth Warren of Massachusetts has 246.2, former Vice President Joe Biden has 210.3 and U.S. Sen. Amy Klobuchar of Minnesota has 169.7.
Other results: Entrepreneur Andrew Yang has 14.3 statewide delegate equivalents so far, while hedge fund manager Tom Steyer has 3.8. Both former New York City Mayor Michael Bloomberg and those listed under "other" have fewer than one statewide delegate equivalent.
In the statewide and countywide Republican caucuses, voters overwhelmingly supported President Trump.
Nominal votes statewide went to two Republican competitors, Joe Walsh, a former U.S. representative from Illinois, and William Weld, former governor of Massachusetts. In Carroll County, Carroll County Republican Party Chairman Craig Williams reported Tuesday morning that 180 Republican caucus-goers voted for Trump, with just three voting for Walsh.
In Carroll's 1st Ward, two moderates, Biden and Buttigieg were the only viable candidates and divided the delegates. Warren and Sanders, although they polled high statewide, didn't reach viability among Carroll 1st-Ward voters.
A total of 81 people attended the convention in the Carroll High School auditorium.
Carroll 1st Ward has 424 registered Democrats, 738 independents and 648 Republicans.
Of those in attendance, 44 voted for Biden and 34 for Buttigieg, while three elected to stay with Sanders.
That gave Biden eight delegates and Buttigieg six delegates at the Carroll County Convention on March 21 at St. John Lutheran Church.
"I think the fact that Pete and Joe were the only two viable candidates shows that Carroll County in a way is a more moderate county, and I believe we need a moderate candidate since most of the people are in the middle," said Kathy Richardson, Biden precinct captain.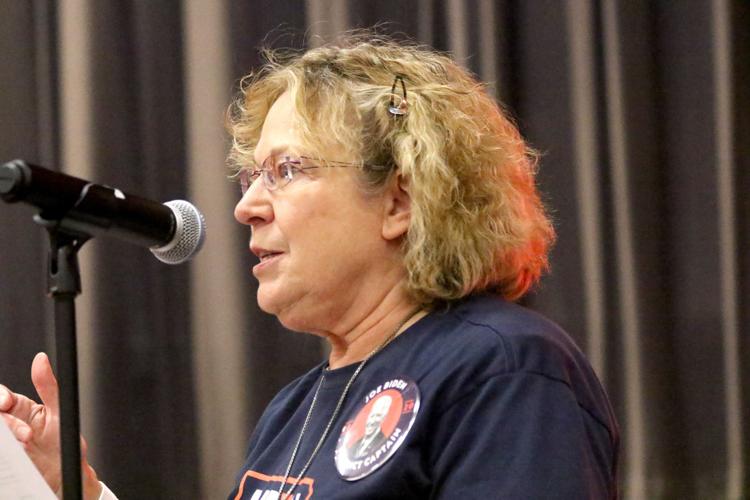 First preference results were 38 for Biden, 22 for Buttigieg, 9 for Klobuchar, 7 for Sanders, 3 for Warren and 2 for entrepreneur Andrew Yang.
"I was pleased not only with our initial alignment that we were clearly viable from the start but we gained several delegates on the second alignment," said Kyle Ulveling, Buttigieg precinct captain. "There were a lot of delegates from the nonviable groups who eventually went to Pete."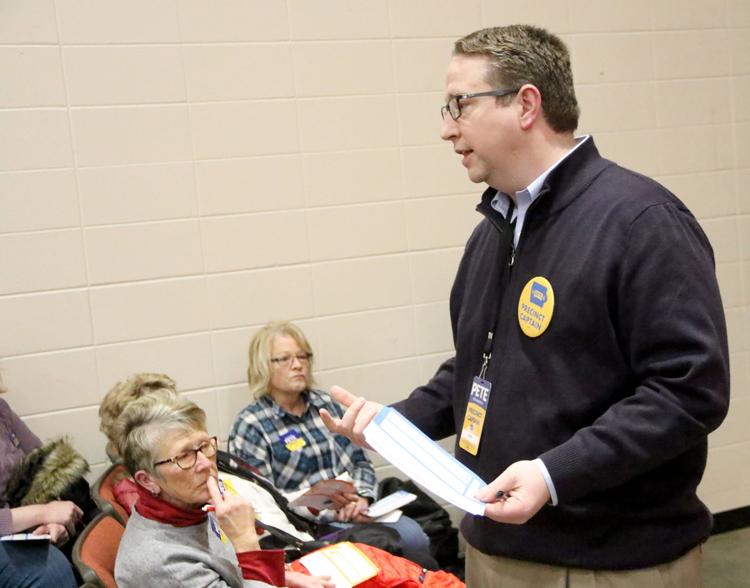 Candidates needed to have at least 12 voters to be viable. After the count, supporters of non-viable candidates had the chance to join a viable candidate's delegation.
Jean Guy is precinct captain for Klobuchar but switched to Biden after Klobuchar was not viable.
"I was pleased Amy had such a strong showing because it's a tough field out there, and she's relatively a newcomer," she said. "There are a lot of strong moderate candidates, and I felt very comfortable switching to Joe Biden after that."
CJ Niles, who chaired the caucus, added, "I think you can tell that the enthusiasm is here because there's a wide range of candidates that people have a choice and can find somebody they can identify with. It says we have ideas and we're working together and we're looking forward to a great election year."
At another of Carroll County's Democratic caucuses, Buttigieg supporters knew moments into the caucus they'd have a good night in Carroll's 2nd Ward (which includes part of Maple River).
They had chairs lined up and clearly had the largest number of supporters.
And it held to the second count.
Buttigieg, a former mayor of South Bend, Indiana, earned six delegates in the caucus, held at the First United Methodist Church in Carroll.
Klobuchar, Warren and former Vice President Joe Biden each earned four delegates.
Final votes for the candidates were 34 for Buttigieg, 24 for Biden, 22 for Klobuchar and 21 for Warren.
"I don't want the party's voters to end up polarized," said Tony Hooper, 42, a Carroll High School chemistry teacher, in an interview. "I feel that Pete is a moderate choice, but he is very poised, very calm, and has tremendous presence and mental dexterity. I've listened to him give so many interviews."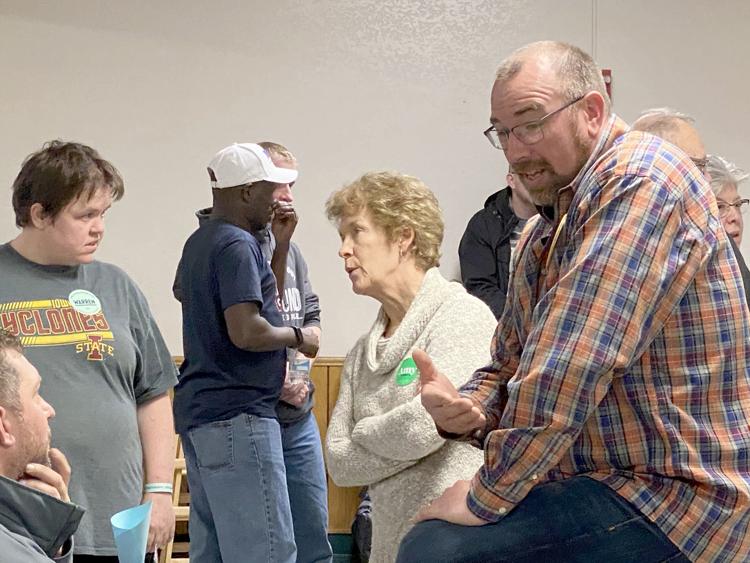 Jenny Holm, 29, a teaching associate in the Carroll schools, helped deliver Warren's delegates and avert a shutout in the ward. Warren came just one person away from not being viable, ultimately earning four delegates.
"She's progressive, but I do think she's pragmatic and she's very thorough," said Holm, the Ward 2 precinct captain for Warren. "I believe that she's tenacious. I believe that she's going to work tirelessly for not just the people in this room, but for every single American. I do believe that she is a unifier."
An early report from Lidderdale, one of Carroll's smaller Democratic precincts, found the following vote breakdown: 10 for Biden, seven for Klobuchar, six for Buttigieg and four for Warren.
Bernie Sanders had two initial supporters in Lidderdale but needed four to be viable. One of them went to Biden, the other to Warren.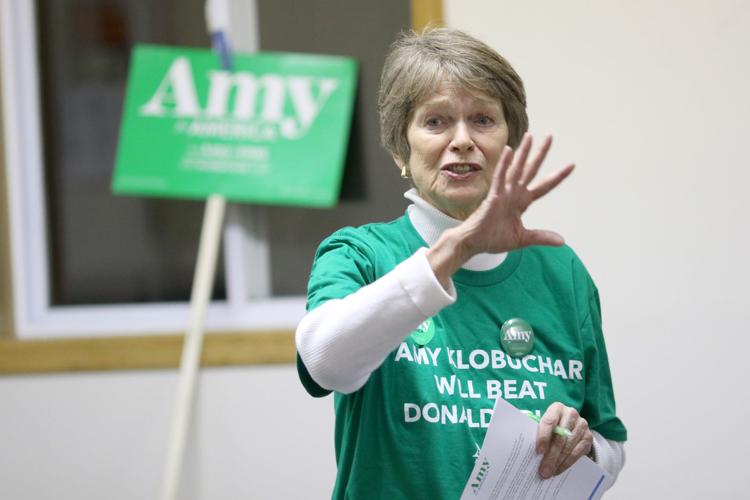 Karmen Shriver, of rural Lanesboro, said it is time to elect a woman to lead the United States, and she thinks Minnesota's senator Klobuchar is the best choice.
"She looks just like an Iowa lady," Shriver said, "and, by God, I like Iowa ladies."