Hundreds of people in the Carroll area associated Hy-Vee, its culture of earnest service, with Gary Brown, a 50-year employee of the grocery chain in western Iowa, said Lonnie Miller, a Hy-Vee manager who worked with Brown for 21 years.
Miller joined family and friends in mourning Brown at a sun-drenched Carroll Athletic Field stadium Saturday afternoon. The family and Dahn & Woodhouse Funeral Home held the services outdoors to accommodate the support for the well-regarded Brown who, according to his wife Donna and a daughter, Tiffany, died of cardiac arrest last week at age 76.
"When many people here in Carroll hear Hy-Vee they envision Gary's face," Miller said.
Miller said Brown served as a mentor and even a father figure to many young people, often first-time employees.
"Maybe you yourself started there at Hy-Vee under Gary," said Miller, the manager of the Fast and Fresh convenience store at Carroll's Hy-Vee.
Brown worked in many capacities at Hy-Vee, including in the relatively new convenience store. He is best remembered as a front-end manager, a position in which helped oversee the packing of groceries and smooth delivery from checkout counters to the door. He'd interact with hundreds of people daily in that role.
The Times Herald and social media have been flooded with well-wishes for Brown since news of his death broke last week.
"Grandpa's humble beginnings and faith guided his life," said his grandson Trent Brown, of LeMars.
No meal would go by without Brown first calling for the saying of grace, Trent Brown said.
"The simple things in life brought him joy, not the material things," he said.
As he looked at Gary Brown's casket, just off the 50-yard line facing the home stands, Josh DeLarm, of Boone, Brown's grandson-in-law, said the setting fit.
"For the legend the size of Gary Brown a stadium is almost big enough," DeLarm said.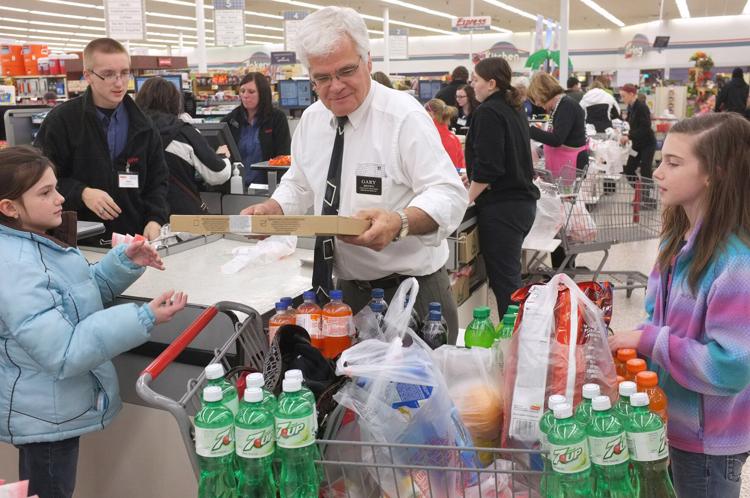 DeLarm and others recalled the warmth Gary Brown exuded around family and friends. He especially loved the trappings of Christmas, from the decorations to taking grandkids to see Santa Claus, family members said.
"Grandpa would always talk to Santa like an old friend, just like he talked to everybody," DeLarm said.
Following the Carroll service Brown was laid to rest in Harlan, his wife's hometown, and a community where he worked before moving to Carroll.