The late former Sheriff Jack Longnecker, a highly respected and long-serving lawman the community mourns today in a funeral Mass, combined a sense of the law, fairness and common sense, colleagues and friends recalled in recent days.
John G. "Jack" Longnecker, 91, of Carroll, passed away on Friday, Feb. 21, 2020, at Garden View Assisted Living in Carroll. (His full obituary ran in Tuesday's Times Herald and can be found online at carrollspaper.com.)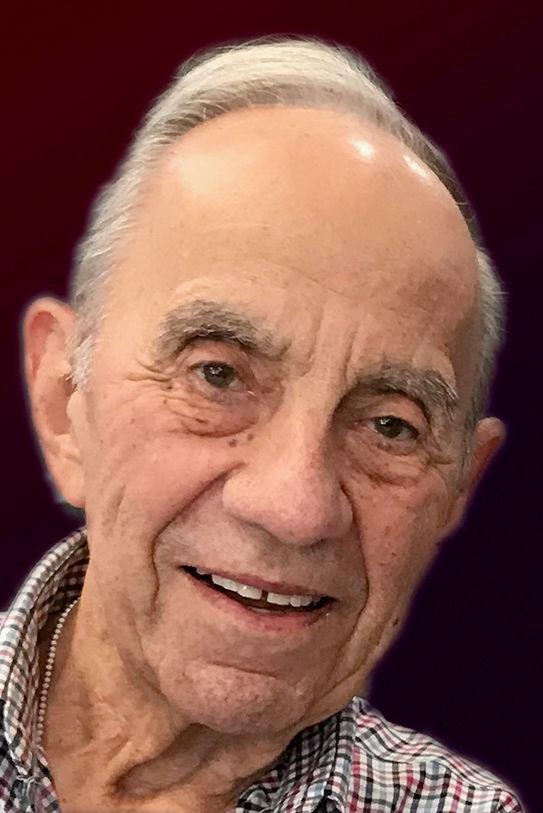 Longnecker served as sheriff of Carroll County for 29 years, running unopposed for election seven terms and retiring in December 1992.
"One thing that is indicative of the respect people had for him is that he ran seven times unopposed," former Carroll Police Chief Jeff Cayler said. "I mean, that just doesn't happen around the state. Somebody always thinks, 'I can do it better.' Either nobody felt that way, or nobody felt they could win in a race with Jack. Nobody ever ran against him. I think that's a testament to the job that he did."
Cayler, a former 30-year police chief in Carroll who now consults with law enforcement departments on hiring and promotions around Iowa, worked closely with Longnecker for years.
"Jack wasn't overly talkative," Cayler said. "He had an extremely dry sense of humor. I can still remember distinctly his smile when somebody would say something. He wouldn't necessarily say anything back. His face kind of lit up. He was very level-headed, just very good to work with. I think he just commanded a great deal of respect because of the way he handled himself, the way he handled his office."
Current Carroll County Sheriff Ken Pingrey, while never having worked for Longnecker, still considered him a mentor.
"I always enjoyed listening to him recall his time and adventures while serving Carroll County," Pingrey said. "He was a great man and will be missed by all who knew him."
Longnecker's sense of justice and fairness, compassion and toughness, which many people recounted, emerged in an interesting case in December of 1980.
The matter involved a Bayard woman and her purse containing $1,900. The woman, going Christmas shopping, placed the purse on top of her car, as she loaded in packages. Forgetting to put the purse in the car, she then traveled on Highway 141 to Carroll.
The purse fell off onto the highway.
A 16-year-old youth found the purse and took the money.
Sheriff Longnecker became involved when the parents of the youth brought him to the sheriff's office. The youth had told his parents that he found $1,400 in a paper bag in a trash container at the Hobbs Pit park area. The parents were suspicious about how he paid for a moped he bought and brought the youth to the sheriff to find the rightful owner of the money.
Longnecker said he was puzzled about the story and theorized that the money could have been part of a drug transaction, but too much time had passed to stake out the park area.
He told the parents to get an attorney, then put a notice in the paper about the money and put the money in a safe.
A few weeks later, Mrs. Marvin T. Moore of Bayard told the sheriff she had lost her purse. She was able to identify the money, as certain words and numbers had been written on some bills.
Longnecker was able to locate two witnesses who said they saw the purse on the highway but didn't stop to pick it up. The sheriff called the youth and his mother back in, and the boy broke down and told the truth and where the purse was hidden. Mrs. Moore identified her purse, which actually contained her identification.
Longnecker commented about the amount of money, "She must have been going to do an awful lot of Christmas shopping."
The sheriff said he didn't plan to pursue any criminal charges against the youth.
"He said it had been bothering him," Longnecker said.
At any rate, he added, the teenager's conscience should be clear now.
"Jack Longnecker was a great guy to work for. He had a good way with people," said former Sheriff's Deputy Ruth Nellesen of Carroll. "Jack had a strong faith, and during his 30 years as Carroll County sheriff, he was very fair to everybody. He was very professional in his administration and treated one and all with respect."
Nellesen was hired by Longnecker in 1974 and served with him until Longnecker retired in 1992.
Kevin Caltrider, who was the last deputy that Longnecker hired before he retired, noted that Longnecker exemplified Midwest values as he carried out his responsibilities and as he dealt with people. Caltrider said that Longnecker had a firm manner.
"He had a job to do and he expected you to do your job, but he applied common sense to the department's duties," Caltrider said.
Longnecker was hired as a Carroll County deputy by Sheriff Leonard Hinze in 1962, and at that time, they were the department's only members. When Hinze passed away in May of 1963, the board of supervisors appointed Longnecker as the sheriff and another deputy was hired. Additional deputies were hired in 1967 and 1970, and five more deputies joined the force in the following years.
Longnecker was elected president of the Iowa State Sheriffs and Deputies Association in 1984 and remained a lifetime member.
Beginning in 1962, Jack and his wife, the former Mary Ann Werner, moved their family into the old sheriff's quarters that also housed the jail. The house was located on the northwest corner of the courthouse block.
The family lived in the front of the house, and the jail cells were located in the east section.
Jack's wife, Mary Ann, was the "jailer." She supervised any prisoners, cooked their meals and did their laundry.
As Jack would later describe in 1991, "The old jail built in 1887 averaged two or three prisoners at any given time. It cost 30 cents a meal to feed them in the early days. Today (in 1991) the price is $2.85. I remember (when we lived) there we had a back door, and a lot of times hitchhikers would come up and knock on the door and ask for a place to stay. But we'd send them to the city. The city had an old jail where they let the transients stay."
He continued, "The jail itself was comfortable, but it had soft cement around the window sills, and toward the end, you could almost kick your way out."
He added, "I remember we had the jail hooked onto city (steam) heat, and in the winter it got so hot we'd have to open the windows to cool the place down."
Jack served at the old sheriff's quarters from 1962 until the move into the new courthouse in 1966, where he served until he retired in 1992. The sheriff's house was torn down when the new courthouse was built in 1965-66.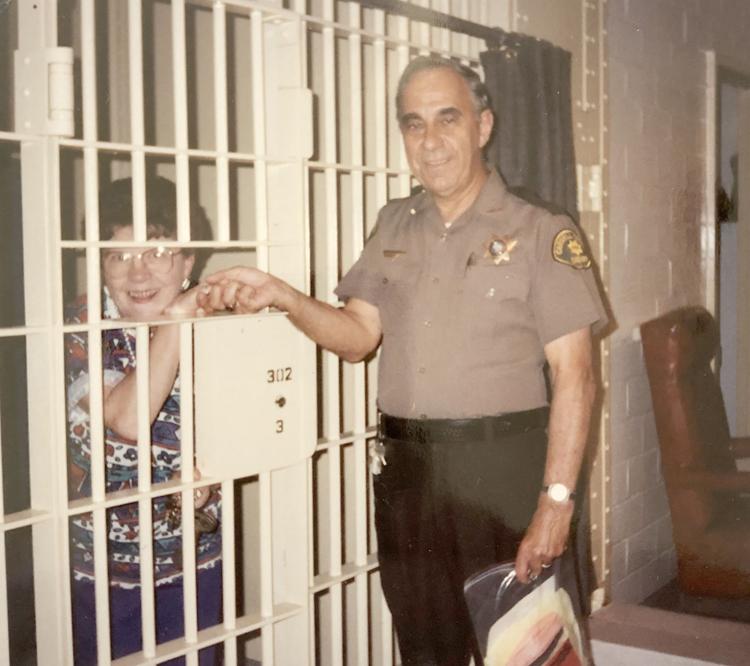 "Sheriff Longnecker started with a small department, and there were tough times," Nellesen said.
The department was confronted with the "Villa Murder" in 1969, when Daniel Clawson of Des Moines was convicted of the murder of Marsha Brisbois at the Villa Motel in Carroll.
Longnecker gained the experience of working with the FBI on that case.
Investigating deaths from vehicle accidents was a dreaded part of law enforcement duty, such as the fatalities in 1973 of two teenagers, George Launderville and JoEllen Wessling, in an accident in Arcadia.
When Ruth Nellesen was hired in 1974, she recalled, "In those days, we had the sheriff, three deputies, myself and a part-time jailer, Henry Lee, who was called in when someone was arrested. Deputies drove their own personal vehicles and were paid mileage. The record-keeping system was definitely pre-computer."
In 1975, Longnecker observed that "actual punishment of those convicted has been reduced."
He supported his staff as an advocate and noted that, "The public fears crime and its effects on society, and it wants protection. But it is not sufficiently aware of the gravity of the situations faced by enforcement officers."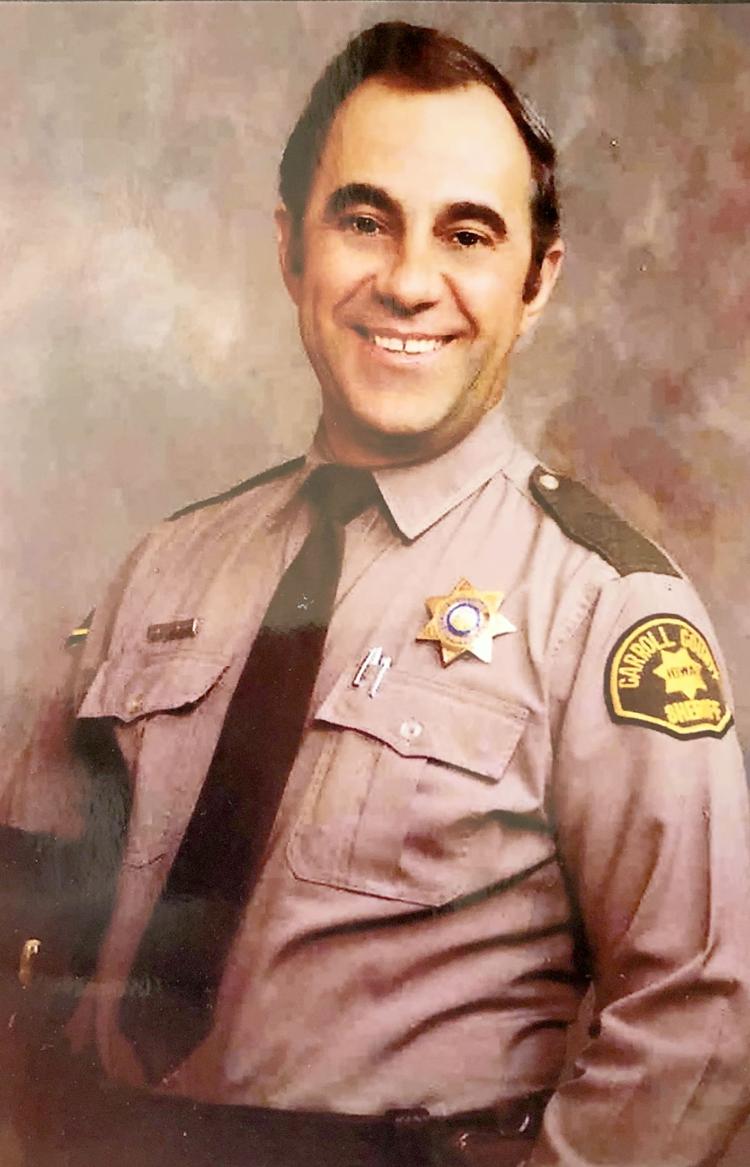 With a larger force of deputies hired from 1970 to 1975, the department was able to carry out duties of rural patrol and take over law enforcement in Breda, with Wilbur Dorman appointed the Breda deputy.
More situations and challenges kept coming.
Noting just some of the different responsibilities that Longnecker and the department encountered helps to show the scope of the job. And, as Caltrider commented, the 30 years that Longecker served saw many changes in law enforcement and in the community.
In June 1978, the department suffered the deaths of deputies Dorman and Raymond Rogers, who were killed in a vehicle crash. The two deputies had been on auxiliary duty assisting officers at the Dedham and Glidden celebrations. They were on their way home when the accident occurred. Rogers lived in Breda, and Dorman lived near Carroll. The car driven by Raymond Rogers collided with a car driven by Gerald Willenborg of rural Carroll. Willenborg survived.
In 1979, the department handled the investigation of Dennis Winker, 23, of Glidden, who was convicted of the murder of Mary Jo Heiman of Breda. Winker was a former Carroll County deputy and Carroll police officer, and Miss Heiman was his former girlfriend.
A news story of June 1980 stated that officers were investigating attacks on two women. The attacks occurred in Glidden and near Lanesboro.
In September of that year, it was reported that Carroll Country lawmen were investigating stolen property found in the farm home of Duane Dopheide of Templeton. Dopheide was charged with second-degree theft and illegal possession of a firearm and placed in jail, where died by suicide in a hanging on September 24, 1979.
A car-pickup crash east of Glidden in May of 1980 resulted in the fatalities of Edward Forkner, 17, of Scranton, Janice Kramer, 31, of Lake City, and Alan LeRoy Vaughon, 18, of Glidden.
Longnecker had the task of investigating the crash-landing of a single-engine airplane in a cornfield 2 miles east of Carroll in February 1981. The plane was piloted by LaVern Eilers of Sioux City, who was not injured.
In 1981, the office's staff consisted of the sheriff, eight deputies and three jail personnel. Following recommendations of Longnecker and of the state jail inspector and county health board, in 1981, jail security was improved with the addition of surveillance cameras, television cameras and monitoring screens. Two civilian jailers, David Potthoff and Melvin Riesberg, were hired. Longnecker said that had the equipment been in place in 1979, three prisoners would not have escaped, and that better surveillance would greatly reduce the likelihood of prisoner suicide. In the prisoner escape, Marty Wenck was knocked to the floor by two inmates. The prisoners were apprehended within three days.
The headache for the sheriff's department in 1989 was the number of beer sales to minors.
In 1986, when the state legislature raised the legal drinking age to 21, it created criminal penalties for supplying an alcoholic beverage to a 19- or 20-year-old.
"A lot of these sales are people 21 and older buying beer and dishing it out to minors later," Longnecker said.
He said deputies would step up checks on establishments selling alcoholic beverages and work with cities holding celebrations to enforce the law.
Longnecker was proud of his Fonda roots and to call Carroll his home since 1962. A military veteran who served in the U.S. Army in Korea from 1951 to 1952, he was honored to serve his country as well as the people of Carroll County, and he was forever grateful for their support and friendships over the past 58 years, his family said.