MANNING: "Not even six months" after developing the idea for it, Jaime England made Manning's The Market Place a reality.
"It was really just sparked by — this store had been empty," she said. "From the perspective of moving back here, and obviously I grew up here, so you feel like … what could our town use? What would I miss about the city? You know, what would go well?"
Her store is marking five years of business this summer.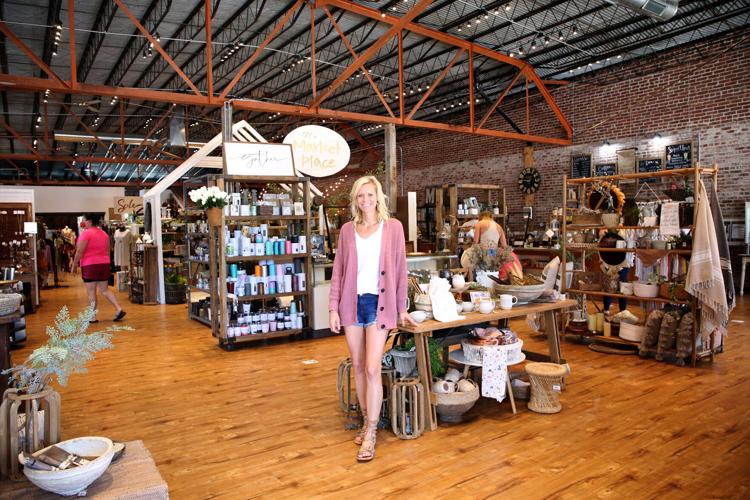 England grew up in Manning, graduating from high school there in 2001 before attending Iowa State University. Her studies were interrupted when she was deployed with the Army National Guard to Kuwait just months after the coalition invasion of Iraq in 2003; she later would graduate from the university with a bachelor's degree in kinesiology and health, and after that a doctorate of physical therapy from Des Moines University.
She lived in Ankeny with her husband Ben, a native of Audubon, where they had their first two children: Bode, now 8, and Cash, now 6. Her youngest, Graham, now 3, was born after they moved back to Manning. England worked as a physical therapist in Ankeny; she keeps her license current and occasionally fills in for a friend who has a clinic in Manning.
But now, she owns and runs The Market Place, too. It opened in the summer of 2015.
England comes into The Market Place and works every day it's open. She joked that part of her work is that she "talks a lot," adding she wants shopping there to be a positive experience for those who visit.
In starting The Market Place, England applied for and received a grant, and suddenly she became a new business owner, she explained. The building, located on Main Street in Manning, previously played home to a variety store, a consignment store, and at one point a two-level department store.
It features a coffee bar, clothes, jewelry, home décor and more.
"And then also consignment stuff that we kind of have mixed in," she said. "But I wanted to control that display, so we don't do booths."
England said people looking to sell things through the shop on consignment contact her, and she picks out what she wants to carry.
"It might be that they're cleaning out their parents' house — that's a good way that furniture gets reused if they don't want to just donate it; the family can make back some money," she said.
It's mostly locals who are selling items on consignment, England said. The greatest distance away a Market Place seller lives is West Des Moines, but England said she grew up with her and still considers her a "local" for that reason.
Like many businesses in the state, The Market Place was dealt a blow by the coronavirus pandemic. She said the storefront completely shut down as the disease hit Iowa, and she tried to adjust as quickly as possible to get products up on its website, www.marketplacemanning.com.
"We thought we were going to try to hit the website really hard, but because we didn't have much on there and it takes so long to get good pictures and things weighed — that really slowed down, and I had to switch and we ended up doing Facebook Lives," England said.
The storefront is now back open, however, and people regularly come in and out for drinks or wares.
In a town the size of Manning, England said, one of the difficulties with a store like hers is simply getting the word out.
"Obviously the town itself I knew couldn't support (it alone) — you know, just for the size it is — so (I'm) really trying to keep up with the advertising, marketing for people that have not been here to still know about us and remind the other people that maybe aren't passing through Manning regularly that we're here," she said.
Maps on the wall toward the front of the shop allow visitors to mark where in Iowa, the country or the world they are from using pins. A guest book allows for a signature and helps put a name to each pin.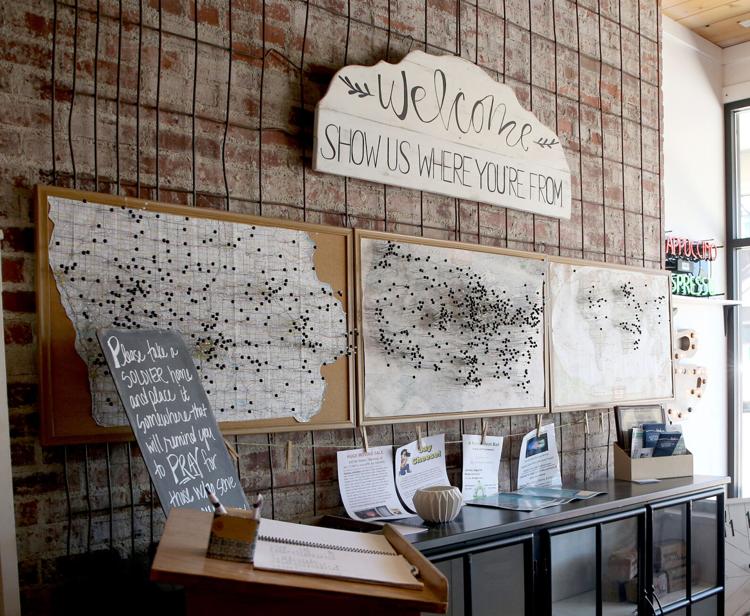 "So especially the ones that are coming from other countries (are notable)," England said. "It's not that they're just coming here, they're coming to Manning for some reason … I wanted it to be a destination place, like when you have some place to go take your guests when they come to town and you can kind of show them, you know, 'We're not just a little town.' "
She said the shop has seen multiple groups from Africa, Russia, New Zealand, Australia, China, Kuwait, "all over," and she also has had family friends from France visit the shop.
"It's kind of fun to see … just how many people come back to visit or are passing through and happen to find us," England said.