HULL: Like so many from Iowa's sprawling 4th Congressional District, the Republican fighting to be its next congressman hails from one of the small towns that dot the landscape.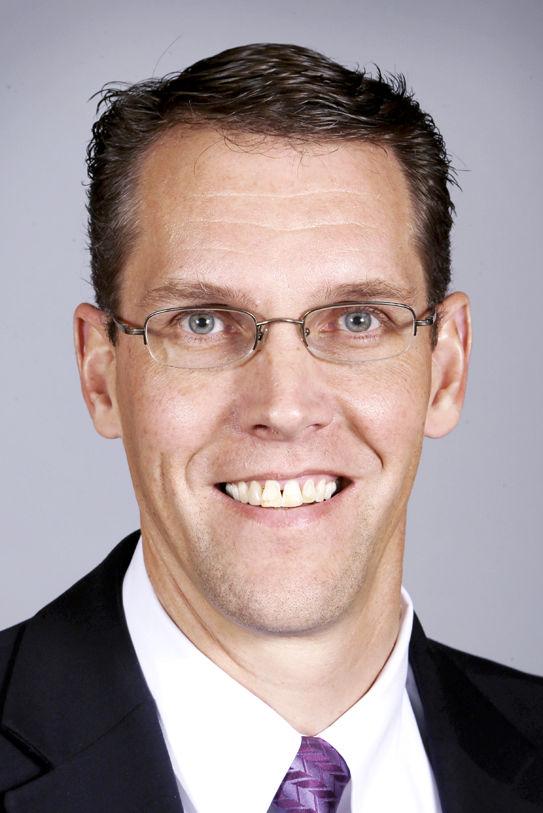 Randy Feenstra, a state senator from Hull, easily dethroned the incumbent Rep. Steve King in an early June primary for the Republican nod in the seat. The backbone of Feenstra's nearly 10-point margin of victory was built in and around his hometown, seated in Sioux County.
People in Sioux County — long a stronghold and base of support for King — abandoned the incumbent in droves, giving Feenstra nearly 83 percent of its votes. Feenstra has spent decades in public service in the Sioux County area and has lived there his entire life.
Yard signs help delineate the territory as Feenstra's. Signs off the road with his name in all-capital letters marked support for his bid around the area where he grew up, went to school and worked — and the place he eventually represented in Des Moines.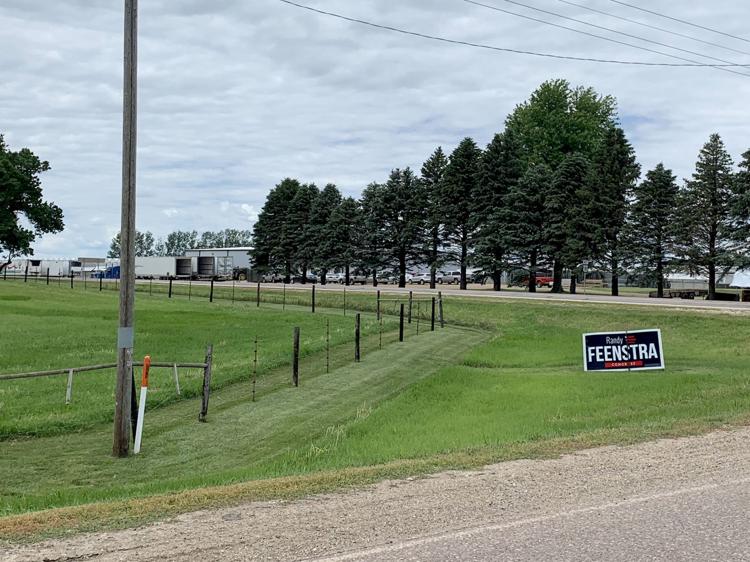 In an interview with the Times Herald, Feenstra described his early life in Hull, where he grew up as a middle child with two sisters, as being like that of "every small-town kid."
"Playing Little League, going to the swimming pool and, you know — small-town life was, you go play ball in the morning and afternoon and then go swimming and then play with your friends at night playing flag football. … We actually had a whistle that blew at 9 o'clock in Hull that — it still does; the whistle blows at 9 — and that was the time that 'All right, we have to get home.' It was just small town life."
Feenstra found work out of college at The Foreign Candy Company in Hull, during which he found himself constantly traveling, sometimes as often as Monday through Friday every week, calling on some of the "largest companies in the country."
"My wife and I had a conversation, that we had three kids at the time and she said, 'Hey, you're traveling Monday through Friday and, you know, you got to be a dad; you got to be a husband,' " Feenstra said. "That really is sort of moving, and at the same time I had a friend who stopped me at the gas station and said, 'Hey, Hull's looking for a city administrator; would you consider it?' and I told him no … and then I rethought about it, and I took that job."
Jim Collins, the current Hull city administrator, had nothing but praise for Feenstra, calling him approachable and "someone who cares deeply around him."
"And he tries to use his influence to make life better," Collins said. "The example I would have most recently would be our Lewis and Clark regional water system, where we are bringing water from the Missouri River to Hull, actually — years ago, we've had some issues getting sufficient water in our town as our supply was very hard water, and Randy in the Senate was an aid to us in getting a federal funding advance from the state."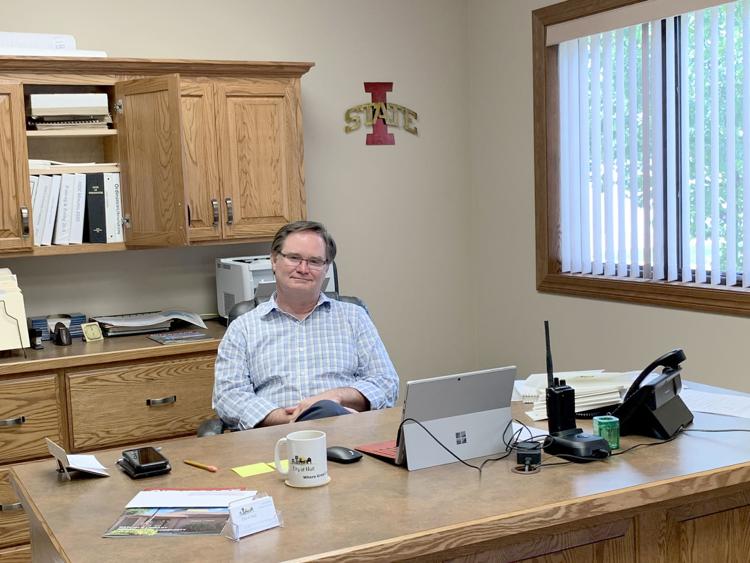 Unlike many other small towns, Hull, a town of just over 2,300 as of 2018 census estimates, has seen a continued population growth moving into the 21st century. There are two new housing developments in the city, and Collins said the town has a need for additional workers.
"We've been growing at quite a clip," he said.
As for why he believes the population is still growing, Collins cited religion as a factor.
"There's the religious component to it," he said. "We have several churches in town, and there's a lot of folks here that want to be near their churches and their families."
Western Iowa has a deeply ingrained Christian background, and Iowa's 4th Congressional District has the highest proportion of its population of those in the state belonging to any congregation at 66 percent, according to High Point University data.
Feenstra himself is deeply religious. He attended Western Christian High School in Hull before completing his bachelor's degree at Dordt College — now Dordt University — a university affiliated with the Christian Reformed Church in North America. He attends services at a church just down the road from his old high school.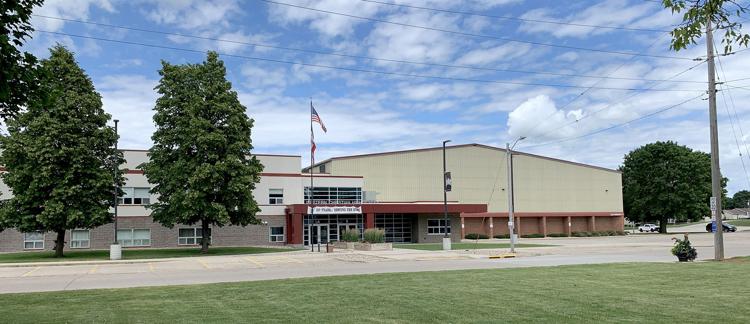 "My faith is my very foundation of everything I do," he said. "I believe that God works in all things and that I am here to treat people as image bearers of God and to further His kingdom, so it's very central to how I do things and how I design policy, just because I know how important it is to everyone in society, and how important everyone in society is to the world."
He said his family also has been involved in his political career and encouraged him along the way. He has four children, one in eighth grade, another about to start his freshman year in college, one who is going to be a senior in college and one in graduate school.
"When I started going down this path of being in government, I looked at my children and I said, 'This is why — I'm doing it for the farming and business community, but I'm also doing it for my kids," Feenstra said. "I want them to have a bright future. I want them to have the ability to aspire to what they want to be. You know, I have a couple of children that want to be physical therapists, and I said 'You can do it; you got to work hard, you got to work in jobs to pay for your college, but at the end of the day, you can do what you want,' and that's what makes Iowa such an amazing place, and that's what makes our nation so great is that we can aspire to who we want to be in life."
Feenstra said his family was involved in his decision to run for Congress: praying about it, talking about it and together coming to the conclusion this was the "right time" to enter the race.
"My kids helped me with my campaign; they do parades — it has become a family operation," he said.
Taking down an incumbent in a primary is no small feat, and Feenstra waged a marathon campaign over the 18 months leading up to the June primary.
"It was just a tremendous amount of hard work day after day, and so you hope that the fruits of your work come out and you are successful, and I was really excited about the turnout, and even my home community — my home community (voted for me at) about an 82 percent threshold — and I was just honored with that result and the trust people put in me," he said.
The 2018 Democratic nominee in the district, J.D. Scholten, again is running for the seat after a narrow 3-point loss against King that year. He faces a more formidable challenge against Feenstra, with June's Des Moines Register/Mediacom Iowa poll finding a generic Republican with a 22 percent advantage over a generic Democrat in the seat, and Feenstra does not have the same history of racist and bizarre remarks that dragged down King.
The night Feenstra defeated King, national election handicappers such as the Cook Political Report and the University of Virginia Center for Politics' Sabato's Crystal Ball moved the race in the 4th to "Solid Republican" and "Safe Republican," respectively — meaning they view the race as uncompetitive.
With the general election likely to go his way according to those analyses, Feenstra told the Times Herald of his goals should he be elected to Congress.
"I've already talked to different people, saying the No. 1 thing is to be on the (Agriculture) Committee," he said. "If you think of the 4th District, we are either No. 1 or 2 in most every ag product, from corn and soybeans to cattle, hogs, eggs, dairy — so we absolutely must have a voice on the ag committee."
King formerly held a seat on the House's Agriculture Committee but was stripped of both that and his other committee assignments after he questioned why "white supremacist" and "white nationalism" became considered offensive terms. West Des Moines Democrat Rep. Cindy Axne currently is the only member of Iowa's House delegation serving on the Agriculture Committee.
While his district is expected to remain safely in the Republican column, Feenstra said he signed a 12-year term-limit pledge.
"I told my people early on that I was only going to run for the Iowa Senate for 12 years, and that's what I did, and the same thing goes for Congress, that you do it and then you come back," he said.
When asked whether he would seek higher office, he said his entire focus is on working in the 4th District and being a voice for the district.
"Randy is going to represent Northwest Iowa well, and we can be proud of how he comports himself in public, and we can be assured that the thoughts and feelings of his district will be well-represented in Congress," Collins said.