Glidden's new addition of nearly 1,500 feet of concrete recreation trail connecting Northland Park and Merle Hay Cemetery is a big step for the community, organizers of the project say.
The last pour of cement was completed in mid-July, and dirt work and seeding will be completed later this summer.
The project, north of Highway 30 on the west side of town, expands routes available for walkers and bicyclists.
The nearly one-third-of-a-mile extension begins on the west side of the 1-mile concrete trail that loops around Northland Park, runs west a short distance, turns south, then turns west again to the cemetery frontage road.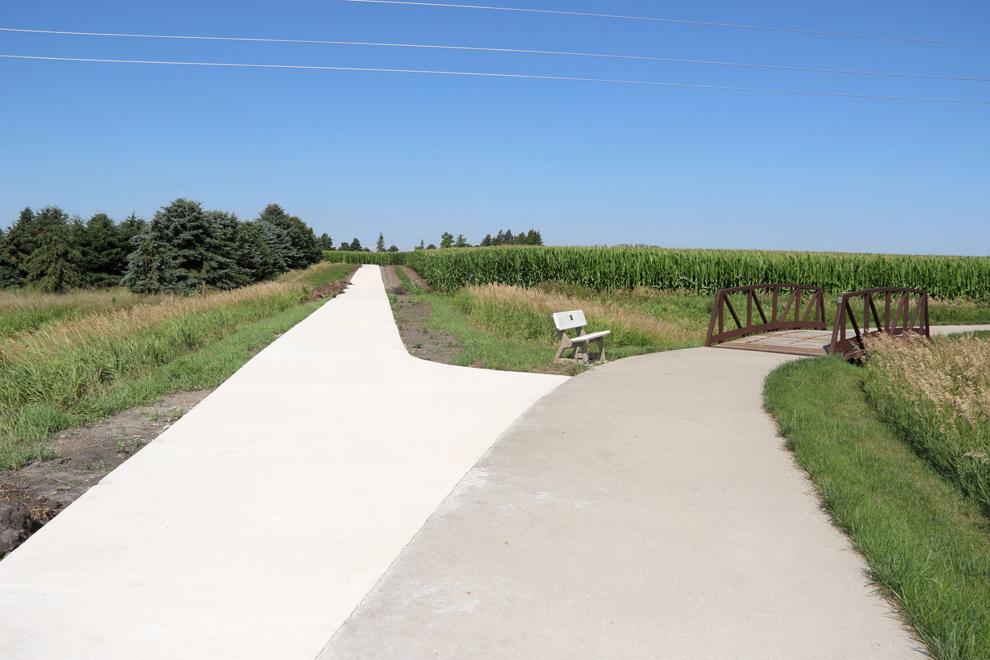 Ground for the trail was donated by the Stork family, who have farmed that area 40-some years. The family previously rented the land but purchased it last year, making it possible to make the donation..
Volunteer work on the concrete pours — the trail is 8 feet wide and 6 inches deep — saved an estimated tens of thousands of dollars in cost. Volunteers moved dirt, set forms, and smoothed and edged the concrete.
Stork said Glidden's community spirit was evident with the turnout of many volunteers for each pour.
"I'm dead honest. I was surprised by the number of volunteers we had to get it done," Stork said. "Actually we got pretty good at it by the end. Everybody knew what they were supposed to do."
Glidden Development Group is funding the project and will be seeking private funding.
"We wanted the trail to get from Northland Park out to the cemetery with the Merle Hay marker and the wall there to honor the (military) veterans," Lynn Stork said of the project. "Quite a few people like to walk around the cemetery, so this connects everything. It's a natural hookup. A lot of people like to walk or ride their bikes, there's quite a bit of traffic around Northland."
Glidden Mayor and Glidden Development Group President Roger Hartwigsen said he and Stork had talked about the idea for the trail a couple of years.
"We had to put it off because some other people owned the land he (Stork) farmed," Hartwigsen said. "He bought the land and then said, 'Let's do it.'"
"Mainly we just want to support the community," Stork said of the family's donation. "We like our small town that we're lucky to have."
Stork said many people began using the trail right away, but he's hopeful the project also will have long-term benefits.
"For a small town, maybe it's one of those additions that draws in a few young families," he said.
Stork said he's gratified by the response he's heard about the project.
He related, "One person told me thanks for doing the trail, now he can enjoy the walk to the cemetery and when he arrives there he takes the time to pay his respects to family and friends that are laid to rest there and then enjoy his walk back to Glidden."
A woman told him the walk along the crops brings back memories of when she lived on a farm, Stork added.
Another enthusiast is longtime Glidden resident Stella Weber, who said she walks 3 to 4 miles daily.
Weber, who walks early every morning at Northland and sometimes returns for an outing later in the day, said of the trail, "I love it out there. You can hear the birds and also get to the cemetery and walk around there. You don't have to worry about traffic. It's very enjoyable, and I just love it. It's close to nature."
Stork himself has been using the new trail.
"To tell the truth, I'll walk it to scout crops and look at the farm," he said.
The following volunteers helped with concrete pours to build the new trail: Lynn and Lyle Stork, Roger Hartwigsen, Ronnie Clausen, Steve Mohr, Al and Jonna Olerich, Brian and Jeremiah Johnson, Jeff Walkup, Will Reever, Gregg Platt, Tom Weber, Jerry White, David and Hayden Fay, Wayne Brincks, Travis and Tiffany Bowman, Mike Olerich, Chris Soyer, Grant and Noah Borkowski, Joe Subbert, Dan Dreessen, Jason Olbering, Rick Pudenz, Julia (Soyer) Bourg, Buck Vonnahme, Mary Brown, Pat Fay, Matt Conner and Bob Drees. Midwest Financial provided lunch for the volunteers..
"Mohrhouse Ready Mix worked with us very well, too," Hartwigsen said.