Todd Fried of Arthur enjoyed a smooth 45-mile drive home from Carroll Thursday afternoon on a new Harley-Davidson Standard, thanks to his wife Paula's willingness to share a poignant story about her favorite military veteran.
The vet is Todd's older brother, Mike. Todd, 49, and Mike, 54, Mapleton natives, both graduated from Maple Valley High School, Todd in 1989 and Mike in 1984. Mike went on to serve two years in the Army, four years in the Navy and more than 20 years in the Air Guard. He fought in Desert Storm, when in 1990-91 allied forces drove Iraqi invasion forces out of Kuwait.
Mike and wife Gena now live in Lakeville, a Minneapolis-St. Paul suburb. Mike is a senior safety consultant for Xcel Energy in Minneapolis, and Gena formerly had a spa business, but it was closed by the global coronavirus pandemic.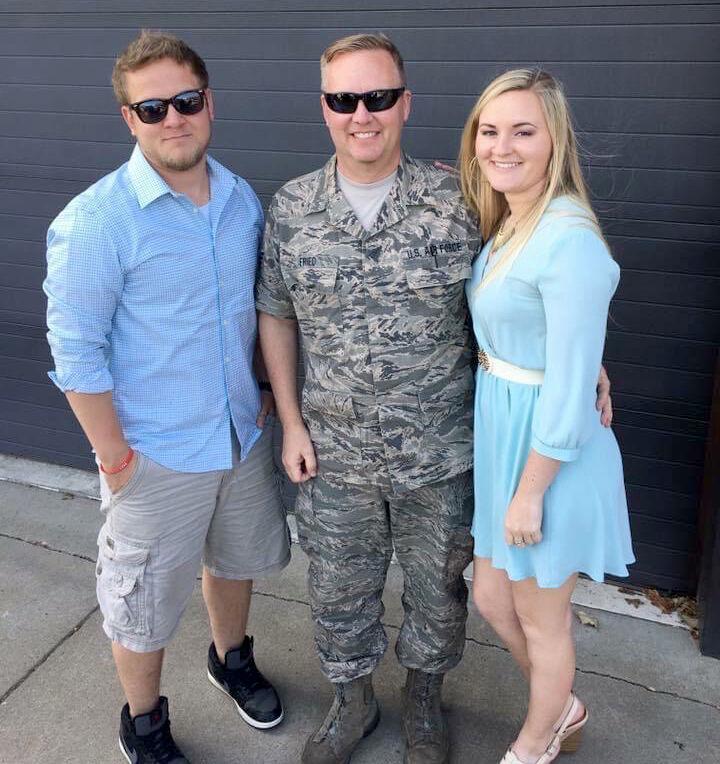 Just a few months ago, on Saturday, June 20, also the day before Father's Day, Mike and Gena received welcomed an anniversary-celebration visit from son and daughter, Tyler, 27, of Vermillion, South Dakota, and Alura, 25, of Lakeville, along with two of their friends, Briana Vazquez, 25, of Watertown, South Dakota, and Hassan Abdulmalik, 28, of Bloomington, Minnesota.
After leaving Mike and Gena, the four took off in a GMC Terrain for a dance in Minneapolis. Shortly before 10 p.m. on Interstate 35 West, they were struck head-on by a Nissan Murano driven by Alfredo Torres, 21, of St. Paul. Torres already had a long list of traffic offenses before this tragic night when he headed the wrong way on the interstate.
The crash killed four altogether — Tyler Fried, Vazquez and Abdulmalik in the GMC as well as Torres. Alura Fried suffered life-threatening injuries.
"The next few years will be rough ones for them," Paula says of Mike and Gena.
Amid the grief, Alura's progress today brings her family welcome hope.
A broken hip, pelvis and femur and dislocated ankle had put Alura in a wheelchair for weeks.
"She's doing great now, but she's still recovering, and she stood recently for the first time since June 20," Paula Fried said.
Paula highlighted her favorite vet Mike Fried's story and submitted it via Facebook to the Thank a Vet contest offered by Budweiser. Her entry was selected as one of only five winners nationwide to receive a custom-wrapped Harley Softail. Budweiser's Thank a Vet promotion dovetails with the company's five-star sponsorship ($1 million or more) in the Folds of Honor program, which began in 2007 and provides scholarships to the families of military men and women who have fallen or been disabled while on active duty in the U.S. armed forces. The other five-star sponsors are Coca-Cola, the Professional Golfers Association, QuikTrip and the Rite Aid Foundation.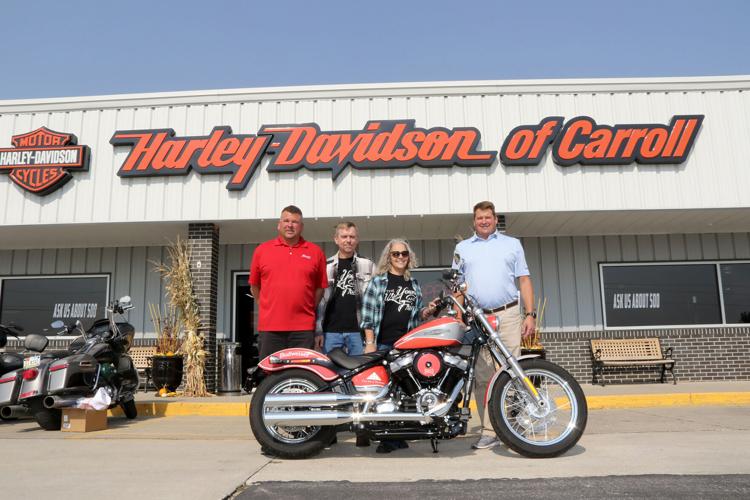 Paula and Todd Fried on Thursday, Oct. 8, visited Harley-Davidson of Carroll where the new motorcycle was unwrapped in a presentation ceremony attended by Carroll and Breda American Legion officers; Troy and Hans Auen, sales manager and warehouse manager, respectively, as well as partners in the Ike Auen Budweiser distributorship in Carroll; and Wade Adams and Terry Ruchti, general manager and owner, respectively, of the Harley dealership.
"Oh, wow!" Paula exclaimed as the motorcycle was unwrapped and she got her first look at the red, blue and gray Budweiser Americana retro-themed bike, which also features a Folds of Honor logo.
Paula roared the bike to life in the showroom but let husband Todd take the first ride, back to Arthur, located in eastern Ida County. The wind that day wouldn't do her curly hair any favors, she explained. She drove the bike for the first time on Saturday, Oct. 10, and commented an email to the Times Herald, "Very comfortable and has a bit of zip to it."
Paula said she saw a Thank a Vet promotion for the first time on a sign at a Sparky's convenience store, where she'd gone to make a run for some chocolates.
"I scanned (the information), took it home and read it. 'Oh, thank a vet. Cool,' " she said.
After submitting her entry, she continued, "I didn't think much of it, but then I started getting messages from Budweiser and Harley-Davidson."
Paula and Todd, who both work at GOMACO in Ida Grove making road-paving equipment, started motorcycle riding several years ago. Both have 2016 Harleys — Todd a Heritage and Paula a Slim, which she bought in Carroll. The Frieds said that having the new Harley may spur them to trade in their Heritage and Slim for a Trike.
Ruchti, of Harley-Davidson of Carroll, said of his shop's part in the ceremony, "We're just thankful we can be part of this. It's an honor. It's really neat that somebody in our area wins a motorcycle through her story. … It's pretty awesome."
"Special thanks to Folds of Honor, Budweiser and Carroll Harley-Davidson," Adams added.